Supreme Court allows Libingan burial for Marcos
November 8, 2016 | 2:18pm
MANILA, Philippines (Updated: 2:38 p.m.) — The Supreme Court, sitting as a whole, on Tuesday decided to allow the burial of the late president Ferdinand Marcos at the Libingan ng mga Bayani in Taguig City.
At a press briefing, court spokesperson Theodore Te said the magistrates voted 9-5 to dismiss the consolidated petitions arguing that Marcos' burial at the Heroes' Cemetery would be a "grave injustice" to victims of martial rule, which he oversaw as president.
Because of the dismissal of the petitions, the status quo ante on the order for the Department of National Defense to prepare to bury Marcos at the heroes' cemetery.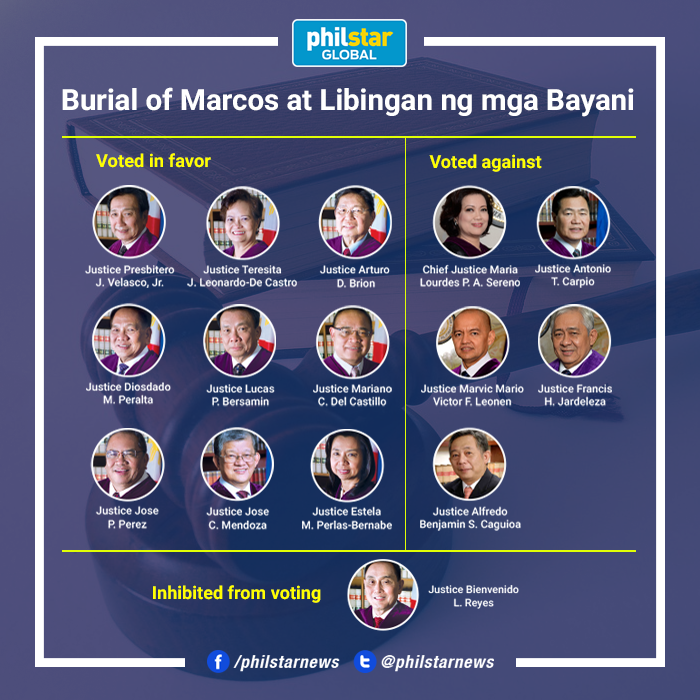 Associate Justices Estela Perlas-Bernabe, Lucas Bersamin, Arturo Brion, Leonardo-De Castro, Mariano Del Castillo, Jose Mendoza, Diosdado Peralta, Jose Perez, and Presbitero Velasco Jr. voted to dismiss the petitions while Chief Justice Maria Lourdes P. A. Sereno and Associate Justices Alfredo Benjamin Caguioa, Antonio Carpio, Marvic Victor Leonen, Francis Jardeleza dissented.
Justice Bienvenido Reyes abstained from voting.
The Supreme Court ruled that President Rodrigo Duterte's decision to have Marcos' remains buried at the Libingan ng mga Bayani did not break any laws nor did it show a grave abuse of discretion.
Albay Rep. Edcel Lagman, one of the petitioners against a hero's burial for the ousted dictator, said he respects the court's decision but is "puzzled to no end why the majority of the High Court would allow the burial of a judicially and historically confirmed despot, plunderer and transgressor of human rights in the Libingan ng mga Bayani."
Former Bayan Muna party-list Rep. Neri Colmenares, a victim of torture during the Marcos administration, said that opposition to the burial will continue. He said that his group will file a motion for reconsideration of the Supreme Court ruling and will try to convince the president not to go ahead with burying Marcos at the Libingan ng mga Bayani, a campaign promise that Duterte made more than once.