Duterte, Bongbong surge to top – SWS
MANILA, Philippines - Five weeks before the May elections, presidential aspirant Davao City Mayor Rodrigo Duterte and vice presidential bet Sen. Ferdinand "Bongbong" Marcos Jr. have surged to the number one spot in the latest quarterly Social Weather Stations (SWS) survey.
Duterte grabbed the lead from former frontrunner Sen. Grace Poe in the presidential race, the pollster said.
Results of the SWS first quarter survey conducted from March 30 to April 2 showed that 27 percent of respondents preferred the tough-talking Duterte.
Duterte's rating was four points up from the 23 percent he obtained in the March 8 to 11 poll.
Poe, United Nationalist Alliance (UNA) candidate Vice President Jejomar Binay and Liberal Party (LP) standard bearer Manuel Roxas II are statistically tied for second place, with scores of 23 percent, 20 percent and 18 percent, respectively.
Sen. Miriam Defensor-Santiago's rating remained steady at three percent.
Poe's rating went down six points from 29 percent.
Binay's score also dropped two points from 22 percent.
Roxas lost a point from 19 percent in the previous survey.
The survey used face-to-face interviews with 1,500 adults nationwide – 1,377 or 92 percent of them registered voters.
It has sampling error margins of plus or minus three percentage points.
Results of the latest SWS survey were published in BusinessWorld yesterday.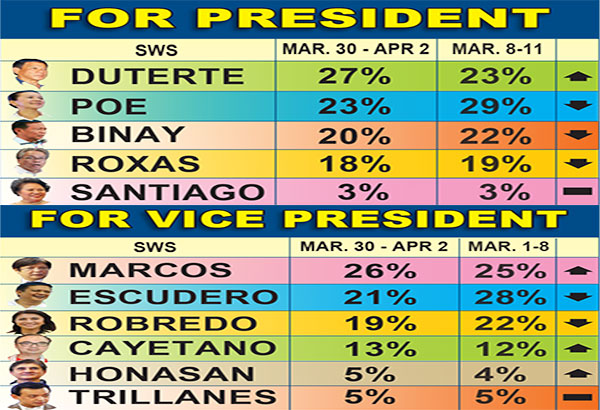 Bongbong takes solo lead
Marcos, runningmate of Santiago, took the solo lead in the vice presidential race, garnering 26 percent from 25 percent in the previous survey.
Sen. Francis Escudero, who is running with Poe, and LP bet Camarines Sur Rep. Leni Robredo are statistically tied for second spot with 21 percent and 19 percent, respectively.
Escudero lost seven points from 28 percent in the previous poll. Robredo's score dropped by three points from 22 percent.
Sen. Alan Peter Cayetano, who is running with Duterte, gained a point from 12 percent to 13 percent.
Binay's runningmate, Sen. Gregorio Honasan, was tied with independent candidate Sen. Antonio Trillanes IV with five percent each.
Duterte camp elated
The camp of Duterte said it was elated with the results of the latest SWS presidential survey but maintained it cannot be complacent.
"While we are elated with the results of the recent surveys, we still believe the final arbiter of who will be elected as president is the people... that will be known on election day," Maribojoc Mayor Jun Evasco, Duterte's campaign manager, said.
"We cannot celebrate yet until the May 9 election is over. It is not over until it's over," Evasco added.
He asked the mayor's supporters to double their efforts with less than a month before the elections.
"We urge our followers to continue to work harder and make sure their support and the results of the surveys are translated into votes," Evasco said.
Binay unfazed
Binay's camp, meanwhile, remained unfazed as it shrugged off the results of the latest SWS survey showing Duterte and Poe as the top contenders for president.
"A closer reading of the SWS survey shows downward movements for both Mayor Duterte and Senator Poe," UNA campaign spokesman Rico Quicho said.
Quicho said the numbers of Duterte and Poe actually dropped and that of Binay increased, compared with the SWS poll conducted on March 30.
In the previous survey, Duterte scored 31 percent while Poe obtained 34 percent. Binay's rating went up by three points from 17 percent, while Roxas' score increased by a single point.
"Vice President Binay is grateful for the results of the survey. Despite the attacks hurled against the Vice President, his steady rise shows the strength of his core supporters," said Quicho.
"He will work harder together with our various support groups as election day nears," he added.
Poe, Chiz reassess strategy
Poe and Escudero will adjust their campaign strategy after they both fell to second place in the latest SWS survey.
Escudero said the survey results served as a challenge to step up their campaign.
Escudero said he and Poe would reach out to more people and explain their platform.
Poe's spokesman Valenzuela Mayor Rex Gatchalian said the survey results would guide their team as they plan their next moves.
Robredo worried
Robredo said she was worried over the results of the latest SWS survey that showed Marcos topping the poll.
"I'm worried. Even if he's not at the top, even if he's in the fourth or fifth places in the survey, I'm still worried because there are still many who believe he deserves to be elected, considering he has yet to atone for their sins in the past," Robredo told reporters.
Robredo was referring to the alleged hidden wealth accumulated by the Marcoses and the atrocities during martial law. – With Perseus Echeminada, Robertzon Ramirez, Janvic Mateo, Christina Mendez, Paolo Romero