China's latest expansion to deny Philippines' access to Ayungin
MANILA, Philippines — China has created new artificial islets in two more reefs in the disputed South China Sea, which the Philippine military fears is meant to choke off its access to Ayungin shoal, where a crumbling Philippine Navy ship is beached.
In an interview, former Air Force officer Rep. Francisco Acedillo, now partylist representative of the Magdalo party, showed the latest maritime surveillance photos revealed how China's land reclamation is expanding to cover all the seven reefs it occupies.
The latest reclamation work is being done on Mischief and Subi reefs, known to the Philippines as Panganiban and Zamora, which are fast catching up with the five other reefs where China had done reclamation work early last year.
Acedillo branded this move as "graver danger to the country's national security."
The photos, taken at an altitude of 5,000 feet,show multi-storey buildings, deep harbors, and airstrips being constructed.Also sighted were cargo and supply vessels steadily hauling construction materials in reclaimed lands.
"I warn my colleagues in Congress and the Filipino people of an impending danger to our national security and it's right at our doorstep, less than 50-kilometers away from our AyunginShoal and roughly 400-km away from Palawan," Acedillo said.
Dredging on Mischief Reef began on January 14 this year and has already formed an artificial islet which now measures around 32,062 square meters from 1,909 square meters as of Feb. 2013. At Subi reef, the PH military has monitored six cutter suction dredger vessels continuously enlarging two artificial islets at the reef.
While reclamation is ongoing in Mischief and Subi (Zamora) Reefs, Chinese naval ships were sighted patrolling the area. In January, aJianghu class ship was sighted at Mischief Reef, while a Yuting II class landing ship was in Subi Reef.
Mischief Reef, lies 130NM from the coast of the Philippine island of Palawan, was occupied by China in 1995. Subi Reef is 230 nautical miles (NM) from mainland Palawan but it is close to Pag-asa, the largest island occupied by the Philippines.
The Philippine military believes that the reclamation of these two reefs for an expanded military presence is intended to choke off access to Ayungin shoal, where the Philippines maintains a military outpost in a rusty WWII warship beached there, the BRP Sierra Madre.
Latest surveillance photos of the five other reefs where reclamation work was discovered early last year now show an advanced stage of construction that clearly show a military facility being built there based on the configuration and the fixed structural design of the buildings.
The Philippine military believes that no matter what pronouncement and declaration of China on the intended purpose of the reclamation, clearly it will support naval and air asset operations in the area.
The reclamation will provide a fixed aircraft carrier platform in the South China Sea which was China's practical and immediate recourse because it would take at least 10 years for them to fully operate their newly acquired aircraft carrier.
A military source also believes that the indigenous fighter jets that China has unveiled recently will be tested there, which is likely to be followed soon after by the imposition of an Air Defense Identification Zone (ADIZ).
Military sources say at the rate is it going, China's reclamation will be completed within the year. And the rush is supposed to be due to the timeline of a possible decision of the arbitration case filed by the Philippines that will determine the maritime entitlements of the reefs occupied by China in the disputed areas of the South China.
The Department of Foreign Affairs (DFA) expects a resolution from the arbitral tribunal next year.
Military sources point to an implementation of ADIZ in the area as the end goal of China to exercise effective control and jurisdiction in the disputed area.
"By then, whatever the decision of the arbitration, China shall already have demonstrated effective occupation with their permanent military presence there. What to do then with the decision declaring those features as rocks having only 12 nautical miles of territorial sea when what you have standing on them are fortified air and naval bases?" one source said.
In the arbitration case pending before the international tribunal, the Philippines asked the court to declare that certain features such as rocks do not generate maritime entitlements beyond 12 NM. This would cover Johnson (Mabini) Reef which the Philippines described as a rocky protrusion at high tide, Cuarteron (Calderon) which is composed of coral rocks reaching higher than 1.5M at high tide, Fiery Cross Reef (Kagitingan) which is a submerged bank protruding rock not higher than one meter at high tide.
But the latest surveillance military photos will show the expanse at which those supposed rocks have grown, since the massive reclamation was discovered last year. Johnson or Mabini Reef has now a total land area of 7.94 hectares or 79,464 sqm. The rocky protrusion at high tide has sixstorey building. The 1.5-meter high coral rock Cuarteron is now 11.97 hectares or 119,712 sqm.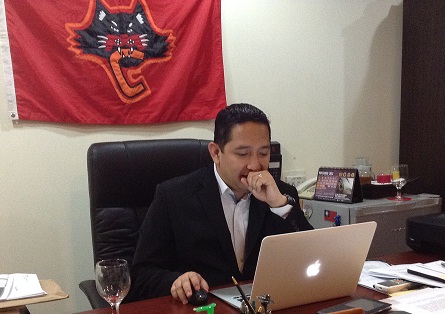 Former Air Force officer Rep. Francisco Acedillo of the Magdalo partylist calls China's expanding reclamation activities a "graver danger to the [Philippines'] national security." VERA Files
And Fiery Cross which was originally a submerged bank and no more than one meter tall at high tide, now has a three kilometer airstrip with a naval harbor for patrol ships.
Gaven Reef as of February 2013 only covers an occupied area of 1,032 sqm, as of January 30 this year it has a reclaimed land area of 78,867 sqm. And being constructed thereat is a six storey-building complex what seemed to the military as an administrative office with a floor area of 4,128 sqm and other naval facilities.
The Philippine is among six claimants to the oil-rich Spratlys chain of islands in the South China Sea. It occupies nine islands called the Kalayaan Island Group. China, Taiwan and Vietnam claim the whole of the South China Sea, other claimants are Malaysia and Brunei.
In 2013, the Philippines submitted for compulsory arbitration a case to declare among others the nullity of China's nine-dash line claim over the whole of South China Sea. It is seeking relief from the arbitral tribunal to declare that the submerged features within and beyond 200 NM of Philippines are not part of China's continental shelf; China's occupation of those features therefore violates United Nations Convention of the Law of the Sea.
Admittedly, the DFA said the decision of the arbitral tribunal is toothless, a moral suasion and international pressure at best, even if the Philippines wins the case against China. Even a regional code of conduct being forged by ASEAN and China will then also have to contend with the realities on the ground, how to deal with China's immovable presence there.
After China shall have garrisoned the disputed areas in the South China Sea, Acedillo said the arbitration decision and whatever its worth legally, will be irrelevant. The arbitration case will at the end of the day prove to be a policy of no strategy. "How poorly we have prepared for an eventuality of a challenge to the occupation of our islands," Acedillo said.
VERA Files is put out by veteran journalists taking a deeper look at current issues. Vera is Latin for "true."