Why reduced South China Sea tension is possible in 2015
MANILA, Philippines — The long-standing rivalry over maritime zones in the South China Sea will not be settled but may simmer down this year, analysts say.
Robert Farley, professor at University of Kentucky's Patterson School of Diplomacy and International Commerce, believes that the import-oriented trend in the oil industry can affect how rival claimants China and its smaller neighbors such as the Philippines see economic prospects of the key waterway.
"The decline in oil prices may make energy exploration in the South China Sea a less lucrative prospect, and conceivably could contribute to a dialing back of maritime tensions in the region," Farley said in an analysis on The Diplomat.
University of Macau professor Dingding Chen agrees with Farley in his observation on the negative correlation of oil prices and the South China Sea promise.
"One piece of good news ... might be that declining oil prices would make oil exploration in the South China Sea less profitable and thus reduce the likelihood of conflict between concerned countries in the short term," Chen said.
In an analysis released by Washington-based think tank Center for Strategic and International Studies, Chinese foreign policy expert Nicholas Khoo said that a milestone in Philippines-United States relations softened China's assertiveness in the disputed sea.
Khoo said that the Enhanced Defense Cooperation Agreement, or EDCA, forged in 2014 between the US and its oldest Asian ally immediately preceded a "more positive Chinese stance."
"Chinese Premier Li Keqiang mooted an idea to make 2015 'the year of China-ASEAN maritime Cooperation'," he noted.
"The Philippines' Defense Secretary Voltaire Gazmin has claimed that since EDCA was signed, Chinese naval forces have been deterred from harassing the resupply of a ship deliberately scuttled by the Filipino Navy on Thomas Shoal in the South China Sea," Khoo added.
Khoo pointed out, however, that important questions remain to be answered this year.
The international arbitral tribunal ruling on the Philippines versus China case is expected by late 2015 or early 2016, while a binding Code of Conduct between China and ASEAN may possibly see the light of day this year.
While optimism in the contentious maritime area abounds, the Council on Foreign Relations, another US-based think tank, sees a 50-50 chance of a military clash between China and one or more claimants occuring this year.
The CFR's Center for Preventive Action upgraded from low to moderate the likelihood of territorial and jurisdictional disputes in the South China Sea escalating into fighting.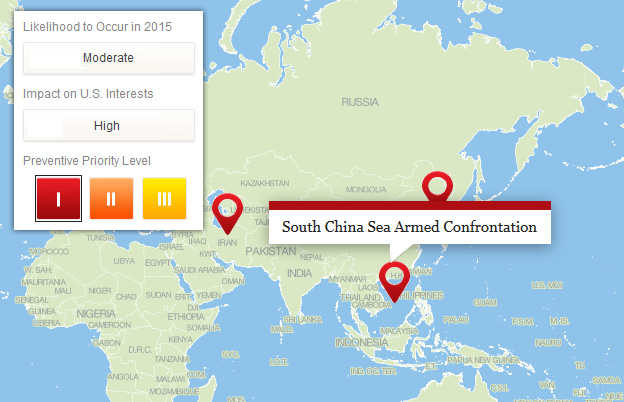 Lifted from the Council on Foreign Relations' Global Conflict Tracker. The two other flagged potential conflict zones are an Iranian nuclear crisis and a North Korean crisis.
On Monday, Beijing state media reported a new supply ship, Sansha I, went on its maiden voyage to help efforts "to defend China blue territory and protecting its interests in the sea."
"The Sansha I can cover all of the South China Sea and reach more islets and reefs in the remote Zhongsha and Nansha groups," the report quoted Feng Wenhai, the vice mayor of Sansha, a prefecture China considers to include Philippine-claimed Spratly Island Group.
RELATED: Top US diplomat questions China's construction in disputed sea