7 in 10 Filipinos expect happy Christmas
MANILA, Philippines - Seven out of 10 Filipinos are expecting to have a happy Christmas this year, the latest Social Weather Stations survey showed.
With around 1,800 respondents, the survey conducted from November 27 to December 1 found that 71 percent of Filipinos expect a happy Christmas, while six percent expect a sad one. Twenty-three percent, meanwhile, said they are neither happy nor sad for the upcoming holidays.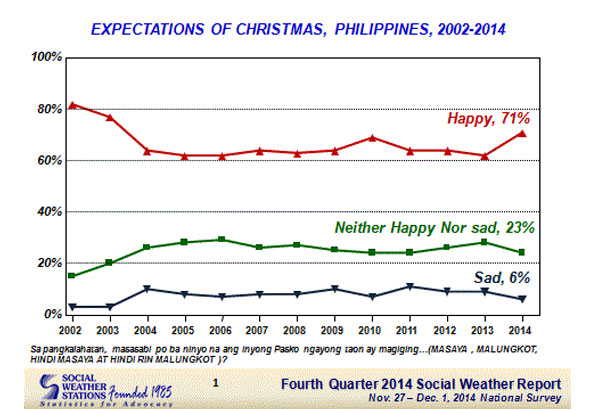 The SWS said that this year's survey saw an improvement in the expectation of a happy Christmas, as survey results during the past 10 years ranged from 62 to 64 percent.
The six percent expectation of a sad Christmas is also the lowest since the four percent in 2003, the survey firm said.
Sadness with Christmas fluctuated at seven to 10 percent from 2005 to 2010. The all-time high of a sad Christmas expectation was recorded in 2011 with 11 percent.
On the other hand, three in four respondents or 75 percent said that it is better to give while 23 percent said that it is better to receive for the coming Christmas.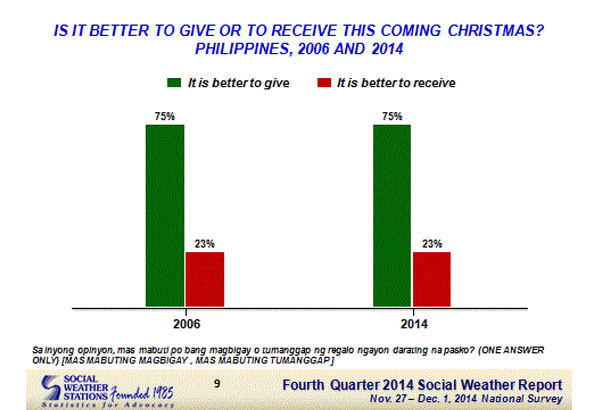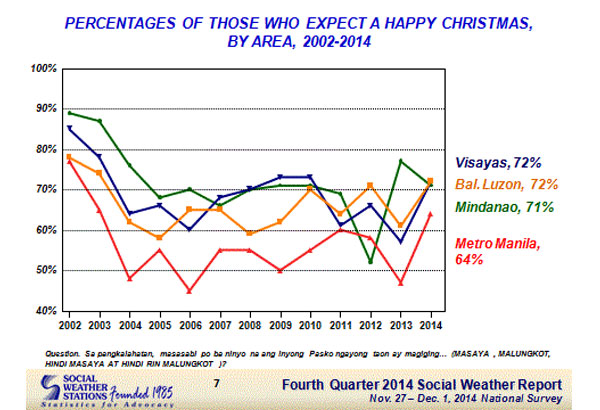 The said survey revealed that provincial areas outside Metro Manila have a higher rate of expectation of a happy Christmas.
The youth (ages 18 to 24) registered higher expectation of happy Christmas with 74 percent.
The study also showed that males who are expecting a happy Christmas is higher compared to females, with 74 and 68 percent, respectively.
The survey was done using face-to-face interviews of Filipino adults nationwide, 300 each in Metro Manila, the balance of Luzon and Mindanao, and 900 in Visayas.