Supreme Court: Acts under DAP unconstitutional
MANILA, Philippines — The Supreme Court declared unconstitutional "acts and practices" under the Aquino administration's Disbursement Acceleration Program (DAP), dubbed a form of pork barrel, on Tuesday.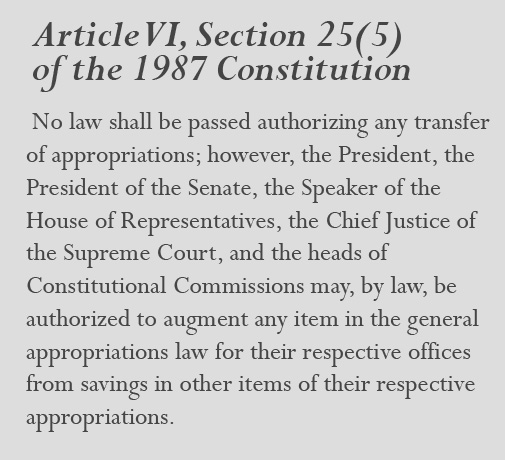 Voting unanimously, 13 of the high court's magistrates ruled that the executive branch overstepped its powers using the lump sum funds under the program. Justice Teresita Leonardo-De Castro inhibited from voting.
"[The Supreme Court] voids three 'acts and practices' under the DAP, [National Budget Circular] No. 541 and related issuances," spokesman Theodore Te said in a statement.
The court resolution states that DAP acts violate Section 25(5), Article VI of the 1987 Constitution and the doctrine of separation of powers of the executive and legislative branches.
The court struck down portions of the DAP allowing the transfer of savings outside the executive branch, the funding of government projects not covered by the General Appropriations Act and the renaming of unreleased allotments and appropriations supposedly for agencies to "savings."
Also nullified was the use of "unprogrammed funds despite the absence of a certification by the National Treasurer that the revenue collections exceeded the revenue targets," it added.
The ruling indicates that the Department of Budget and Management allowed the use of funds without clearance that those funds came from government savings.
The main text of the decision is still being edited as of posting time.
The Tuesday ruling was a decision on the nine petitions filed before the court questioning the constitutional validity of DAP.
The DAP was bared to the public when Senator Jinggoy Estrada claimed that Aquino's allies used the DAP to pay off lawmakers to convict ousted Chief Justice Renato Corona in 2012.
DBM, however, denied bribing senators and said the program was established to fuel spending to boost the economy.
Senators got DAP
Senator Miriam Santiago, meanwhile, said that DBM was not fair in distributing funds to senators under the DAP but confirmed that lawmakers received millions during and after the impeachment trial against Corona.
"It should be illegal for the budget department to discriminate among senators. While all other senators received an average of P50 million in DAP funds, reportedly three senators got P100 million each," Santiago said in a statement Tuesday.
"They are Sen. Juan Ponce Enrile, Sen. Franklin Drilon, and Sen. Francis Escudero," she added.
Those who were not given any additional pork from the DAP were Santiago, Sen. Bongbong Marcos, and Sen. Joker Arroyo — the three senators who voted against conviction.
Santiago, an acknowledged constitutional law expert, said whether the DAP is illegal is a "no-brainer."
"The DAP is illegal because it was not contained in the 2011 or 2012 budgets, and because the alleged savings were used to augment new budget items which was not previously authorized by Congress," she said.