Gov't selling Marcos crony's Manila prime properties
MANILA, Philippines — The Presidential Commission on Good Governance (PCGG) announced the bidding for three sequestered properties from a crony of the late strongman Ferdinand Marcos in prime locations in Metro Manila on Monday.
In a poster released on its website, PCGG announced the bidding for a 727-square meter house and lot in North Greenhills in San Juan City, a 721-square meter residence in Quezon City's Valle Verde III, and a vacant lot with an area of 582 square meters in Capitol Hills in BF Homes, Quezon City.
Minimum bid for the North Greenhills house was set at P60.74 million, while a minimum of P45.47 million is being asked for the Valle Verde III property. The Capitol Hills lot, meanwhile, is valued upwards from P8.14 million.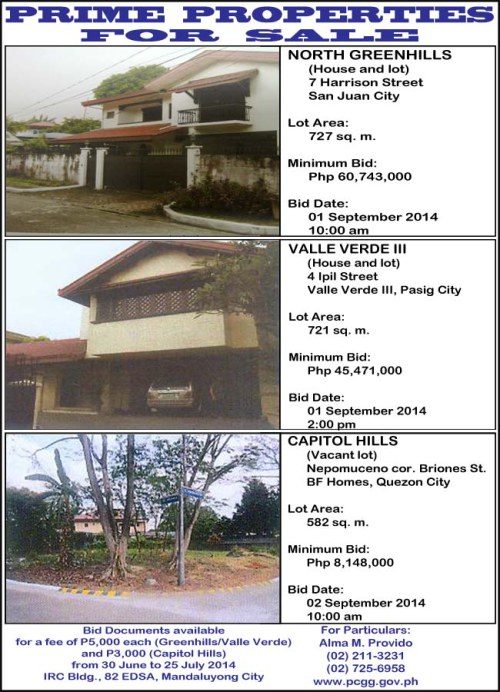 Poster announcing the auction for sequestered Marcos residential properties. PCGG
The bidding date is set on September 2, 2014.
PCGG Chairman Andres Bautista had said he is confident the properties will attract a number of prospective bidders due to the location of the properties as well as the prevailing real estate market.