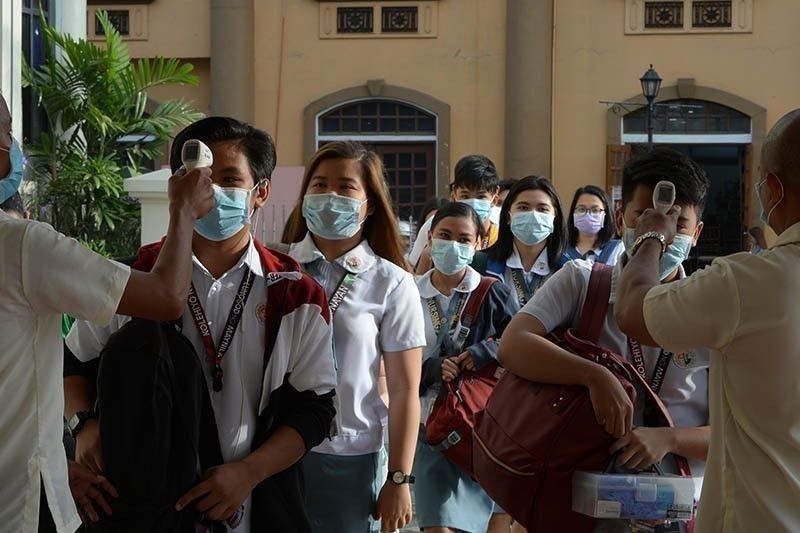 Class conflict: Preparations, debate over school opening
LATEST UPDATE: July 9, 2020 - 10:49am
LOCATION:
+ Follow Story
1 day ago
A group of teachers says it is disappointed with the preparations reported by the Department of Education, less than 50 days into class opening.
The department's bid to "appear prepared by presenting the supposed partnerships it has forged with various government agencies and private corporations only shows how behind the agency is in fulfilling the requirements of its learning continuity plan and how still unclear the mechanics are of blended learning," the Alliance of Concerned Teachers adds.
July 4, 2020
The Department of Education says it is working with the Department of Information and Communications Technology to assist the education sector for the continued delivery of education amid the COVID-19 pandemic.
"As we examine the achievements and challenges of DepEd in the current pandemic, especially in schools located within community quarantine areas, DepEd continues to emphasize the unique synergy of our two departments closely working together in the delivery of education via the internet," says Secretary Leonor Magtolis Briones.
July 1, 2020
A group of teaches slams the Department of Education for sending more teachers to communities in order to convince parents to enroll learners as a result of the underwhelming enrollment turn out.
"DepEd would rather send its untested teachers to scour communities and locate unenrolled students at the height of a raging pandemic, instead of providing enabling conditions for learning continuity. It again resorts to band-aid and risky measures to cover up the glaring problems with its back-to-school plans," says Alliance of Concerned Teachers Secretary General Raymond Basilio.
"Without recognizing and resolving the roadblocks confronting parents and learners, the enrolment extension will be no more than a desperate and risky bid to boost enrolment figures," he adds.
June 26, 2020
The Alliance of Concerned Teachers Philippines hits the Department of Education after it "paraded its unpreparedness" again during the Senate hearing on the preparation of the agency's learning continuity plan (LCP).
"Despite getting IATF's go signal for the LCP as early as May 11, DepEd still has nothing to show for its prized alternative modalities—no laptops, gadgets for learners and education workers, no print or digital modules for the revised K to 12 curriculum, no report yet on the much-bragged about TV/radio educational programs," says ACT Secretary General Raymond Basilio
"Neither has it instituted any health and safety measures at schools. How will learning continue amid the pandemic without these?" questions Basilio.
June 25, 2020
Sen. Nancy Binay asks officials of the Department of Education officials whether they had carried out school mapping to help identify which areas had the appropriate infrastructure to adopt new learning modalities.
"Hindi ba dapat ngayon pa lang mayroon nang ganitong mapping? Kasi iyong training na ginagawa ninyo sa mga teachers dapat angkop doon sa kakayahan ng lugar, eh. For example, let's say Bukidnon or Cordillera na alam naman natin mahirap ang signal," she says.
"So why would we train our teachers for an online way of teaching our kids when alam naman natin na mukhang mahirap ang ganoong klase ng pagtuturo?" Binay adds.

June 23, 2020
The Alliance of Concerned Teachers Philippines urges the Department of Education to suspend the order on alternative work arrangement after "harrowing" reports that teachers were made to physically report without support nor protection against COVID-19 infection.
"This is what happens when a work order precedes the more important plan and directive to install preventive measures in worksites," says Raymond Basilio, Secretary General of ACT Philippines.
"Teachers, including those who are pregnant, of senior age, and with pre-existing conditions in the case of some areas were made to physically report to work without provisions for safe transportation, only to find that many of the schools were not compliant to minimum health standards," he adds.

June 13, 2020
The Alliance of Concerned Teachers Philippines urges to protect the private school teachers amid low enrollment turnout.
"If enrolment will continue at this rate, we may have less than a million learners in private schools for this school year, which may mean thousands of school closure, especially small ones that are unable to continue operation due to the lack of sufficient funds from tuition and other miscellaneous fees," says ACT Secretary General Raymond Basilio.
"This in turn will lead to massive lay-offs of education workers," the group says.
June 8, 2020
Education Secretary Leonor Briones says the Department of Education will comply with the directive of President Rodrigo Duterte to postpone face-to-face classes until a vaccine for COVI-19 is available.
Briones adds that teachers are being trained on using new platforms and tools for blended learning.
"Radio, television, online and modular learning — which are pre-existing methods and were already used for decades -—are being prepared and updated for this year," Briones says in a statement.
June 6, 2020
The Alliance of Concerned Teachers Philippines hits the Department of Education for "wasting teachers' time, efforts, and resources" when they are already pressed for time to finish the things needed for the school opening on August 24.
"The lack of a comprehensive plan, definite budget allocation, clear and timely guidelines, and coordination among DepEd officials were very evident in the first week of work, resulting to teachers being made to fill in the needed resources and perform tasks that will not even be useful in preparing for the school opening," says ACT Secretary General Raymond Basilio.
May 29, 2020
A group of teacher launches its Bantay Balik-Trabaho Hotline to monitor the threats to the lives of teachers and education employees who will report to work on June 1, "without so much as mass testing."
"This hotline aims to provide venue for teachers' back-to-work woes, and hold the government accountable for neglect," says ACT Secretary General Raymond Basilio.
The hotlines are as follows: Smart (0949-926-3996), Globe (0953-162-1571), e-mail address (act.hotline@gmail.com) and Facebook (facebook.com/actph1982).
May 29, 2020
A children's rights organization says the Department of Education must have clear and concrete guidelines on "blended learning" to ensure children's right to education.
"Parents and students are facing uncertainty as school year 2020 approaches, and their apprehension is understandable since the number of active cases of COVID-19 in the country has spiked instead of flattening," says Salinlahi Alliance for Children's Concerns.
"While the blended learning program being proposed by the Department of Education (DepEd) will somehow reduce the risk of coronavirus infection among children, the lack of clear guidelines on how it will be implemented is a valid concern," it adds.
May 28, 2020
A group of teachers asks President Rodrigo Duterte about his funding commitment for school opening as he now controls hefty amounts of the 2020 budget and 2019 savings through the Bayanihan Law.
"The Duterte administration's COVID-19 response shall include ensuring the safety and health of education workers and learners as it pushes to open classes despite the uncontained pandemic. So should it cover the huge costs of the blended modes of learning in keeping with its mandate to ensure the youth's right to free, accessible, and quality education," says Alliance of Concerned Teachers Secretary General Raymond Basilio.
May 27, 2020
The Alliance of Concerned Teachers raises concerns on what it says is "the unclear and lacking guidelines with regards to school opening" a week before June, the month when the new academic year usually starts.
It cites President Rodrigo Duterte's preference to keep children away from school as long as there is no vaccine for COVID-19 and presidential spokesperon Harry Roque's clarification that only "face-to-face" classes are not allowed during the pandemic.
"Government discord a few days before we're set to return to work leaves us in a restless limbo, adding to our anxiety caused by the still uncontained COVID-19. Officials' conflicting statements make it clear that the country is not actually ready to open schools. As such, we fear that the unpreparedness and premature decisions may put to risk the lives of teachers, staff, and parents," says ACT Secretary General Raymond Basilio.
Follow this thread for updates on when classes will resume, and how those classes will be conducted.
Photo: Students wearing protective face masks have their temperatures taken while entering their college campus in Manila on January 31, 2020. AFP/Ted Aljibe