Radyo5 rebrands as 92.3 Radyo5 TRUE FM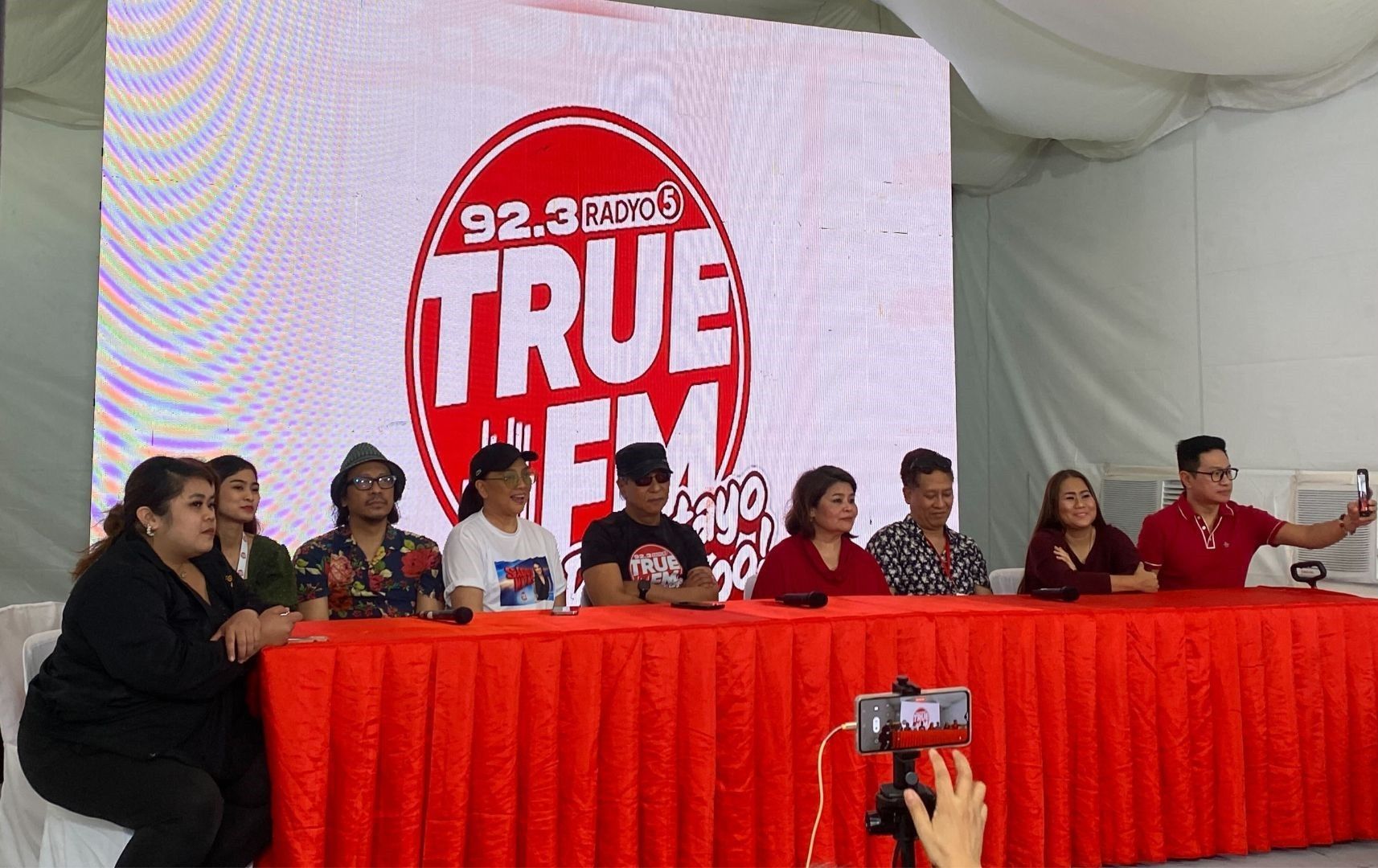 MANILA, Philippines — Radio station Radyo5 officially rebranded its identity into 92.3 Radyo5 TRUE FM, further marrying FM and AM radio together through a diverse set of programs across different news categories.
Radyo5 was launched back in 2010 and last January 23, the station changed its line-ups to cater to all facets of news, and the name TRUE FM soon followed.
Beyond delivering news, TRUE also serves as an acronym for the tenets that the radio station follows for responsible and community-centered broadcasting to be recognized as the country's leading public service go-to radio station, represented by its own shows.
Expectedly "T" stands for Truth in journalism as heard in flagship news program "Radyo5: Balita Pilipinas" and "Frontline Pilipinas" hosted by Ted Failon and DJ Chacha, as well as "Bangon Bayan with Mon" hosted by Mon Gualvez.
"R" stands for Real people and stories as featured in programs that are relatable and resonate with listeners, fronted by "Sana Lourd" hosted by Lourd De Veyra, "Pinoy Konek" hosted by Danton Remoto, "Dr. Love" hosted by Bro. Jun Banaag, and "Power and Play" hosted by Noli Eala.
"U" is for Unwavering commitment to public service where the programs "Wanted sa Radyo" hosted by Sen. Raffy Tulfo, "Sagot Kita" hosted by Cheryl Cosim, and "Healing Galing" hosted by Dr. Edinell Calvario offer a platform for listeners to literally air concerns and be provided with assistance or advice.
Wrapping it all off is "E" for Entertainment as heard in "Cristy Ferminute" hosted by Cristy Fermin and "Good Vibes" hosted by Stanley Chi and Laila Chikadora for daily doses of showbiz and lifestyle updates.
Hosts input
At the grand launch of TRUE FM, several of the station's hosts were in attendance to discuss how they will navigate the future of their respective programs.
Beyond hosting, Failon also heads the training of the station's mobile journalists who individually cover and manage stories on their own.
RELATED: TV5 teases news, sports and entertainment offerings for 2023
"Dumami pa sila kasi importante sila sa panahong 'to dahil sa limited resources, so napaka-importante na mayroon kang citizen journalists na prepared tumakbo, magbalita, at alam kung paano magbabalita," said the verteran broadcast journalist.
Failon also thumbed down rumors that he would enter politics, "Radyo ang aking first love. Mula noon at hanggang ngayon dito na ako hanggang sa lagutan ako ng hininga, sa radyo lang ako," even joking that he would get stem cell treatment to increase his longevity.
Remoto was also asked if he would consider politics again — having attempted to run for congress under the Ladlad party — but he isn't sure at the moment because he finds it "marumi" and would rather emulate Failon by living a quiet life.
"Pag may nagbigay sa'kin ng P100 million, tatakbo akong senador," Remoto quipped.
De Veyra shared a story during a ride home where a driver recognized his voice and realized that he was always tuning in to Radyo5, explaining why he thinks people like the driver listen in.
"Tingin ko 'yung vibe ng FM, 'yung linaw, pero at the same time 'yung pagiging utilitarian/pleasure element ng AM at FM ay napagsasama," De Veyra said.
Remoto, meanwhile, joked that despite already living in the United States, he returned to Radyo5 because of the huge talent fee the station offered.
Tulfo, who was present via a phone call, said he continues his iconic radio program despite his political commitments as he owes his success in the latter to "Wanted sa Radyo."
"Kung gusto maraming paraan, kung ayaw maraming dahilan... I'm very happy and the only thing I need to do is manage my time," said Tulfo. "Kailangan ko 'yung program kasi kung 'di dahil doon, walang Raffy Tulfo ngayon sa senado, and the reason I'm doing what I'm doing is because of my style and I wouldn't change that."