Barbie & Jak going strong; Paul & Taki taking it easy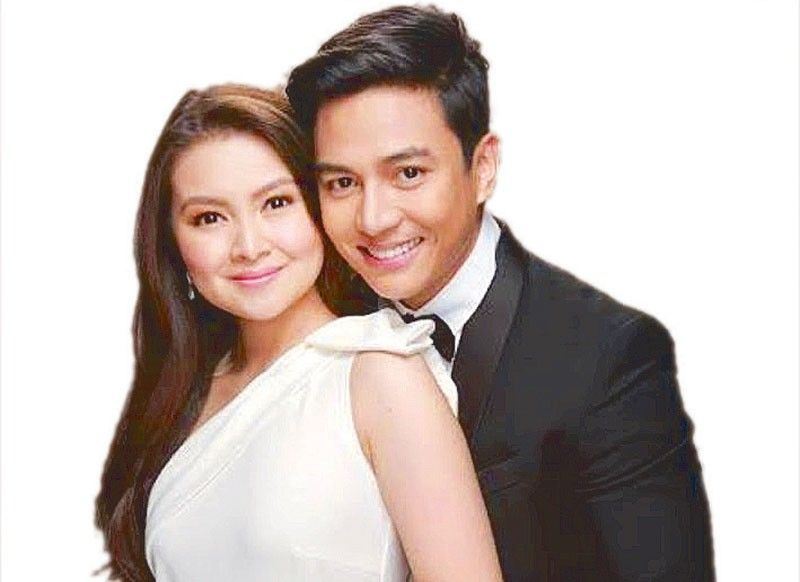 After being tested as loveteam mate of Joshua Dionisio (2009), Derrick Monasterio (2012), Andre Paras (2016) and with her four leading men (Ken Chan, Addy Raj, Ivan Dorschner and Jak Roberto) in the 2017 Kapuso romcom Meant To Be, Barbie Forteza has found her match in Jak not only as on-screen sweetheart but also in real life.
Asked during a virtual interview how Jak won her affection, Barbie clasped her hands over her chest and exclaimed, "His six-pack abs." She laughed and laughed and turned serious, "What made me say yes was the way he pursued me, kung paano niya ako sinuyo from the beginning up to now. Other guys kasi, they put their best foot forward habang nanliligaw. Once sinagot na, along the way there would be clashes and misunderstanding at doon lumalabas ang tunay na kulay. Jak and I have been together for four years and we do have minor clashes but breaking up has never been an option. We always find ways to patch things up. We remind ourselves, 'This is for the long run, ayusin natin ito."
By coincidence, Paul Salas' ex-girlfriend is also named Barbie (Imperial). It was a stormy romance dissected on social media with Paul getting the brunt but coming out hardly wounded. That was the past. When last heard of, Paul was said to be going steady with Taki Saito (the Filipino actress of Japanese-Brazilian descent who was a member of a J-Pop group). All quiet on the Fil-Nippon front. Whatever happened? It seems that they are lying low. "We are not in a hurry," said Paul. "Hindi kami nagmamadali. I have work and she has work, too. She's in Japan and I am proud of what she's doing. Malayo kami sa isa't-isa but we are in touch."
Barbie and Paul were together in the virtual interview with Funfare. They are starring in The Lookout episode of the Kapuso series I Can See You that started airing at 8:50 last night (until Friday, April 23), right after First Yaya. Directed by Jules Katanyag and associate director LA Madridejos, the story revolves around Emma (Barbie), an all-around helper and raketera who, in dire need of money for a sick sibling, agrees to act as lookout for a robbery in the house of a rich family (Paul as Marius, with Christopher de Leon as his prominent doctor-father), only to save the family from another robbery gang that's in the house at the same time. That's how Emma and Marius, who start in an aso't-pusa relationship, come to know their real selves and become close.
Paul turned 23 last April 16 and Barbie 24 on July 31. They both started as child actors, Barbie at 12 and Paul at seven.
Paul: "As a child actor, I was playing a happy child in pa-cute roles. While growing up, I didn't realize that my roles are no longer just masayahing bata, they became deeper and deeper, palalim nang palalim. Suddenly, I was being cast in action pictures, love triangle, and that to me was the hard part...the transition from pa-cute roles to serious roles. The acting workshops helped me a lot in adjusting to the change of roles."
Barbie: "I was 12 when I was introduced in the GMA series Stairway to Heaven. Then, at 14, I started being paired in a loveteam. It was hard to get away from that, nahirapan akong kumalas. When I began going solo, I was rattled. What will I do? What is the next step? In a loveteam, kailangan parating may kasama, may ka-partner. I struggled on. No more partner. I was on my own. But I wasn't discouraged. This is what I want. I tried different roles with different partners."
It was when Barbie did serious roles in indie films that a new horizon opened up for her. In 2014, when she was 17, she won Best Supporting Actress for Mariquina (as the young Mylene Dizon) in the 10th Cinemalaya Independent Film Festival (CIFF) and Best Actress for Laut at the 36th Fantasporte International Film Festival (FIFF) in Portugal.
As active users of social media, Paul and Barbie have learned to shrug off bashers.
"I used to be affected, kaya sagot ako nang sagot," admitted Paul. "And then my father (Jim Salas of the Universal Motion Dancers/UMD) advised me to stop minding the bashers and just keep quiet. So I did. Hindi ko na pinapansin ang mga bashers and I feel light."
For her part, Barbie is taking it with a smile.
"Kailangan daw magpaayos ako ng ngipin kasi sungki-sungki daw. You know, I've been checking with my dentist for more than a year and yet the bashers are not satisfied, hahahaha!!! Hindi pa rin OK sa kanila. Now they are saying na malapad daw ang ilong ko. I look in the mirror at happy naman ako sa ilong. But still, it's not OK sa mga bashers ko, hahahaha!!!"
Are they now ready for mature, more daring roles?
Paul said, "Maybe if it's for a character in the story, baka puede. But you see, up to now, I still feel conscious when posing for medyo sexy pictorial like what I did for Bench. Medyo na-iilang pa. But now that I am 23, why not."
Barbie has posed in a bikini with her four Meant To Be leading men and she looked good.
"Doing more daring roles? I will ask Jak if he's ready, hahahaha!!! When he sees me doing TikTok in a sando and shorts, he comments, 'Talagang bang ipo-post mo 'yan ha?' Guma-ganoon siya."
But it's okay with Barbie if Jak goes daring and baring.
"After all, he has a good body. Proud ako because I see the result of his effort to achieve that kind of physique."
Isn't she affected (or jealous) when girls swoon over Jak's to-die-for body?
"As I said, proud ako. The more girls admire him, the happier I am. It means malakas ang dating ng boyfriend ko. Nakaka-flatter actually. Nakaka-proud."
(E-mail reactions at rickylophilstar@gmail.com. For more updates, photos and videos, visit www.philstar.com/funfare or follow me on Instagram @therealrickylo.)