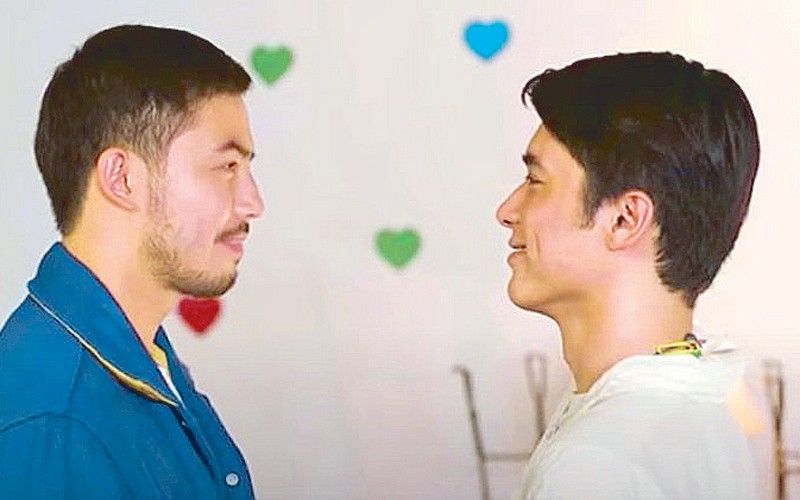 Tony Labrusca as Xavier and JC Alcantara as Mico in Hello Stranger
ABS-CBN Films innovates to bring entertainment during pandemic
KAPAMILYA DAY
-
Kane Errol Choa
(The Philippine Star) - September 22, 2020 - 12:00am
While the prospects of cinemas re-opening remain bleak and the halting of film productions, ABS-CBN Films accelerated its digital pivot, innovated its content offerings and ultimately, engaged its audiences who are quarantined at home during this pandemic.
Under Enhanced Community Quarantine (ECQ), millions of Filipinos had to stay in their homes. Not everyone had many entertainment options. Those left with fewer options got tired of reruns at one point. They were looking for something new.
Black Sheep head Kriz Gazmen said the group brainstormed on what they can offer and bring entertainment and relief to their audiences in the digital world through the digital channels and social media accounts of ABS-CBN Films.
They came up with new digital shows that catered to different audiences. These include a variety-musical talk show called I Feel You with Toni Gonzaga; a visual podcast called The Four Bad Boys and Me, featuring Maymay Entrata and some of today's most promising and popular teen stars; and a local Boys Love or BL series titled Hello Stranger, starring Tony Labrusca and JC Alcantara.
"We follow where the audience is and give them what they want," said Kriz about the success of their innovative and breakthrough digital shows. "We didn't want to lose our audience. We want to engage them."
Before the pandemic broke out, ABS-CBN Films launched its talent management arm called Rise Artists Studio and introduced its first batch of young artists. They are Anthony Jennings, Arielle Roces, Belle Mariano, Charlie Dizon, CJ Salonga, Daniela Stranner, Gillian Vicencio, Jeremiah Lisbo, Markus Paterson, Patrick Quiroz, Vivoree Esclito, Kaori Oinuma and Rhys Miguel.
According to Kriz, the development of new digital shows also allowed them to introduce its new stars.
One of their offerings that featured mostly, if not all, new faces was the digital adaptation of the Wattpad novel with the same title, The Four Bad Boys and Me by Tina Lata. It stars Kaori, Rhys, Jeremiah, with Maymay as the narrator. Completing the cast are Karina, Aljon, Mark Rivra, Alora Sasam and Jenny Jamora.
With the strict restrictions on production due to the pandemic, Kriz said they thought of turning it into a podcast that is fast gaining popularity but added visuals to bring life to the story and meet the tastes of the audiences.
The eight-part visual podcast series, which is the first offering of the Listen 2 Love series, generated 2.5 million views for its first two episodes and even topped Twitter's trending topics.
Another digital blockbuster is Hello Stranger, Black Sheep's first foray into the boys love genre popular in Thailand that has gained a strong following locally on YouTube. It is a story about a nerdy college student, played by JC, who accidentally meets the school's star basketball player, played by Tony, in a virtual meeting during the lockdown.
Fans eagerly waited for the weekly drop of the eight-episode series on ABS-CBN Films' and ABS-CBN's various digital channels, which generated whopping total views of 13.7 million as of Sep. 7.
It has made Hello Stranger the most viewed Philippine digital series and gave rise to two popular loveteams, Tony and JC, and Rise Studio Artists' Vivoree and Patrick. The BL series consistently topped Twitter trending topics in the Philippines and even trended in the US, Puerto Rio, Belarus, Thailand and worldwide.
With the popularity of the series, Kriz said they decided to hold a digital fan conference that gathered thousands of fans from over 300 cities globally on the KTX.ph platform who bought tickets to watch the finale in advance, similar to movie premiere events. Fans even booked a digital billboard in Guadalupe for the finale drop last month and ordered the Hello Stranger couple shirts to show their love. Scenes from the phenomenal digital series also became subjects of YouTube reactors worldwide as it brought kilig moments to foreign audiences.
Before serving the podcast's young audiences and the BL series' fans, ABS-CBN Films launched the I Feel U weekly show that reconnects Filipino families here and abroad by featuring reunions of nostalgic shows, script readings, interviews, mini-concerts, contests and tributes to frontliners. With 10.1 million lifetime views, I Feel U is now on its second season.
Following its digital shows' success, Kriz shared fans can expect new offerings from ABS-CBN Films in the coming months, including a movie version of Hello Stranger and many more.