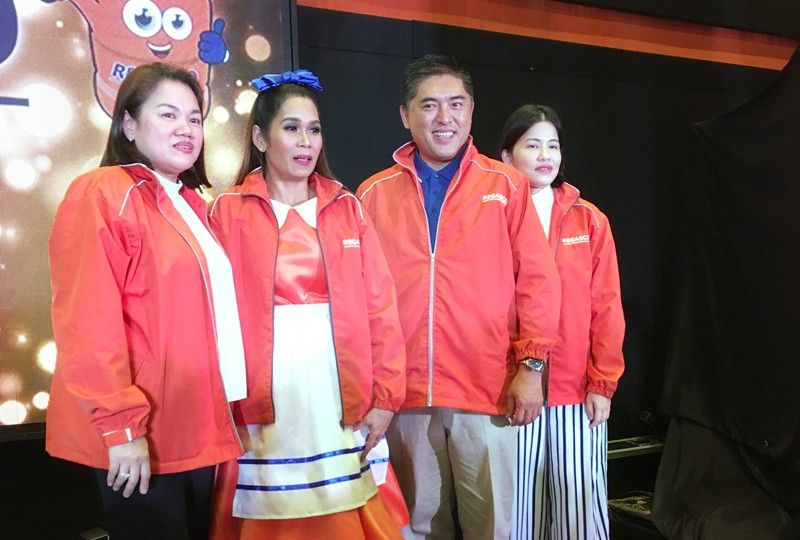 Regasco endorser Pokwang with execs Lesley Yiu, Arnel Ty and Annette Ty
Bot Glorioso
(The Philippine Star) - October 31, 2019 - 12:00am
MANILA,Philippines — Pokwang is about to turn her love for cooking into a profitable business with the opening of her own restaurant in Antipolo City sometime next year.
"Hopefully, by middle of next year our Filipino cuisine resto (will be operational) at sinimulan ko na po 'yung mga sauce na aking tinitinda," Pokwang said during her formal launch as the first celebrity endorser of Regasco liquefied petroleum gas. "I think you already know that I've been making sauces like the aligue sauce with chili variant, and my (own mixture of) vinegar with spices."
The comedienne has already found a spot in Antipolo that she deemed perfect for a restaurant but still under negotiation since she is also considering a place that has a spacious parking area.
Asked about the name of her restaurant, Pokwang said, "We are thinking about naming it as Kusina ni Mamang at Papang, very Filipino." And her daughter Ria Mae Subong will be in-charge of preparing desserts and pastries. It was only last year when Mae graduated with a degree in Culinary Arts from Enderun Colleges.
A former OFW, Pokwang also wants her restaurant to be the go-to place of Pinoys who will come home for vacation "because I also have a lot of followers abroad and I know most of our OFWs miss eating Filipino food so much. Gusto ko na 'yung pag-uwi nila sa Pilipinas, isa yun sa ilu-look forward nila na pumunta sa place namin."
Although she did not attend any culinary schools, Pokwang got her innate talent in cooking from her father. "Meron lang akong pulso sa kusina na kumbaga I don't measure ingredients whenever I cook, only by instinct and thankfully, the taste is always a hit to my family and friends." Her father's version of potchero, she added, is her all-time favorite.
But when it comes to comfort food, Pokwang finds ginisang ampalaya with egg and fried tinapa or galunggong the perfect pair in any of her meal time. She, too, said that her American partner Lee O'Brian enjoys eating all kinds of Filipino food including balut and dinuguan.
Regasco marketing head Lesley Yiu said Pokwang's values and devotion to family are the qualities that exactly fit to the characteristics they look for as the brand's endorser. "Her qualities go with our principles that we have here in Regasco — that family is our priority. We like to keep every family safe at home with the safety standards that Regasco gives to clients. We do not only make home delivery but also our delivery staff do tests like the bubble test to assure that there is no leakage of gas."
Pokwang, on the other hand, is thankful that Regasco will be her partner in her cooking needs.