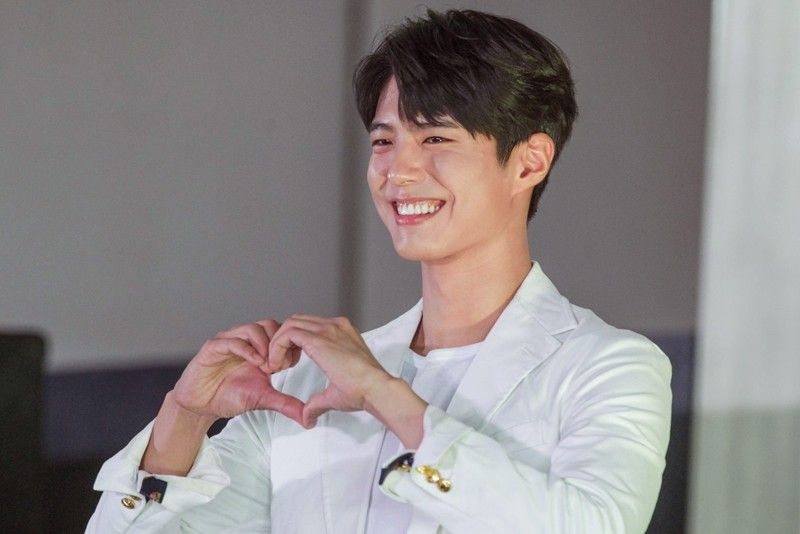 The South Korean superstar greets the Philippine media and lucky fans during a presscon at the Sunset Pavilion in Sofitel Hotel in Pasay City.
Photos by Mong Pintolo
A Good Day with Park Bo Gum
MANILA, Philippines — First, a little trivia. Did you know that South Korean superstar Park Bo Gum originally wanted to be a singer/songwriter? Yes, in his younger years, he sent videos of himself singing and playing the piano to famous talent agencies and actually got some offers. But he was advised that he would do better in acting and so he pursued this career trajectory instead.
Indeed, Bo Gum excelled in acting and one of his unforgettable roles was as a psychopathic serial killer in "Hello Monster" in 2015. But he can also easily shift from a dark character into a heartthrob and debonair leading man in rom-com K-dramas. His roles as a handsome crown prince in Love in the Moonlight and a free-spirited young man who lives a simple life in Encounter, have endeared him to many of his fans.
Bo Gum breezed into town to meet his Filipino fans for the first time last Saturday (June 22) at the Mall of Asia Arena. Dubbed Park Bo Gum's 2019 Asia Tour: May Our Every Day be a Good Day, the event was produced by ABS-CBN Events and Ovation Productions, in partnership with Blossom Entertainment. Bo Gum kicked off his tour in Seoul and made stops in Japan, Thailand, Singapore, Hong Kong, Indonesia, Malaysia and Taiwan. The Manila leg was Bo Gum's final stop.
Prior to the meet-and-greet session, Bo Gum held a press conference with the Philippine media and lucky fans on Friday (June 21) at the Sunset Pavilion in Sofitel Hotel in Pasay City. He first gained popularity in the country through the historical Korean drama "Love in the Moonlight," which aired on ABS-CBN in 2017 and brought the "moonlight syndrome" and "Bo-gum" magic in Manila. His latest TV drama Encounter with actress Song Hye-Kyo will soon air on ABS-CBN.
The media and the fans who attended the press conference couldn't help but swoon over the actor who was dapper in a white and black suit. Sporting a slim figure, Bo Gum was all smiles and jolly to the crowd.
Asked by celebrity host Sam Oh about his feelings on visiting Manila and meeting his fans here for the first time, Bo Gum answered: "I'd been really looking forward to this, I've been wanting to go here." He said it without an interpreter, prompting Sam to comment, "Wow, your English is so good."
Bo Gum further impressed the audience when he spoke English all throughout the interview. He said this was not his first time in the Philippines. "In fact, this is my third time in the country. The first time I came here was when I was filming the Korean drama Wonderful Mama. The second time was for a vacation after doing Love in the Moonlight. That remains in my memory," Bo Gum said.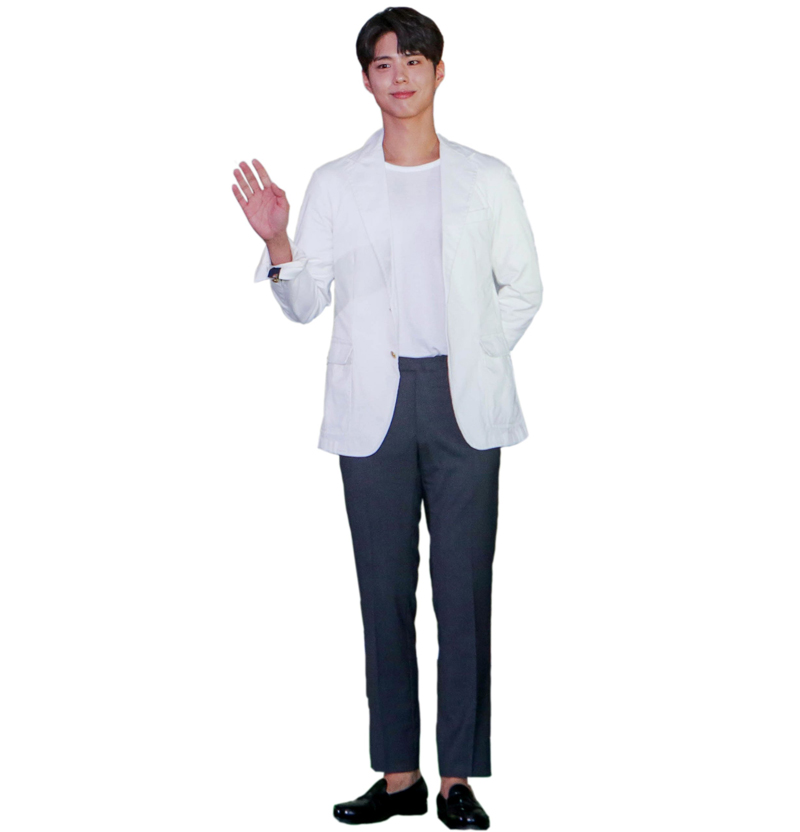 Asked what his favorite roles are from the array of TV dramas and films he has done in the past, Bo Gum couldn't choose a specific character.
"All of those characters live in my memory because all of those characters in (those) dramas (are) so, so precious to me. Every character I've played has something in common with me," Bo Gum said.
And if Bo Gum's acting was praised in "Love in the Moonlight" and his other drama/film projects, he said it's because he was honed by the roles he had played in the past. Every drama or movie has displayed his fine acting chops.
In "Love in the Moonlight," Bo Gum plays a crown prince who begins to fall in love with his political eunuch, who is really a young man posing as a man. In "Encounter," he stars opposite Kim Yoo- jung, about a couple who meet slowly and fall in love. The 16-part romance tells the story of Cha Soo-hyun (played by Song), a politician's daughter and conglomerate-heir divorcee, who has never lived her own life, and Kim Jin-hyuk (Bo Gum), a free-spirited guy who lives a simple life. It is one of the highest-rated Korean dramas in cable television history.
In Reply 1988, which was shown in 2015, Bo Gum played an innocent baduk player. Set in the year 1988, the movie revolves around five friends and their families living in the same neighborhood in Dobong District in Northern Seoul.
Bo Gum's last two films were blockbusters in Korea. He played the role of a cheerful guy Suk Hyun in Coin Locker Girl in 2015. The film is a crime thriller that saw Bo Gum portraying a son of debtor who's gone AWOL. He also plays a sweet guy who cooks pasta for the protagonist of the story and eventually they fall in love with each other. The twist comes when the girl is tasked to kill Bo Gum in the film, which she can't bring herself to do. His role here earned him a nomination for Best Actor at the Baeksang Art Awards and won him a Rising Star Award at the 11th Max Movie Awards.
Bo Gum also starred in the 2014 critically-acclaimed The Admiral: Roaring Currents. A naval war film, it recorded 10 million admissions in only 12 days after its premiere and set the record for achieving such a high number of viewers in the shortest amount of time. The movie also surpassed Avatar's record of 13 million viewers to become the most watched and highest-grossing film of all time in South Korea. It had a reported worldwide gross of $135.9M.
Bo Gum's big-screen debut was in the 2011 movie Blind. This was a crime thriller and Bo Gum's role was a minor one, but he had already displayed a natural talent in acting.
The actor also dabbles in singing. He has done covers of K-pop artists, doing an acoustic piano version of 2 AM's song This Song. He released his first soundtrack for Moonlight's OST titled My Person, which topped Korean music charts Melon, Mnet, Bugs, Olleh, Soribada, Genie, Naver and Monkey3 upon its release. This year, he released his first Japanese single Bloomin.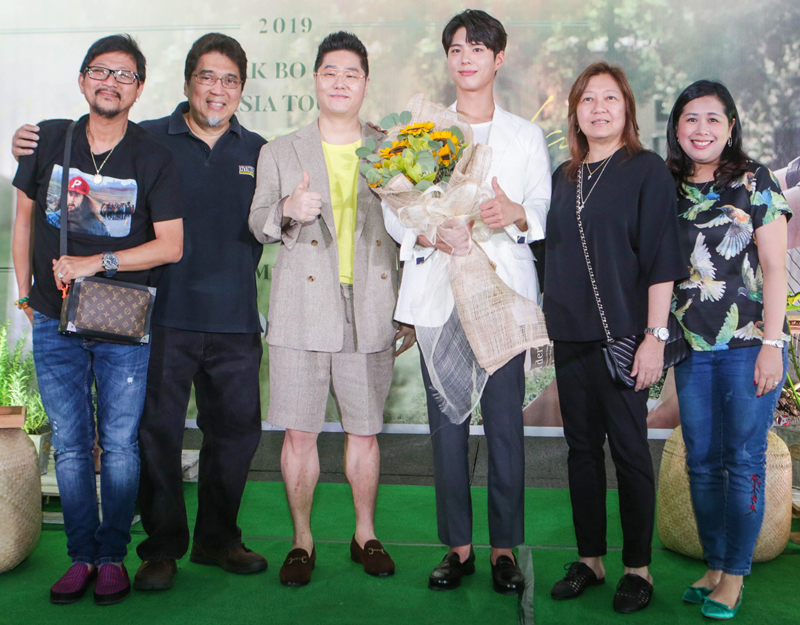 Bo Gum's presscon and fan meet over the weekend were co-produced by Ovation Productions (headed by Renen and Celinda De Guia) and ABS-CBN Events, in partnership with Blossom Entertainment.
Bo Gum and Red Velvet's Irene also became emcees of Music Bank in 2015 until January 2016. He was named Actor of the Year by Gallup Korea in 2016 and a year later, he topped Forbes magazine's Korea Power Celebrity List.
Bo Gum, which means "precious sword," was born in Seoul on June 16, 1993, and is the youngest of three siblings. Despite his cheery disposition, he had a bittersweet life. According to his bio, his mother died when he was in fourth grade. Even with his busy schedule, Bo Gum was able to finish his college degree, BA Musical Theater from Myongji University.
Another trivia: Bo Gum has been called the "Nation's Crown Prince" after starring in "Love in the Moonlight." He has also been affectionately called the top candidate for "Nation's Son-In-Law" due to his diverse fan base ranging from teens to grandmothers.
During the presscon, he was asked what he thinks are the reasons why people all over the world love Korean dramas. He cited Korea's beautiful landscapes which are featured in the dramas as one factor.
The 26-year-old Korean wave or Hallyu star profusely thanked his supporters, particularly his Filipino fans, for their love for him. He said he is grateful for "sparing their time" to see and spend time with him.
Bo Gum also talked about his upcoming movie with another Korean superstar Gong Yoo. In the film tentatively titled "Seobok," Bo Gum will play a human clone. The movie tells the story of Ki Heon (Gong Yoo), a former intelligence agent who crosses paths with mankind's first human clone and gets entangled in dangerous incidents with evil forces out to hunt the clone. The filming for the movie started last April.
Bo Gum invited his Filipino fans to watch the movie. "It's really an interesting movie so please look forward to it. I am happy to work with amazing actors in this movie," he said.