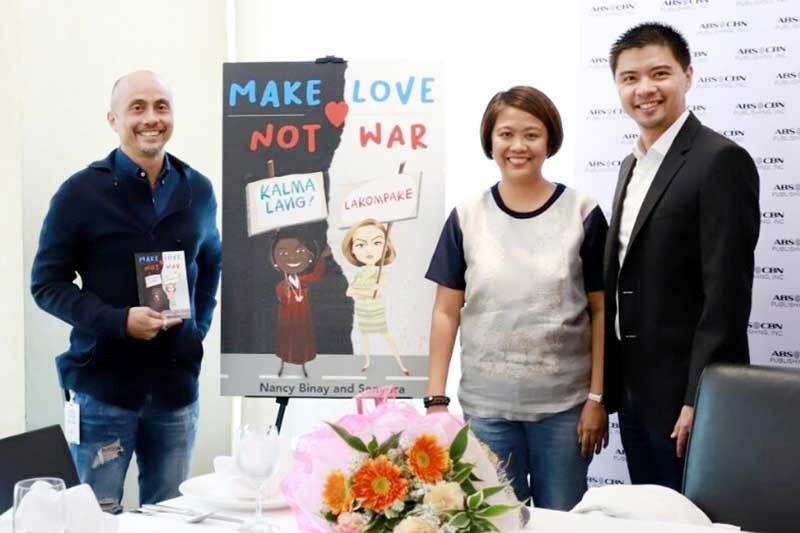 From left: ABS-CBN Creative Programs, Inc. president Ernie Lopez, Sen. Nancy Binay, and ABS-CBN head of print publishing and production services Mark Yambot
Practical, inspiring & timely reads from ABS-CBN Books
KAPAMILYA DAY
-
Kane Errol Choa
(The Philippine Star) - January 30, 2019 - 12:00am
In this era when reading apps compete with books as companion during children's bedtime, Scarlet Snow Belo's My First Prayer Book is a refreshing addition as the toddler social media sensation brings her stories to print for young readers, or listeners, to enjoy.
My First Prayer Book is a read-aloud collection of prayers for kids who are about to set off in their spiritual journey. Scarlet's parents —Hayden Kho and Vicki Belo — shared the prayers they are teaching their three-year-old daughter to help guide moms and dads, and encourage children to talk to God and develop a relationship with Him at an early stage.
Scarlet's latest offering is just one of the fresh reads of ABS-CBN Books, which recently launched new titles by the King of Talk Boy Abunda, inspirational speaker Francis Kong and Chinese astrology expert Master Hanz Cua.
Other ABS-CBN Books' new offerings include Book of Bilins planner by Jubilee Sangalang, Have I Cooked For You? by Nadia Montenegro and Make Love Not War by Sen. Nancy Binay and social media celebrity/parody Senyora Santibañez.
"ABS-CBN Books has been creating and supporting books that not only entertain, but also promote positive values," shared Mark Yambot, Creative Programs, Inc. head of print publishing and production services, at the launch of Make Love Not War.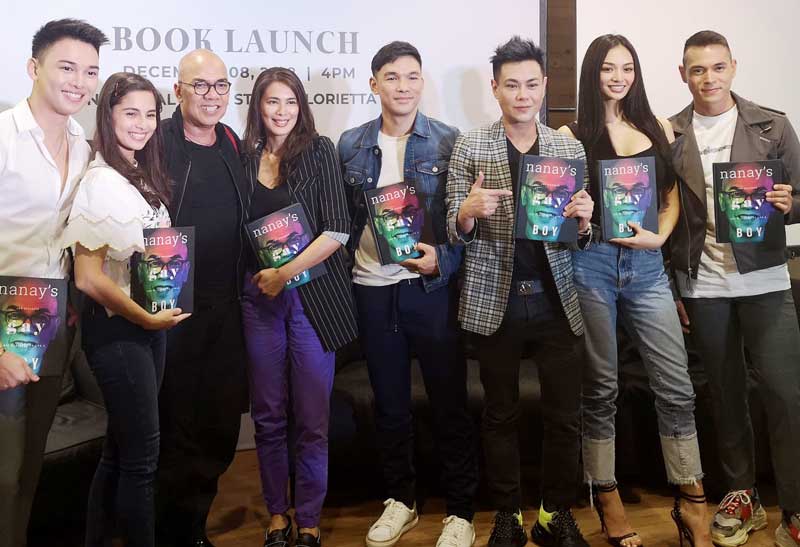 Nanay's Gay Boy author Boy Abunda (third from left) with his book launch guests (from left) Sky Quizon, Jasmine Curtis-Smith, Angel Aquino, Mark Bautista, RS Francisco, Kylie Versoza and Jake Cuenca.
Formerly at odds online, Sen. Nancy and Senyora collaborated in this book to identify basic rules on social media use and help counter cyberbullies.
"As our youth spend a majority of free time online, they can get lost in the world of unrealistic comparisons, mean spiritedness and cyberbullying," stressed Mark, citing the importance of spreading awareness on how to handle cyberbullying. "Sen. Nancy was the most credible spokesperson for this advocacy since she herself was a victim of cyberbullying."
A taboo in usual discussions, death, or rather the preparation for it, is the focal point of the Book of Bilins. It features guides and pages for wish list that readers can fill out that is intended for their loved ones who would be left behind when the inevitable happens.
Book of Bilins has two main parts — the Funeral Planner or also known as the Fun Planner and the Last Bilin and Testament. Checklists include important documents to handle, first people to contact, preferred OOTD (outfit of the dead) and more.
Nadia's much-awaited recipe book Have I Cooked For You? features the favorite food of her celebrity friends, with whom she has shared her cooking over the last few decades. It features well-loved family recipes as well as recipes for big groups that are all budget-friendly.
"Food that is cooked with love has to be shared and enjoyed! That is why I wrote this book. I want to share the love," said the actress.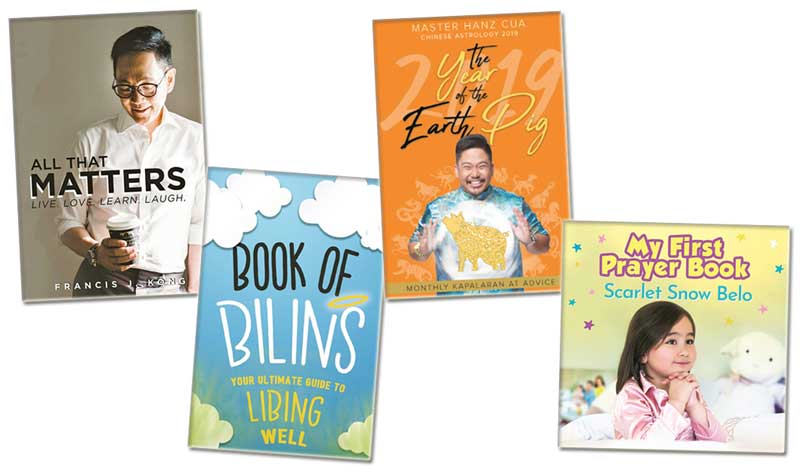 The latest offerings from ABS-CBN Books 'not only entertain but also promote positive values.'
The Tonight With Boy Abunda host, meanwhile, shared two memorable speeches in his life — "Why can't we have a gay president?" and his doctorate degree commencement speech specially dedicated to his Nanay Lesing in Nanay's Gay Boy.
The multi-awarded host revealed that this book is very close to his heart. "I'm a proud gay man and I'm one with my community in our fight for equality," Boy wrote.
Francis' All That Matters focuses attention to small things that truly matter — family, character, leadership, business, work, self-improvement and life in general — not only to be successful but ultimately to be happy.
Finally, Master Hanz unveiled his latest fortune forecast in his book Chinese Astrology 2019: The Year of the Earth Pig. The Umagang Kay Ganda resident astrologer identified feng shui cures to counter bad luck, as well as named the luckiest signs in terms of career, business and love life this new year.
Be inspired and entertained with the latest from ABS-CBN Books, now available in leading bookstores nationwide.