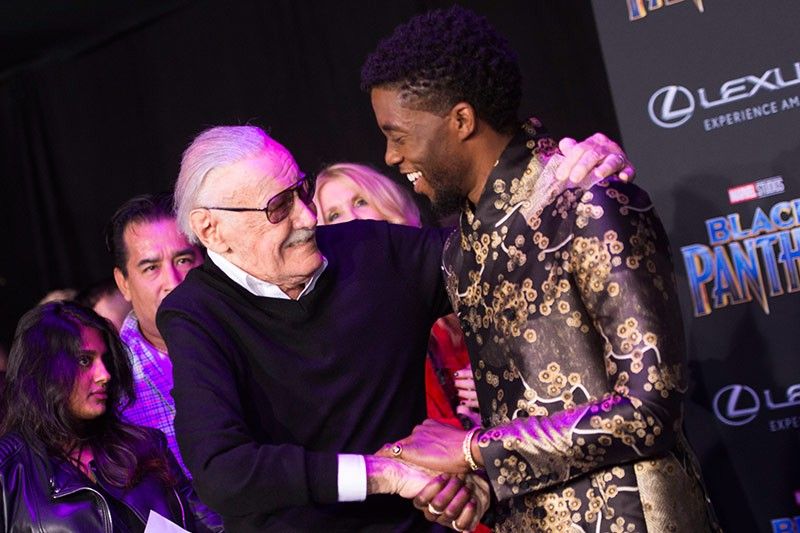 In this file photo taken on Jan. 29, 2018 comic book writer Stan Lee (L) and actor Chadwick Boseman attend the world premiere of Marvel Studios' "Black Panther," in Hollywood, California. Marvel legend Stan Lee, who revolutionized pop culture as the co-creator of iconic superheroes like Spider-Man and The Hulk who now dominate the world's movie screens, has died. He was 95 years old. Lee, the face of comic book culture in the United States, died early Nov. 12, 2018 in Los Angeles, according to US entertainment outlets including The Hollywood Reporter. He had suffered a number of illnesses in recent years.
Valerie Macon/AFP
Remembering Stan Lee: tributes to the late Marvel legend
(Agence France-Presse) - November 13, 2018 - 9:22am
LOS ANGELES, United States — Tributes poured in Sunday to Stan Lee — the co-creator of iconic superheroes including Spider-Man, The Hulk and the X-Men — following his death at age 95.
These are some of the ways in which the Marvel Comics legend is being remembered:
Wolverine
"We've lost a creative genius. Stan Lee was a pioneering force in the superhero universe. I'm proud to have been a small part of his legacy and... to have helped bring one of his characters to life. #StanLee #Wolverine" — Hugh Jackman, actor who played Wolverine
We've lost a creative genius. Stan Lee was a pioneering force in the superhero universe. I'm proud to have been a small part of his legacy and .... to have helped bring one of his characters to life. #StanLee #Wolverine pic.twitter.com/iOdefi7iYz

— Hugh Jackman (@RealHughJackman) November 12, 2018
Iron Man
"I owe it all to you,,, Rest In Peace Stan..." — Robert Downey Jr, actor who played Iron Man
Captain America
"There will never be another Stan Lee. For decades he provided both young and old with adventure, escape, comfort, confidence, inspiration, strength, friendship and joy. He exuded love and kindness and will leave an indelible mark on so, so, so many lives. Excelsior!!" — Chris Evans, actor who played Captain America
There will never be another Stan Lee. For decades he provided both young and old with adventure, escape, comfort, confidence, inspiration, strength, friendship and joy. He exuded love and kindness and will leave an indelible mark on so, so, so many lives. Excelsior!!

— Chris Evans (@ChrisEvans) November 12, 2018
Spider-Man
"How many millions of us are indebted to this guy, none more so than me. The father of Marvel has made so many people so incredibly happy. What a life and what a thing to have achieved. Rest in peace Stan." — Tom Holland, actor who played Spider-Man
The Jedi
"His contribution to Pop Culture was revolutionary & cannot be overstated. He was everything you hoped he would be & MORE. I loved this man & will never stop missing him. They say you should never meet a childhood idol. They are wrong. #RIPStanTheMan." — Mark Hamill, actor who played Luke Skywalker
His contribution to Pop Culture was revolutionary & cannot be overstated. He was everything you hoped he would be & MORE. I loved this man & will never stop missing him. They say you should never meet a childhood idol. They are wrong. #RIPStanTheMan pic.twitter.com/6OKH07ahJg

— Mark Hamill (@HamillHimself) November 12, 2018
Fellow cartoonist
"Devastated by my pal Stan's passing. He was a childhood inspiration, an instructor to me when I was just getting started and a genuinely sweet man. Will miss him terribly." — Frank Miller, cartoonist
Devastated by my pal Stan's passing. He was a childhood inspiration, an instructor to me when I was just getting started and a genuinely sweet man. Will miss him terribly.

— Frank Miller (@FrankMillerInk) November 12, 2018
The Hulk
"You let us be extra human... superhuman even. I am deeply honored to have been a small part in the Stan Lee constellation." — Mark Ruffalo, actor who played The Hulk
Sad, sad day. Rest In Power, Uncle Stan. You have made the world a better place through the power of modern mythology and your love of this messy business of being human... pic.twitter.com/x6yZ6ClNSX

— Mark Ruffalo (@MarkRuffalo) November 12, 2018
You let us be extra human... superhuman even. I am deeply honored to have been a small part in the Stan Lee constellation. pic.twitter.com/qmCrNHXUy1

— Mark Ruffalo (@MarkRuffalo) November 12, 2018
The Wasp
"I believe with all my heart that #StanLee would want to be celebrated today. Even through your tears, let's flood the internet with all the artwork, good, great or awful, that's ever been created in Stan's name." — Evangeline Lilly, actress who played The Wasp
Stan...more than a master of stories, you always seemed like a master of living. I will look to you for inspiration for the rest of my life. You live on. xoxo Your Wasp
.
#liveon #StanLee pic.twitter.com/JRA2aRM3bG

— Evangeline Lilly (@EvangelineLilly) November 12, 2018
I believe with all my heart that #StanLee would want to be celebrated today. Even through your tears, let's flood the internet with all the artwork, good, great or awful, that's ever been created in Stan's name. #BreakTheInternetForStan #ArtForStan@MarvelStudios @Marvel pic.twitter.com/w9pyY18sZ5

— Evangeline Lilly (@EvangelineLilly) November 12, 2018
Marvel Studios
"No one has had more of an impact on my career and everything we do at Marvel Studios than Stan Lee. Stan leaves an extraordinary legacy that will outlive us all. Our thoughts are with his daughter, his family, and his millions of fans. #ThankYouStan #Excelsior!" — Kevin Feige, head of Marvel Studios
No one has had more of an impact on my career and everything we do at Marvel Studios than Stan Lee. Stan leaves an extraordinary legacy that will outlive us all. Our thoughts are with his daughter, his family, and his millions of fans. #ThankYouStan #Excelsior!

— Kevin Feige (@Kevfeige) November 12, 2018
The Academy
"Today, we lost a real-life superhero. Stan Lee, thank you for everything." — The Academy of Motion Picture Arts and Sciences
Today, we lost a real-life superhero. Stan Lee, thank you for everything. pic.twitter.com/zH6YIlslnx

— The Academy (@TheAcademy) November 12, 2018
;
Astrophysicist
"Born before Edwin Hubble discovered the expanding universe, he ultimately created an expanding universe of his own - one of scientifically literate superheroes such as Spider-Man , The Hulk, Iron Man, & Black Panther. Stan Lee RIP: 1922 - 2018." — Neil deGrasse Tyson
Born before Edwin Hubble discovered the expanding universe, he ultimately created an expanding universe of his own - one of scientifically literate superheroes such as Spider-Man , The Hulk, Iron Man, & Black Panther.
Stan Lee RIP: 1922 - 2018

— Neil deGrasse Tyson (@neiltyson) November 12, 2018