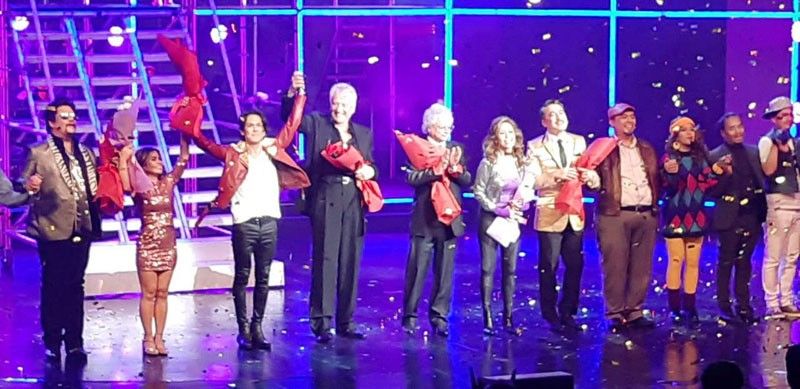 Air Supply duo Graham Russell and Russell Hitchcock (fourth and fifth from left) acknowledge cheers from the audience at curtain call with the cast of the musical All Out Of Love including MiG Ayesa, Jamie Wilson, Tanya Manalang, Rachel Alejandro and Raymund Concepcion
Air Supply takes a bow with cast at gala show
FUNFARE
-
Ricky Lo
(The Philippine Star) - October 25, 2018 - 12:00am
All out of their love for Filipinos, the Australian Air Supply duo Graham Russell and Russell Hitchcock graced the gala presentation of the musical All Out Of Love last Saturday night at the Newport Performing Arts Theater of Resorts World Manila and joined the cast at curtain call to acknowledge the cheers of the wildly applauding full-house audience.
"Graham and Russell loved the show," said Danee Samonte, one of the gala guests, the duo's close friend who has produced many of the Air Supply concerts in the Philippines. "Maganda ang reaction nila. I really salute them for flying halfway around the world to attend the gala despite their tight schedule."
The musical, which opened last Oct. 18, will have final performances this weekend but with plans to extend it until first week of November. Based on the libretto written by Canadian Jim Millan, All Out Of Love is a fun, fast-paced romance woven around the Air Supply hit songs, set on one sleepless 1980s night in New York City. Jamie Crimson, the biggest rock star around, has made his name in the greatest city (that never sleeps) on earth and has the whole world at his feet, but even at the height of his fame he is desperate and destitute without the love of his life, Rayne, by his side. Guided by Stacie King, a young-gun wannabe record producer longing for the affection and approval of her father Tommy King, they traverse the length and breadth of Manhattan on a mission of love.
Thanks to director Darren Yap and co-director Jacinta John, the songs of Air Supply were brought to life by the exuberant performances of the cast that left not a dull moment during the two-hour-plus staging, turning it into one of the (if not the) happiest musical we have ever seen. (Read Edmund Silvestre's review below.)
Because they have been played and replayed on radio and by artists covering them, the songs mark specific milestones in music lovers' hearts, us included, so we quietly hummed along with the actors, from beginning to end…Sweet Dreams, Every Woman In The World To Me, Here I Am, Lonely Is The Night, Keeping The Love Alive, The One That You Love and, especially Two Less Lonely People In The World which was immortalized as theme song of Kita-Kita, the sleeper Empoy Marquez-Alessandra de Rossi smash hit.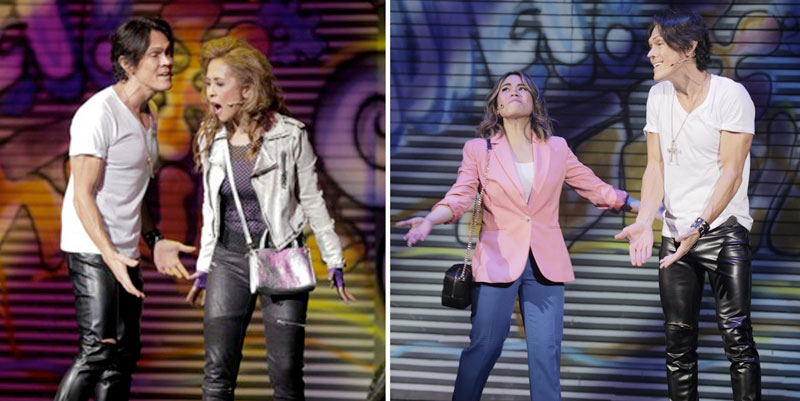 MiG with Rachel and (right) Tanya in probably the happiest recent musical to be staged in Manila
MiG Ayesa as Jamie Crimson is, to borrow Gary V's "title," pure energy, absolutely and infectiously delightful, as light as a feather as he moves around the stage, sliding a bit, running up the stairs, climbing on top a brightly-lit makeshift jeepney while singing his heart out, giving a face to Air Supply songs about falling in and out of love, and the joys of reuniting with a love that isn't lost forever after all.
MiG's dynamic work is matched by Tanya Manalang as Stacie King, a petite actress with a powerful voice who, together with MiG, rule the stage with a vengeance. I watched Tanya as Kim in Miss Saigon in London's West End and I was convinced that big things do come in small packages. Then there's Rachel Alejandro as Rayne, sexy and seductive in a subtle way, pouring her heart out on Now And Forever and beautifully blending with MiG on Even The Nights Are Better. Jamie Wilson, ever reliable, blithely "throws" his weight around as Kurt Swinghammer, the record-producer rival of Tommy King, "lisping" in his characteristic easy-does-it style. Raymund Concepcion breathes life to Tommy King with admirable ease, reminding you from whom Sam and Red (now playing The Engineer in the Miss Saigon UK tour) got their thespic prowess.
Explaining why the musical's world premiere was held in the Philippines, Musical Management Asia Pacific producers Naomi Toohey and Dale Harrison said, "The Filipino market is a very strong market for Air Supply and they perform here quite often because there's a big love for the music, so it's important that we launch the show in the strongest possible way with a very strong cast. The Philippines seems like the natural choice that even Russell Hitchcock said that he couldn't imagine it starting anywhere else."
(For tickets, call TicketWorld at 891-9999.)
(E-mail reactions at rickylophilstar@gmail.com. For more updates, photos and videos, visit www.philstar.com/funfare or follow me on Instagram @therealrickylo.)