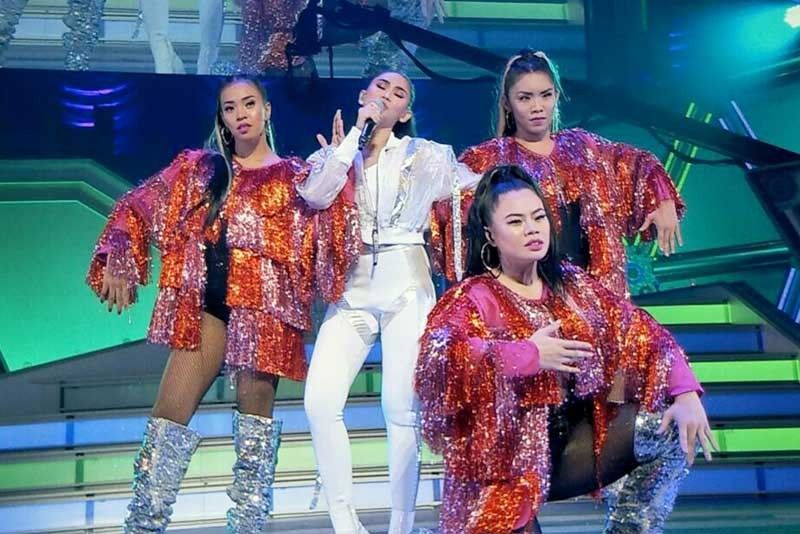 Sarah Geronimo (second from left) wowed the audience with her rendition of Tala...
Japan gathers Asean's finest for Music Fest
ASEAN's finest and most popular artists gathered together for the first time at the NHK Hall in Tokyo last Oct. 4 in a grand musical celebration. Titled The ASEAN-Japan Music Festival, it was the commemoration of the 45th anniversary of the ASEAN-Japan Friendship and Cooperation organization. This was established by Japan with the aim in view of fostering close ties between Japan and other nations in the region.
The event was attended by the members of the Japanese Imperial family and many illustrious guests who were welcomed by no less than Prime Minister Shinzo Abe himself who is the honorary president and chairman of the executive committee of the ASEAN-Japan Friendship and Cooperation.
Tapped to represent the Philippines was Sarah Geronimo, who is certainly one of the most popular stars in the country today and someone who can stand on equal footing with her ASEAN counterparts. Sarah wowed the audience with her rendition of Tala, one of the dance cuts in her The Great Unknown album. Performed to a pulsating tribal beat, the song effectively showed off the unique combination of ethnic rhythms and Western-influenced pop music that the Philippines is famous for.
Sarah mentioned in an online plug that the festival will soon air on Philippine TV. I hope this happens soon because it will give Filipinos a look into the current music trends and the reigning artists in the hit charts of other Southeast Asian nations. When the airing happens, we will get to watch performances by the following big stars:
From Japan, came top boy band W-inds, the Kanjani8, singer and actors Ryuji Imaichi and Hiroomi Tosaka of the group JSB, girl idol group Nogizaka46 and the pop legends, actress Natsuko Godai and her husband Ryotaro Sugi, who is the Special Ambassador of the ASEAN-Japan Friendship Cooperation and president of the festival. The hosts of the show were singer and actress Hikaru Nishida and comedian Picotaro who popularized PPAP or the Pen-Pineapple-Apple-Pen song.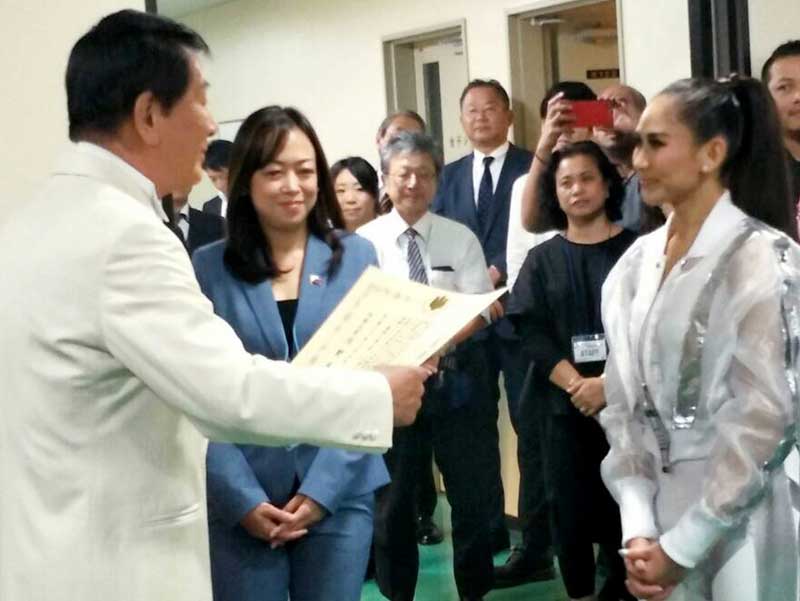 ...and she represented the Philippines during the commemoration of the 45th year of the ASEAN-Japan Friendship and Cooperation organization.
The other performers were Fakhrul Razi from Brunei Darusalam; Preap Sovath from Cambodia; Andien from Indonesia; Alexandra Bounxouei of Laos; Dato Sri Siti Nurhaliza from Malaysia; Sai Sai Kham Leng of Myanmar; Taufik Batisah of Singapore; Tachaphon Pholkongseng of Thailand; and Dong Nhi of Vietnam.
For those of you reading this and now wondering why there was no representation from Korea, this is because South Korea is not a member of the ASEAN and so there were no Korean artists in the festival. Trust me though the Koreans are very much present everywhere else. The BTS, who is now doing collabs with Nicki Minaj was at the American Music Awards and MOMOLAND is still very much present in the local hit charts.
From the Philippine Music Charts last Oct. 8, here are the Top 40 selling songs among Pinoy buyers: Kathang Isip by Ben & Ben; Kung Di Rin Lang Ikaw by December Avenue & Moira dela Torre; Girls Like You by Maroon 5 and Cardi B; Sa Ngalan Ng Pag-ibig again by December Avenue; Mundo by IV of Spades; 2002 by Anne Marie; Tagpuan also by Moira dela Torre; Baam by MOMOLAND; You Are The Reason by Calum Scott; Happier by Marshmello & Bastille.
Maybe The Night by Ben & Ben; Thru These Tears by LANY; Beautiful by Bazzi ft. Camila Cabello; Eastside by Benny Blanco ft. Halsey & Khalid; Perfect by Ed Sheeran; DDU-DU DDU-DU by Blackpink; In My Feelings by Drake; Buwan by Juan Karlos; Boom Boom by MOMOLAND; and No Brainer by DJ Khaled ft. Justin Bieber, Chance the Rapper and Quavo.
Di Na Muli by Janine Tenoso; 8 Letters by Why Don't We; God Is A Woman by Ariana Grande; IDGAF by Dua Lipa; Electricity by Dua Lipa and Silk City; Kahit Di Mo Alam by December Avenue; Sana by I Belong To The Zoo; Oks Lang by John Roa; Dura by Daddy Yankee; Idol by BTS.
I Don't Wanna Love You Anymore by LANY; breathin by Ariana Grande; Kahit Maputi Na Ang Buhok Ko by Moira dela Torre; Sandali by Because; Lucid Dreams by Juice WRLD; Love Someone by Lukas Graham; Thick and Thin by LANY; Better by Khalid; I Like Me Better by Lauv; and Statue by Lil Eddie.