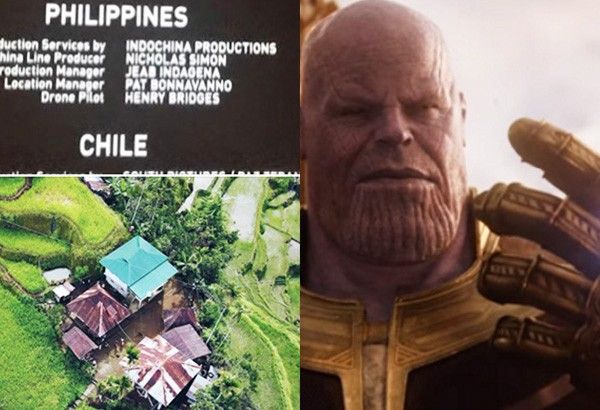 The Philippines' Banaue Rice Terraces and the Philippine team in the credits of "Avengers: Infinity War (left); Josh Brolin as Thanos, whose 'retirement' scene features the terraces.
Screenshots from Facebook/Indochina Productions, YouTube/Avengers: Infinity War trailer
Netizens react to Banaue Rice Terraces' scene in 'Avengers: Infinity War'
MANILA, Philippines — After knowing that a piece of the Philippines, the Banaue Rice Terraces in the Cordillera Region, has been included in Marvel Studios' biggest "Avengers" movie "Avengers: Infinity War," netizens cannot help but express mixed reactions on the scene.
"Tik ng yan! All Thanos ever wanted was just to sit down and see the sunset sa Pilipinas?! Kahit mag-ambag ambag pa tayong lahat for an all expense paid trip and tour around Pinas gagawin namin eh. Bakit inubos mo pa ung mga tao? #ThanosNaman," said netizen Shin Casas Jara.
"Wag kayong mag alala dahil hindi kakayanin ni Thanos na gulohin ang Pilipinas. nakalimutan niyo naba hangang ngayon buhay pa si cardo at ang kanyang grupo para ipagtangol tayo. Kung hindi man andiyan ang mga member ng Bagani. Tapos to the rescue sila Enteng Kabisote, Captain Barbel, Darna, Volta, Gagamboy, Agimat, Super B, Lastikman, Super Inday and the wonder bibe, Super Twins, Saido at kong sino sino pa," added netizen Jem Rosales.
"Nasatin si Thanos! Wag nilng makanti Pilipinas," said another netizen.
On April 25, right after "Avengers: Infinity War" opened in Philippine cinemas, Indochina Productions confirmed on its Facebook account that the final scene showing the villain Thanos, played by Josh Brolin, was shot at the Banaue Rice Terraces.
"Super Proud of our team who helped on the aerial unit for AVENGERS: INFINITY WAR in The Philippines :)," Indochina Productions said on a Facebook post that showed the rice terraces and the Philippines in the credits. "Sorry that they did not put everyone's name on the end credits, but we know who you are!!!"
In a press statement released to Philstar.com, Marvel Studios claims that "Avengers: Infinity War" marks the "biggest single day gross box office for any film in the Philippines" with a first day sales of P141.6 million (USD 2.7M) when it opened in 829 screens nationwide. This, said the studios, is "the biggest-ever opening day in the Philippines and the biggest single day gross box office for any film."
Besides the Banaue Rice Terraces, there is another "Filipino connection" in the film. One of the stars is half-Filipino and six-time wrestling world champion Dave Bautista, who plays Drax from "Guardians of the Galaxy."