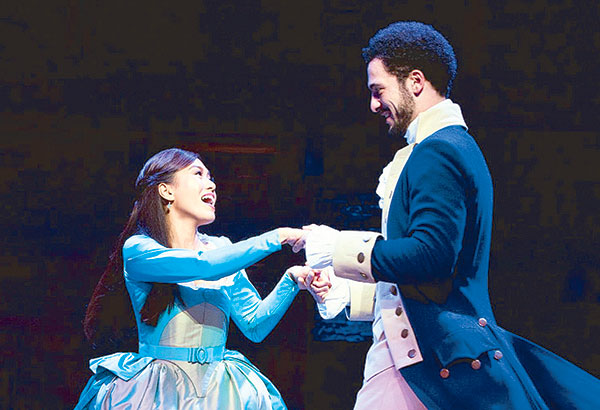 Rachelle Ann Go and Jamael Westman as Eliza and Alexander Hamilton. —Photos by Matthew Murphy
What they say about Rachelle Ann in Hamilton
There was no doubt that Rachelle Ann Go would do very well in the London production of the musical Hamilton. After all, producer Cameron Mackintosh and director Thomas Kail would never have trusted her with the role of Eliza Schuyler if they had no trust in her capabilities. Besides, Rachelle Ann is not only talented. As we have seen these past 10 years starting with her early days as a singing champion, she is also a hard worker who sets goals and makes sure she reaches them.
I remember how without any theater experience she tackled Ariel in The Little Mermaid and came out on top. Determined to get into the West End revival of Miss Saigon, she made a selfie video and sent it to London. When asked what she wanted to do next, she said Fantine in Les Miserables and got that, too. From there she spent a few months as Gigi on Broadway and then returned to the West End for the female lead in the phenomenal Hamilton.
The show tells the story of Alexander Hamilton, one of America's founding fathers and George Washington's right hand man. He was born out of wedlock in a Caribbean island, deserted by his father and then orphaned by his mother at an early age. He turned his life around to become one of the great minds that formed the beginnings of the America we know today.
Until a few years ago, Hamilton was mostly known as the face on the $10 bill. But then the brilliant Lin Manuel Miranda turned his life into a grand musical that cleverly fused R&B, hip- hop, jazz and Broadway sounds to resounding success. Hamilton remains Broadway's hottest ticket.
Hamilton opened in London last Dec. 21 and is now reaping unanimously glowing reviews from the critics. Everybody is agog about the astounding cast led by the young Jamael Westman in the title role. And truly most heartening is the fact that Rachelle Ann is also getting her share.
Tufayel Ahmed of Newsweek minces no words about his admiration: Hamilton's standout actor though is Rachelle Ann Go who gives a mesmerizing performance as Eliza Hamilton. Go shows powerful range, from an innocent naivety when we first meet Eliza to a woman more pained and tragic by the musical's end. If Go doesn't walk away with an Olivier Award (The London equivalent of the Tony) in 2018, it would be a great injustice.
Marianka Swain of Broadway World says: Rachelle Ann Go lends gorgeously rich voice to Hamilton's long-suffering wife Eliza, who somehow finds the dignity and power denied to women.
From Laura Hardy of the Independent: It is a cold-hearted audience member not left devastated by Rachel John as Angelique or the performance by Rachelle Ann Go as Hamilton's wife.
Adam Bloodworth of Metro co. UK : The show ends with the virtuous tale of Eliza, Hamilton's widow, who lived 50 years after Hamilton and continued his work. She is played candidly and spiritedly by Rachelle Ann Go, who pointing out into the newly-rebuilt Victoria Palace Theatre Auditorium, longs to be by Hamilton's side.
Susannah Clapp of The Guardian: Christine Allado, Rachelle Ann Go and Rachel John belt out full-throttle the destiny of America's women in the manner of Destiny's Child.
Michael Bellington of The Guardian: Rachelle Ann Go lends Hamilton's wife with the poignancy of the neglected…
Tony Peters of Radio Times: There are superb performances from Rachelle Ann Go as Hamilton's wife Eliza….
Mikey Smith of The Mirror: Rachelle Ann Go playing Hamilton's long suffering wife Eliza, has the audience in floods of tears with heartbreaking showstopper Burn.
This is only the beginning. There will be more reviews and Rachelle Ann can deservedly bask in the glory of all the excellent notices she has been getting and will surely continue to get. An Olivier would be very nice. But no matter what happens, she already makes us Filipinos very proud.
And not to forget. Playing the other Schuyler sister plus also Hamilton's mistress Maria Reynolds is another local girl, Christine Allado. She is also doing very well. Let us rejoice. Two local girls playing major roles in the greatest musical of our time. Filipinos as theater actors have indeed truly arrived.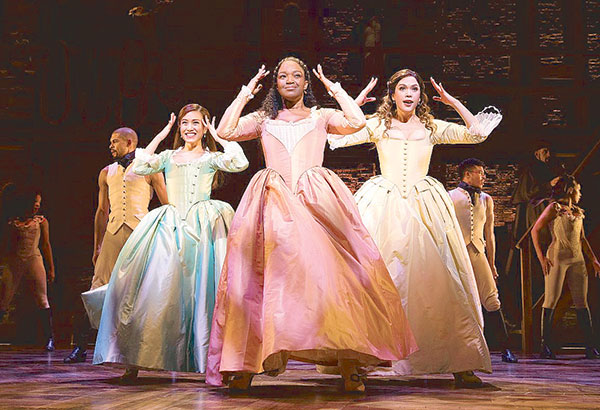 Below: With Rachel John and Christine Allende.