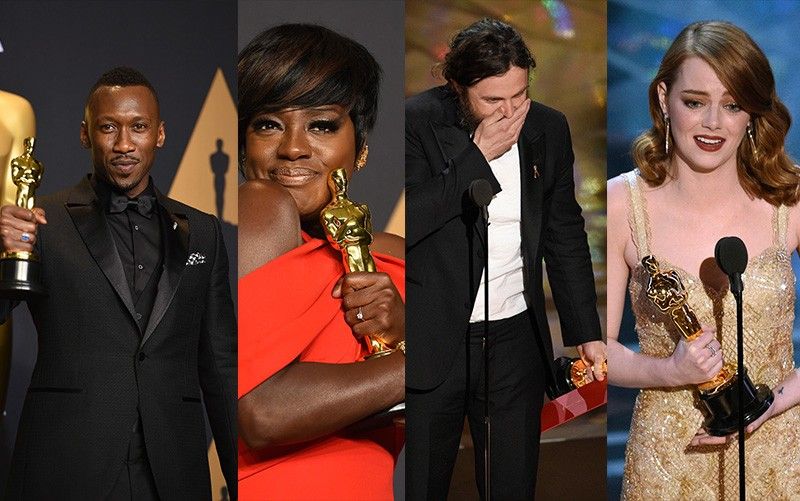 Ebony and Ivory: Best Supporting Actor Mahershala Ali and Best Supporting Actress Viola Davis; Best Actor Casey Affleck and Best Actress Emma Stone
Associated Press
Academy Awards 2017 registers many firsts
LOS ANGELES — The 89th Academy Awards lists many firsts, including perhaps, a first wrongfully announced Best Picture winner.
The first winner to be announced at the Academy Awards 2017 was Mahershala Ali, who was awarded Best Supporting Actor for "Moonlight." He is reportedly the first Muslim to win the award. It was also his first Oscar nomination.
Likewise, Hong Kong superstar Jackie Chan got his first Academy Award. He received a Lifetime Achievement Award for doing Hollywood and Hong Kong movies since the 1960s.
Viola Davis, who won the Academy for Best Supporting Actress for "Fences," is the first black woman to be nominated for three Oscars.
Meanwhile, Achievement in Costume Design for "Fantastic Beasts and Where to Find Them" is the first Academy Award ever won by a J. K. Rowling film.
"Manchester by the Sea" lead actor Casey Affleck got his first Academy Award for Best Actor. The flick also got him the Best Actor distinction from Golden Globe and BAFTA.
"La La Land," which swept the Oscars with 14 nominations, also has the most wins in Oscar history with seven awards. The musical movie also got the first Oscar nomination and win for its director, Damien Chazelle. The movie also won Best Original Song for "City of Stars," as well as Best Production Design, Cinematography, Best Original Score and Best Actress.
Best Actress winner Emma Stone bested veteran actresses Meryl Streep, Isabelle Huppert and Natalie Portman. This is Stone's first Oscar and second nomination.