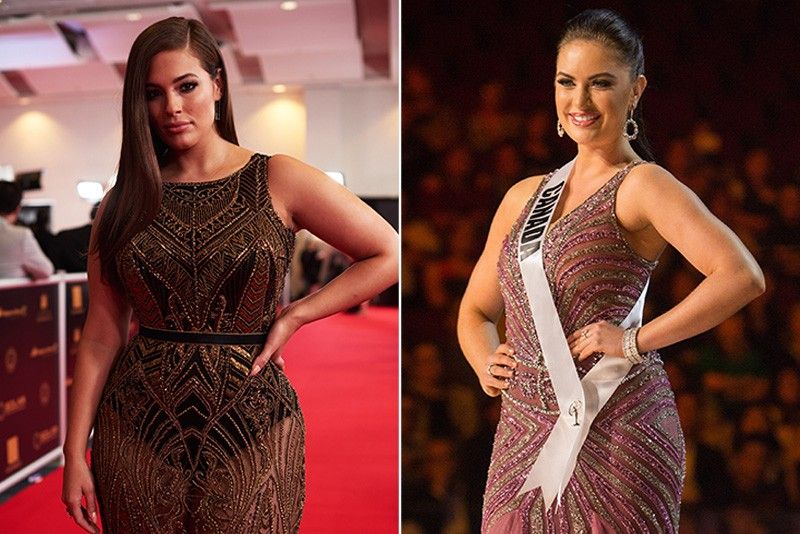 Miss Universe backstage host Ashley Graham and 2016 Miss Canada
MUO
Miss Canada and Ashley Graham on body diversity in Miss Universe
MANILA, Philippines — Besides Miss Universe Iris Mittenaere, France is also proud of Miss Canada Siera Bearchell, who landed in the top nine. French is the mother tongue of more than seven million Canadians, so the French media also covered Bearchell just as they did on Mittenaere.
Is Miss Universe now more welcoming of body diversity?
In separate interviews with Philstar.com during the Miss Universe red carpet last weekend, Bearchell, who received social media bashing for not being as skinny as other contestants, and body activist Ashley Graham, the pageant's backstage host, talked about how proud they were to represent body diversity in the world's biggest beauty pageant.
According to Bearchell, though she did not get the top spot, she will continue to speak to women through social media about self-confidence and self-worth.
She also did not crash diet to get to the "ideal" body the bashers were looking for.
"I was not pressured by bashers; I've been myself the whole time," attested the law student, who is also a runner and an entrepreneur.
"Running a marathon takes perseverance, patience, and a lot of stamina, what a Miss Universe should be," she said in one of the pageant's videos shown during the coronation night.
She lost her family home to a fire in 2009 and since then, has been a volunteer for Red Cross.
"Pageants could be a platform to achieve your greatest dreams," she added in the Miss Universe video presentation.
Last year, she won first runner-up at the Miss Supranational pageant in Poland.
"I think Miss Canada is doing great. She's actually a friend of mine. It's wonderful that she's speaking an honest truth to be accepting of all sizes, because women of all sizes are beautiful no matter what they look like. They could be thinner, they could be bigger," enthused Graham, the first plus-size model to be on the cover of Sports Illustrated Swimsuit.
Miss Universe Canada 2016 Siera Bearchell on stage in fashion by Sherri Hill and footwear by Chinese Laundry during the opening of the 65th Miss Universe preliminary competition in Manila, Philippines on Jan. 26, 2017. MUO
Miss Universe Canada 2016 Siera Bearchell competes in an evening gown of her choice as a top 9 finalist during 65th Miss Universe. MUO
"For me, it doesn't matter what you look like because every woman is beautiful in her own way and it's great that she's really embracing her body and being positive about herself. She loves herself of the way she is made. I'm very happy that the Miss Universe organization is being accepting of that and they're really promoting her and it's a great thing that women of our sizes come together for a very positive reason," explained the American model, who first came into prominence as a lingerie model for plus-size clothing shop, Lane Bryant.
Since then, she has appeared in fashion magazines such as the cover of Elle Quebec, as well as in Vogue, Glamour, and Harper's Bazaar. She has also appeared on Entertainment Tonight, The Tonight Show with Jay Leno, and NPR, where she talked about being a plus-size model.
Last year's Miss Universe judge, Perez Hilton, called Graham the "heir apparent" of model and America's Next Top Model (ANTM) creator, supermodel Tyra Banks. Graham posed nude and was a judge at ANTM together with British pop star Rita Ora.
"Modeling, in general, has always been fun for me. It brings a good exposure and is a really good way for me to reach people with my voice," she said of her experience posing naked with ANTM contestants.
"I'm so excited to be in the Philipines. I've never been here before and I absolutely love it. The people here are so wonderful. They're so kind. They're the biggest pageant fans I've ever seen, so I'm so excited to be here because it's the best place to house Miss Universe."