Chasing The Light is Julie Anne San Jose's third full studio-recorded release in her four years as a solo artist
Julie Anne chases the light
Good news. Julie Anne San Jose has a new album. But what would have been a major event for her followers has taken a backseat to something else. This is Julie Anne's picture in a skimpy bikini that has been making the rounds of the web these past weeks. The 22-year-old singer-actress looks sensational and it is no surprise that people are talking about the beach photos in a positive light. I think other young stars should take a cue from her decision to get her body into excellent shape and then to show it off for all the world to see. Cheers Julie Anne. You look great.
And now to the real news which is about what Julie Anne has to offer in her latest album titled, Chasing The Light. This is her third full studio recorded release in her four years as a solo artist. She was a member of the kiddie group Sugarpop before. This was the one formed by GMA 7 by putting together some of the contestants in the TV singing competition show Popstar Kids in 2006. A standout from the beginning, it was no surprise when Julie Anne went solo in 2012 and came up with the Julie Ann San Jose album.
That debut effort sold really big. In fact, she was conferred the Diamond Record Award by the Philippine Association of Record Industries in recognition of 150,000 thousand copies sold. The single I'll Be There is a four-times Platinum seller. This was followed by the album Deeper two years later which introduced Julie Anne as a competent songwriter and which also did very well. It is a Platinum seller that also earned positive reviews. And now right after her graduation from college at Angelicum with a Bachelor's degree in Communication Arts and her bikini body, comes Chasing The Light.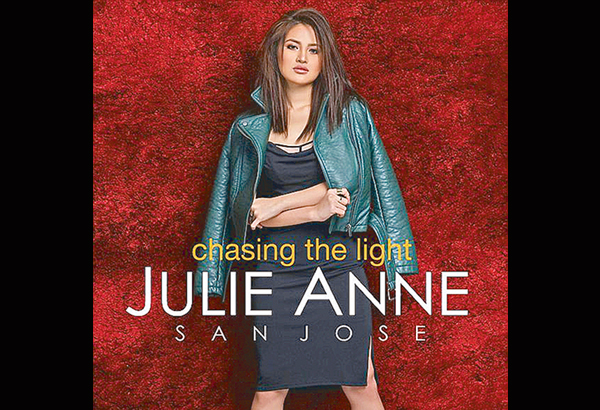 Produced by Alwyn Cruz, I like it that the album is made up of all-new and all-original works by Filipino composers. Among them is Julie Anne. She wrote two songs, Not A Game and Naririnig Mo Ba. Both have this easy effortless feel and are among the best in the line-up. In fact, these tracks turned out so good that one was tapped as the single release, Naririnig Mo Ba, which has now been getting very good radio and TV airplay.
The other songs included in Chasing The Light are Don't Make Me Wait, Never Alone, Take Me To Nirvana and All About You, all of which were composed by Edmund Macam-Perlas. There are also Chasing The Light by Agatha Obar-Morallos; Left Over by Ronaldo "Toto" Sorioso; and Just Stay by Lisa Dy and Christine Felix. A featured guest is the Fil-American hip-hop artist and songwriter C-Tru who raps in some cuts. And there is an acoustic version of Naririnig Mo Ba as a bonus track.
There is an obvious effort to take her music into a new direction. Hence, the hip-hop touches. But while experimentation is always commendable, it is a fact that Julie Anne sounds best with pop ballads. Truth to tell, the two of the stand-out tracks are Chasing The Light and All About You with their pretty melodies and sentimental lyrics. They sound new but are also very Filipino, which I think should count a lot among local artists who should be encouraged to cultivate a distinct identity that is their own.
From the MYX music channel, here now are the Top 20 music videos in this week's Pinoy MYX Countdown. Julie Anne's single Narirninig Mo Ba is in the seventh slot: The Great Unknown by Sarah Geronimo featuring Hale; Kay Dali by Elmo Magalona; Lagi Mong Tatandaan by Parokya Ni Edgar; Parachute by Darren Espanto; Harana Na Na Na Na by Janella Salvador; Paraan by Sharlene San Pedro; Naririnig Mo Ba by Julie Ann San Jose; Dahan Dahan Dahan Lang by Ylona Garcia; Fall For Me by Kyle Echarri; Tayo Ay Maglaro by Lyca Gariranod featuring Reynan Dal-Anay.
Paasa (T.A.N.G.A.) by Yeng Constantino; Till I Met You by Kyla; Wag Mong Aminin by Rico Blanco; Pariwara by Ely Buendia and Itchyworms; Ang Darling Kong Zombie by Tanya Markova; Baby I Love Your Way by Morissette and Harana; Already Mine by Jay R; Take You Down by Paolo Onesa; Losing Control by Faintlight; and Good Vibes by Quest and Mayonnaise.