Selena Gomez to Filipinos: I am home with you
MANILA, Philippines – American Pop Singer Selena Gomez might have been miles away from her home last night, but the crowd at the Mall of Asia (MOA) Arena made her feel as if she has not left home at all.
READ: Selena Gomez 'revives' crowd with bold, unrestricted performance
"I am far away from home, but I feel like I am home with you," Selena told the Filipino fans during her "Revival Tour" in Manila on July 31.
Thousands of fans flocked to MOA Arena as early as 4 p.m. to catch the first-ever concert of the American singer in the Philippines. The stadium was filled to the rafters, with fans wearing Selena merchandise and waving glowing sticks.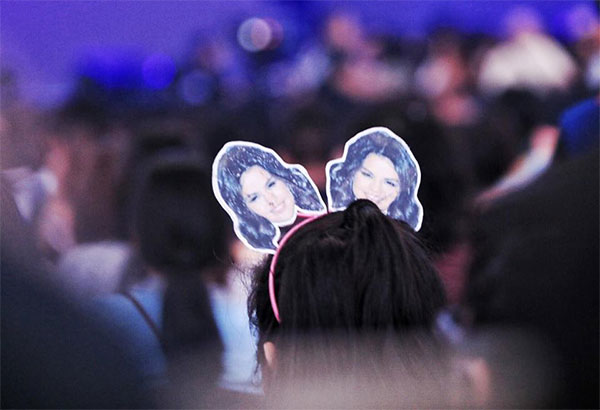 Selenator wears headband featuring Selena Gomez. Philstar.com/AJ Bolando
Selena opened the show with "Revival" and "Same Old Love," the second single from the album released in 2015. The crowd screamed with excitement as Selena sang their all-time favorite hits, including songs from her previous albums such as "Who Says" and "Come and Get it."
The enthusiastic crowd did not go unnoticed. The 24-year-old singer lauded the Filipino fans, saying their cheers might have been the loudest she has ever heard so far.
Before ending the hour-long concert, Selena also managed to squeeze in some Tagalog words to connect to her Filipino fans.
"Please don't be mad at me if I get this wrong. Mahal Kita… I guarantee you, we will be back," she said.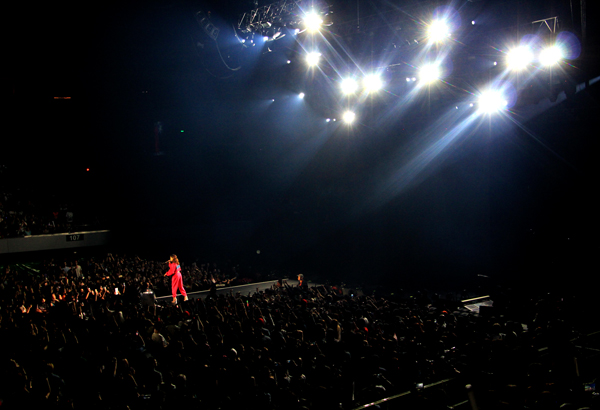 Selena Gomez to fans: Mahal Kita. Philstar.com/AJ Bolando
From the Disney Channel child actress that she once was, Selena transformed herself to a grown-up woman with her bold songs that reflect her big ambitions. For the Manila leg, Selena performed almost twenty songs, completing the hour long show.