Pinoy artist's 'strange' path to animation proves rewarding
MANILA, Philippines - Ronnie del Carmen didn't plan on going into animation — it was something you'd call a "happy accident."
Ronnie is a Pixar veteran whose over a decade-long career at what has been touted as one of the world's coolest workplaces saw him lending his artistic talents to animated box-office hits like Finding Nemo, Wall-E, Ratatouille and Up in such capacities as storyboard artist and story supervisor. He's assuming a bigger role in his next film project as the co-director to the Oscar-winning Pete Docter (who also megged Up) in Disney/Pixar's Inside Out.
If Ronnie's life-story would be turned into an animated film, it wouldn't be lacking in color, drama and more importantly, inspiration.
"I have a very strange path going into animation," began Ronnie in a chat one afternoon recently while he was on vacation in the country with his family. The 55-year-old artist was born and bred in Cavite and transplanted to the US through the petition of his father when he was 29 years old. It was also his first time to see his father after 18 long years of separation.
At that time, Ronnie was already putting his University of Sto. Tomas degree in Fine Arts (Major in Advertising) to good use as an art director in an advertising firm, and was raising a family. Just like other Filipino migrant stories, the move meant making huge sacrifices and starting from zero.
"When I got to the US, I just kind of wanted to recover my advertising career and was putting a portfolio together so I could get into any branch of the advertising business in Los Angeles. But nobody was interested."
For several months, he couldn't find work, until he answered an ad to do a storyboard for a production company. "That led to at least one steady job," he said.
"Then, I fell into animation when somebody said, 'Why don't you be assistant to this art director in this one TV show?' I told him, 'I don't know anything really about animation. I would be really bad at this job,'" Ronnie recalled, adding that his only previous encounter with animation was through a college course that he didn't relish doing because it was tedious. "But he said, 'Don't worry, I'll teach you to do it.' I said, 'Alright.' Then I was hired and had to kind of learn on the job."
If there's one running narrative in his career trajectory, it would have to be Ronnie not backing down from a challenge despite many doubts.
"There's a saying in Pixar: We believe in jumping out of the airplanes and building a parachute on the way down. That's kinda the way of doing it, and that's how I've been doing with my animation career," Ronnie said.
He eventually landed a job as storyboard artist, first for Warner Brothers' Batman animated series, even without any idea what the job entailed. He would later learn on the job, again, that storyboard artists are the ones visualizing, illustrating and pitching the scenes of the story to be animated.
He would have the same position and more — illustrator, character designer and eventually, story supervisor (which he also had no experience to speak of) — when he found himself at Dreamworks, working on films like Prince of Egypt and Road To El Dorado. Each time, he sought not only to survive the job at hand, but also thrive in it that people actually like him doing it.
"So, most people (had given) me jobs that I had never done... But the lesson I've learned is that, even if I've expressed my doubts about me being suitable for the position, but if you're really serious about hiring me, then I'll do it."
By 2000, Ronnie joined Pixar and would be story supervisor on two of its most successful films, Finding Nemo and then Up, which paved the way for him to work with Pete Docter.
In between all that animation work, he ventured into comics, doing Batman Adventures Holiday Special with Bruce Timm, Paul Dini, etc. (and earning an Eisner Award Best Single Issue in 1995), among others. He has also released the Paper Biscuit books about a dream-walking and social misfit heroine named Nina.
But the animated feature will always be his favorite form of storytelling. "For someone who is not trained in school to do it, I learned on the job that when I tell a story, visually and with dialogue — this is at least my experience — when I pitch a story sequence, people get involved in it in a way... directors and producers look at it and say, I felt that. I have storyboard sequences that make people cry on pitches. You don't get to do that in either comic books or making books.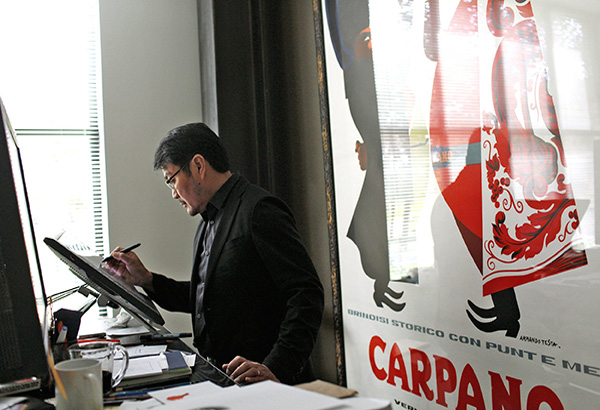 Ronnie at work: He is co-director in the upcoming Disney/Pixar animated film Inside Out
"With feature animation, there's a kind of performance art to it. As a story artist, I get to pitch it like live theater. I make all the voices, do all the pauses, can make sound effects and can describe what's happening because it's not animated. That's when I am most involved in creating the characters. The animators will hear it, the designers will see it, and there's kind of like a certain life to it that I've created with everyone else with me."
His most unforgettable pitch would have to be for the 2009 film Up, about a bitter old man named Carl who decides to live his dream of moving to South America. Remember the opening part where viewers get to see the wedded bliss of Carl and Ellie, and at the end of the second act, where Carl sits in his empty house at Paradise Falls leafing through Ellie's adventure book? Ronnie was particularly responsible for these heart-tugging scenes.
"When they gave me that sequence to do, it was designed not to have any words spoken," recalled Ronnie. "I get to go in and make it be told through face. A lot of the things that I got to do with Carl was about subtlety — emotions that were coming through a human being experiencing emotion, and that's not the usual job for animation, for a story artist, but I did it because I can because I like working with a human face, and also because I was going through that with my dad."
During that time, Ronnie's father Rogelio was hospitalized and couldn't speak anymore. "I didn't know I was going to work on a movie about an old man and my father, in the course of making Up, had gotten ill. I would visit him in the hospital, then I would show him sequences I was working on like I would pitch, 'Dad, you look exactly like Carl.' And my dad kind of lives in the movie because my dad is very stubborn, he's not had a lot of luck in his life," he shared.
"As Carl was looking through his life, my dad was towards the end of his journey. He didn't get to see the finished film. To see that end of the movie, I see that as a memorial to my father. For the rest of the world, it felt like an affecting moment in the movie, but to me, that was what I was going through in real life. (It was) the most emotional thing that I've ever done — to show an old man go through these emotions, realizing what's life amounting to. I don't think I'll ever get that shot again, and it's been rewarding."
Meantime, Ronnie, who's co-director in the upcoming Disney/Pixar animated film Inside Out, hopes to be able to share Pinoy-flavored stories in his future works, saying that some of the most compelling tales come from one's childhood.
His "accidental" foray into animation may not be so accidental after all, as Ronnie recalled that as a kid growing up in Cavite, he was always drawing.
"We have no idea," he replied laughingly when asked where he got his gift. "It's been a mystery since I was little. I've been drawing on walls, notebooks. I was drawing all the time. That's what I do to this day, I cannot not draw. I'm like a shark that has to keep on swimming, otherwise I will die."
Drawing was a constant even through the major upheavals in his life. Their family was down on their luck for several years (due to a business gone wrong) that his father had to leave for the US when he was 11, they had to live with different relatives, and Ronnie had to delay college for four years. Looking back, he said, "When friends started college, I was starting to work. When they were about to discover the world, I had to shuffle into UST, the oldest member in every class (laughs)." Nevertheless, it was during that period that he taught himself to draw.
And it was Ronnie's drawing that led him to where he is now.
"When I went to the US, I started from nothing. Three months of trying to get a job, and it was drawing. Drawing kind of saved my life and created this career when nobody would have any faith it would work."