Paolo resigns as TV5 news anchor
September 6, 2014 | 12:00am
This just in.
Two weeks ago, Paolo Bediones quietly disappeared as co-anchor of the TV5 late-night newscast Aksyon Tonite (which airs starting at 10 o'clock) with Cheryl Cosim. Word spread that he was just going on indefinite leave.
It was the right thing to do, considering that, after his six-minute sex video went viral, it kept on replaying in the minds of televiewers, thereby distracting them from whatever Paolo was reporting. Only last week, a second one (this time 16-minute video, according to those who have seen it) surfaced on social media. That was too much for Paolo who admitted that those were shot when he was still with GMA. TV5 issued a statement supporting Paolo but just the same he volunteered to stay off-air.
Funfare was informed that Paolo has resigned as newscaster but remains as host of the Public Affairs show Demolisyon, while the NBI, upon Paolo's request, continues to search for whatever evil mind has uploaded those videos in the Internet. Paolo's resignation came on the heels of the revamp of the TV5 news.
Here's the new schedule (and hosts) of the newscast:
• Aksyon sa Umaga (weekdays at 5 a.m.) — Martin Andanar, Grace Lee and Lourd de Veyra;
• Aksyon sa Tanghali (weekdays at 12 noon) — Raffy Tulfo and Cherie Mercado;
• Aksyon (weeknights at 6 p.m.) — Luchi Cruz-Valdes and Erwin Tulfo; and
• Aksyon Tonite (weeknights at 10 p.m.) — Cheryl Cosim and Martin Andanar.
***
The report of my death was an exaggeration.
Mark Twain said that in May 1897 and Boy Abunda can say that again today.
You see, Boy's sudden unexplained disappearance (oops! that word again!) from his three shows on ABS-CBN (Aquino and Abunda Tonight with Kris Aquino, The Buzz and The Bottomline) a month ago, all sorts of speculation cropped up, fanned by Kris' occasional abbreviated reports on her Instagram.
It's true that Boy was confined at an A-List hospital for more than three weeks and he's now recuperating in a place where, as Kris described it, "there's plenty of sun, sand and sea, plus fresh air," accompanied by his long-time partner Bong Quintana.
After weeks of silence (he didn't want any visitors at the hospital), Boy finally talked to Funfare on the phone the other day. He must be recovering fast because he sounded like the old Boy, lively and passionate.
He confirmed that:
He suffered from a liver ailment that required surgery (with so much pus drained from his liver);
He was running a 43-degree fever and was in a delirious state when he was rushed to the hospital;
He was feeling weak the weeks before his hospitalization; and
He lost 25 lbs. (not only 20 or more than 40 as reported) when he was discharged.
"My taste buds were badly affected kaya walang lasa ang kinakain ko that's why I lost so much weight," said Boy.
Asked what could have caused his ailment, Boy said that it could be the street food that he was fond of. (Boy is neither a drinker nor a smoker.) He still has to undergo regular check-up that includes a big needle being inserted into his back to relieve his liver from pus that builds up although not as bad as before.
"The procedure is painful," admitted Boy, even if he is anesthetized.
But he denied that:
1. He was (is!) dying;
2. He's HIV positive;
3. He's terminally ill; and
4. He's quitting TV for good (ABS-CBN management is considerate and understanding, not pressuring Boy into going back to work, with the Gonzaga sisters Toni and Alex taking over Boy's show with Kris).
"I underwent all kinds of tests to make sure that I wasn't afflicted with anything more serious," assured Boy, adding with a laugh, "Malandi lang ako pero hindi ako promiscuous." When Boy said that, I was sure that he's recovering well.
Even if he wants to, Boy cannot go home to his native Borongan City, Eastern Samar, to celebrate the birthday of Mama Mary on Sept. 8 (Calbayog City, Western Samar; and my hometown Las Navas, Northern Samar, celebrate the fiesta on the same date).
Meanwhile, far from the maddening crowd where there's plenty of sun, sand and sea, plus lots of fresh air, Boy is regaining his health.
"You know," he said, "my recent experience is an eye-opener. When you are sick pala, it's only between you and (The One Above), and it can be very, very lonely, indeed."
His voice trailed off with a hint of sadness as he bade me goodbye.
The truth about Boy Abunda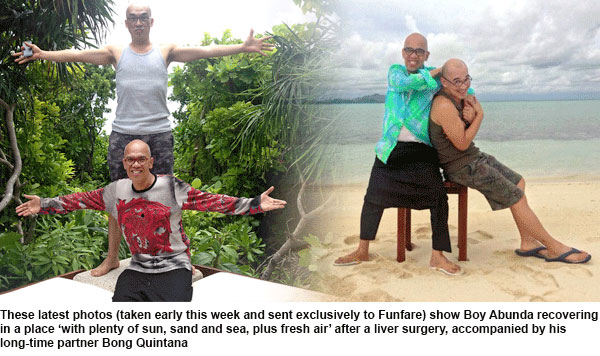 (E-mail reactions at [email protected] You may also send your questions to [email protected]. For more updates, photos and videos visit www.philstar.com/funfare or follow me on www.twitter/therealrickylo.)