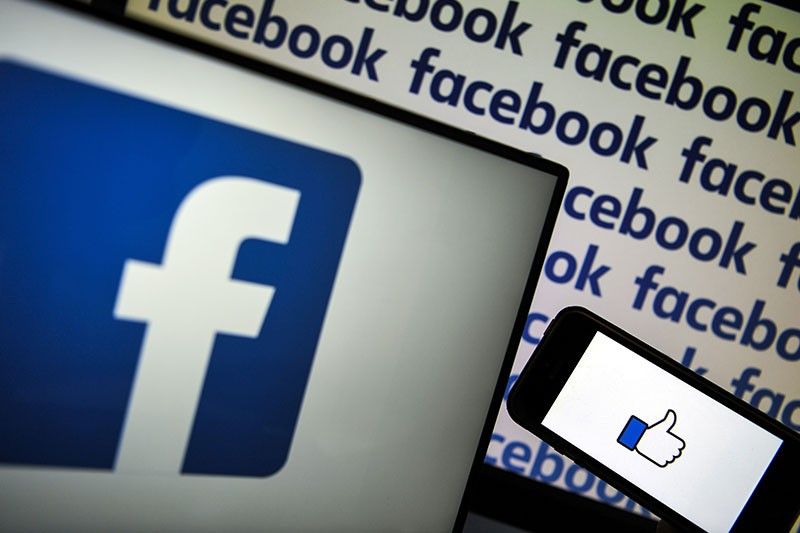 This file photo taken on July 4, 2019 in Nantes shows logos of the US online social media and social networking service Facebook. Facebook on May 6, 2020 announced the first members of its independent "supreme court" empowered to make binding decisions about what content should be allowed or removed at the social network and Instagram.The oversight board is to make final decisions regarding the kinds of posts known to embroil Facebook in controversy about censorship, misinformation or free speech.
AFP/Loic Venance
Facebook reveals members of its 'supreme court' for content
SAN FRANCISCO, United States — Facebook on Wednesday announced the first members of its independent "supreme court" empowered to make binding decisions about what content should be allowed or removed at the social network and Instagram.
The oversight board is to make final decisions regarding the kinds of posts known to embroil Facebook in controversy about censorship, misinformation or free speech.
Facebook public policy director Brent Harris described creation of the board as the "beginning of a fundamental change in the way some of the most difficult content decisions on Facebook will be made."
The 20 announced members of the panel come from various countries and include jurists, human rights activists, journalists, a Nobel peace laureate and a former Danish prime minister.
"This is a group that has a diverse set of insights, backgrounds, and beliefs but share a deep commitment to advancing human rights and freedom of expression," board director Thomas Hughes said during a phone briefing.
The board is to be expanded to 40 members. It remained unclear when the board would start hearing cases due to restrictions on gathering or traveling caused by the deadly coronavirus pandemic.
Board members have met virtually and training has started, according to Hughes.
The board was first proposed by Facebook co-founder and chief Mark Zuckerberg in 2018, and the California-based internet giant has set up a foundation to fund it operating as an independent entity, Harris said.
"As the world lives through a global health crisis, social media has become a lifeline for helping people and communities to stay connected,," the board said in a blog post.
"At the same time, we know that social media can spread speech that is hateful, harmful and deceitful. In recent years, the question of what content should stay up or come down, and who should decide this, has become increasingly urgent for society."
Hughes said he was open to the board serving as an arbiter of disputes for other social media firms such as Twitter but that, for now, the focus is on filling its roster and getting into action on cases about Facebook or Instagram posts.
Not the 'internet police'
Facebook will implement the board's decisions, unless they violate law, and "respond" to guidance on policies, according to Harris.
The board said it will decide whether disputed posts comply with Facebook and Instagram policies and "values" as well as freedom of expression within the framework of international norms of human rights regardless of the social network's corporate interests.
The board will make decisions public and report on how well Facebook obeys rulings.
Reputational costs
Zuckerberg has personally assured the board the social network will abide by its decisions, according to co-chair Helle Thorning-Schmidt, a former prime minister of Denmark.
"This board is not designed to be an echo chamber," said co-chair Catalina Botero-Marino of the Universidad de los Andes Faculty of Law in Colombia.
"Facebook would have a very high reputational cost if it doesn't carry out decisions by a body it created to resolve its thorniest problems."
Facebook cannot remove members or staff of the board, which is supported by a $130 million irrevocable trust fund.
"For the first time, an independent body will make final and binding decisions on what stays up and what is removed," Thorning-Schmidt said.
"This is a big deal; we are basically building a new model for platform governance."
Board co-chair Michael McConnell, a university law professor and former US federal judge, said the expected volume of cases would make it impossible to consider them all.
Instead, like the US Supreme Court, the board will prioritize content removal cases that can set precedents for how Facebook should handle similar material, according to McConnell.
"We are going to have to select maybe a few flowers, or maybe they are weeds, from a field of possibilities," McConnell said.
The board plans to first focus on cases affecting large numbers of users; second on cases look to have major effect on public discourse, and then those that effect policy at the platform, he explained.
"We are not the internet police," McConnell said.
"Don't think of us as a fast action team that is going to swoop in. Our job is to consider appeals, provide an after-the-fact, deliberative second look."
As It Happens
LATEST UPDATE: December 23, 2020 - 5:38pm
The latest news about Facebook, Twitter, Instagram and other social media platforms.
December 23, 2020 - 5:38pm
Messaging app Telegram will launch pay-for services in 2021, its Russian-born founder Pavel Durov says Wednesday, as the growing company needed "at least a few hundred million dollars per year".
"Telegram will begin to generate revenue, starting next year," he says in a statement. "We will be able to launch countless new features and welcome billions of new users." — AFP
December 7, 2020 - 12:40pm
The Bureau of Immigration has issued a ban on employees posting content on TikTok of them dancing or performing social media challenges while in uniform.
Immigration Commissioner Jaime Morente says in a press release that the prohibition "was imposed to strictly enforce the bureau's regulations on the wearing of the BI uniform, whose integrity must be upheld at all times because it represents the institution of the Philippine immigration service."

"Our policy on the wearing of the BI uniform is clear. As public servants and supposed model Filipinos, employees must proudly wear their uniform at all times, present a professional image to the public and observe proper decorum and good taste in all their actions while they are on duty," he also says.
December 5, 2020 - 10:34am
A souce says shortform video app TikTok and the Trump administration had not come to terms over sale of the company's US operations late Friday as a deadline loomed.
The Committee on Foreign Investment had given TikTok parent ByteDance, based in China, until midnight to come up with an acceptable deal to put TikTok's American assets into US hands.
Talks between TikTok and government negotiators will continue even after the deadline passes, and people in the US will still be able to use the popular smartphone app for sharing video snippets, the source says. — AFP
December 1, 2020 - 5:21pm
Twitter on Tuesday rebuffs Australian calls to remove a Beijing official's incendiary tweet targeting Australian troops, as China doubled down on criticism in the face of mounting international condemnation.
Chinese foreign ministry spokesman Zhao Lijian sparked outrage in Canberra on Monday when he posted a staged image of a man dressed as an Australian soldier holding a bloody knife to an Afghan child's throat.
The post came just days after Australian prosecutors launched an investigation into 19 members of the country's military over alleged war crimes committed in Afghanistan between 2005 and 2016.
Twitter says it had marked the tweet as "sensitive," but adds that comments on topical political issues or "foreign policy sabre-rattling" by official government accounts were generally not in violation of its rules. — AFP
December 1, 2020 - 8:34am
Facebook and Google are fast becoming "human rights-free zones" in Vietnam, Amnesty International warns Tuesday, accusing the tech titans of helping censor peaceful dissent and political expression in the country.
Communist Vietnam has long jailed its critics but has come under fire in recent years for targeting users on Facebook, a popular forum for activists in the country where all independent media is banned.
The social network admitted earlier this year that it was blocking content deemed illegal by authorities, while its latest transparency report revealed a nearly 1,000-percent increase in the content it censors on government orders compared to the previous six months.
Amnesty said in a Tuesday report that it had interviewed 11 activists whose content had been restricted from view in Vietnam by Facebook this year. — AFP