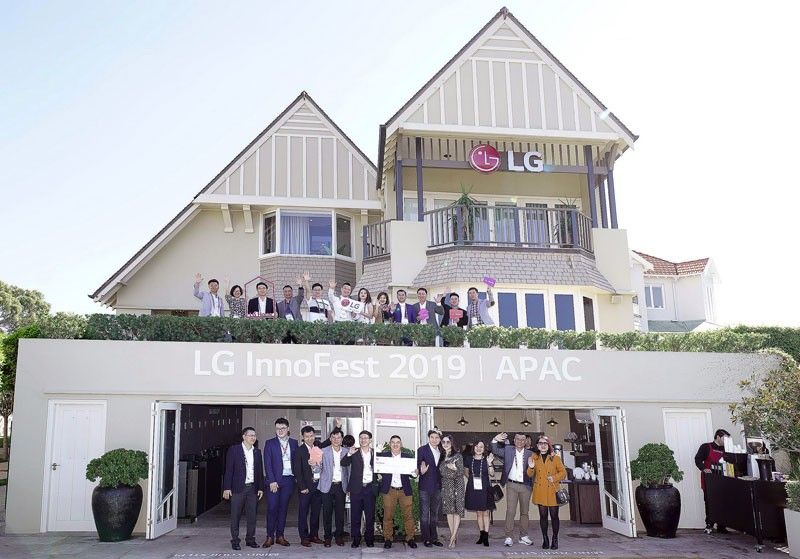 LG Electronics showcases its visionary LG Home concept for its seventh annual InnoFest roadshow with a first-ever stop in Sydney, Australia from March 12-13.
LG redefines modern smart home at InnoFest 2019
MANILA, Philippines — When LG said they will make life good, they meant creating an ecosystem of home appliances that will ground break the future of smart home living.
For the first time, LG Electronics detoured from its yearly display exhibits to introduce an entirely new format in showcasing their top-of-the-line products during the LG InnoFest 2019 Asia Pacific roadshow in Sydney, Australia.
In the posh Cremorne suburb on the lower north shore region of Sydney, a three-story harbour estate housed LG's vision of a connected home. If touring the 15-million AUD mansion itself is already overwhelming, imagine a full-range of appliances lined up in every corner of the house. Astounding. And to set the bar higher, not only do these products stand as individual pieces of appliance, they also connect and communicate with each other. All it takes is a single touch of a bu… or should I say, a simple voice command?
A connected home
When you enter the futuristic LG Home, an intricate pattern of a modern painting hanged on the wall to your left sure will catch your attention. When you lean closer, you'll realize that what's right in front of you is actually a TV display. The colors are so true to life. The insanely slim panel lays perfectly flat it's almost like a picture on the wall. This is LG's mind-bending W9 OLED Wallpaper TV. It's 0.2-inch thick design is so thin you'll start asking yourself, "How did they pull this off?" When you gaze below the TV, you'll somewhat grasp how it works: the general hardware of the TV, including the HDMI ports and the internal speakers, are all in the TV's soundbar.
This wallpaper TV is not only sophisticated, but also smart. Ask it to play the channels you have watched before by speaking directly to the remote control and it will show you a list of your recently-watched programs. You don't have to remember each of your 400 channels or flip-through one after the other. Thanks to LG's XBOOM AI ThinQ speaker, you can control all of the smart home appliances in this mansion with just simple voice commands.
ThinQ, LG's moniker for its Artificial Intelligence (AI) technology, combines LG's own AI with other external AI platforms namely Google Assistant and Amazon Alexa. It constantly learns the user's behavior and patterns and use that to evolve so it doesn't only respond to commands, it also uses the whole context of the conversation to go on and make recommendations.
Take this situation for example: Imagine it's the weekend and you are about to start cleaning. You picked up the LG CordZero A9 vacuum cleaner. When you turned it on, you heard Google Assistant say: "I see you're starting to clean, if you'd like some help from the robot cleaner, call LG." You said, "Talk to LG." The XBOOM responded, "Would you like the robot cleaner to help clean your kitchen?" "Yes please," you replied. The LG R9 Robotic Vacuum then started navigating your kitchen area.
So, what just happened? Because everything is connected, ThinQ helps you cut your total cleaning time at least in half and gives you more time to hangout and relax.
Moving on to the kitchen, you stepped toward the Slim French-Door for some refreshments. But instead of opening the door, you knocked on it to see what's inside. The black screen on the fridge turned into a glass window, revealing the fruit juices, soda in cans and milk carton in your door compartment. As you are about to open the door, you suddenly received an alert on your refrigerator door's InstaView display: "Brewing is complete, enjoy your own beer!" You walk up to your LG Home Brew, the world's first capsule-based craft beer machine, to enjoy your glass of freshly-made beer.
Now, it's time to tackle the dirty laundry. But how can ThinQ help you in the context of washing clothes? Just simply ask ThinQ how to deal with any stain that you have no idea how to remove and the AI will set the appropriate cycle and water temperature on the washer. It also alerts you whenever you are running out of detergents and even orders them for you.
With the help of ThinQ, mundane tasks are taken care of so you can instead focus on the things that make life good.
Wiser smart TVS
Apart from showcasing their vision of a connected home, the InnoFest roadshow in the luxurious LG Home also became the outlet for the Korean tech giant to show off it newest products. One of them is LG Z9, positioned right in front of the Cremorne mansion's living room. Z9 is the world's first 88-inch OLED 8K TV. And when we say 8K, it's four times the resolution of 4K, 16 times that of full HD and packs a total of 33,117,600 pixels.
The content isn't there yet for 8K and 4K content is still scarce. In the Philippines, you can access 4K content by subscribing to streaming services like Netflix. Gaming consoles like PS4 Pro and Xbox One X can display 4K in its native resolution. On the downside, no Philippine TV network broadcasts in 4K, more so in 8K.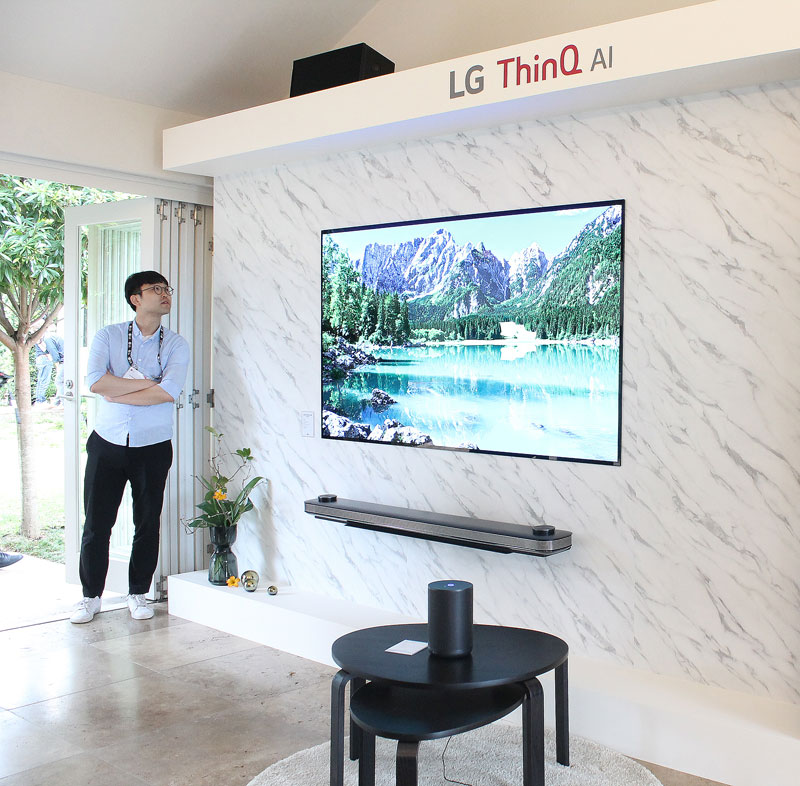 A man checks out LG W9 wallpaper TV during the LG InnoFest in Sydney, Australia.
This is where upscaling comes in. All LG OLED TVs including those that are scheduled for release in Asia (W9, E9, C9 and B9), are equipped with the company's second-generation α (Alpha) 9 intelligent processor, which can upscale lower resolution content to 8K or 4K. It also delivers more accurate color and analyzes the surrounding to achieve the optimal level of screen brightness. When LG developed this technology, they kept in mind how the human eye captures images in different lighting. That's why with α9 Gen 2, users never have to worry about compromised viewing experience even if seated at the farthest edge of the sofa.
The Asian market can also expect the release of LG's LED lineup called NanoCell TVs. It is comprised of SM99, SM95, SM90, SM85 and SM80 and is available in 14 AI-enabled models from 49 to 86 inches.
New wave of sound system
To complement the best viewing experience, LG also released its 2019 audio products, headlined by the SL10YG SoundBar. This flagship sound system is equipped with Meridian's signature bass and space technology and image elevation technology that brings audio to life by lifting it towards the center of the TV, making it seem like the dialog in the movie you're watching actually comes from the actors on the screen.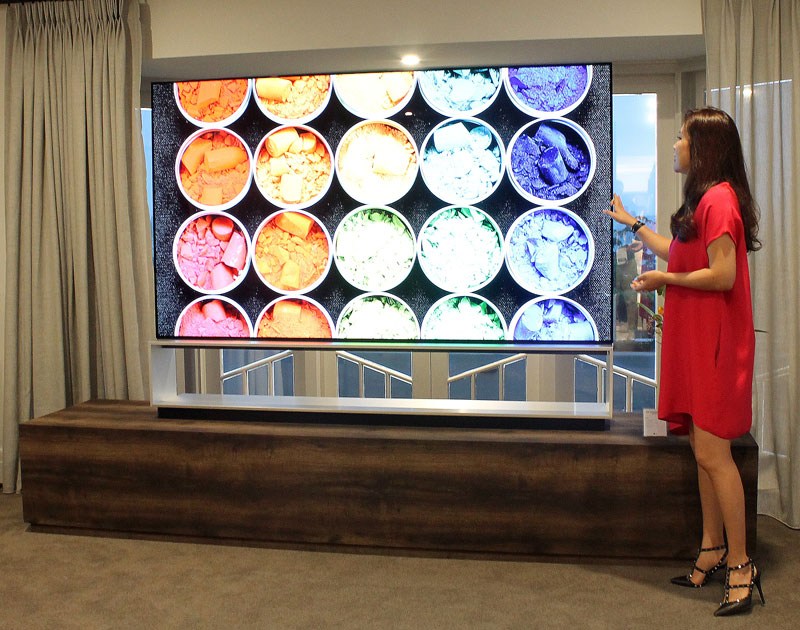 A woman shows the 88-inch display of LG Z9, the world's first 8K OLED TV, during the LG InnoFest in Sydney, Australia.
If you prefer an audio system that blends seamlessly your home, LG Objet AJ7 is fo you. Objet is LG's brand name for electronic devices that also function as home decor. The AJ7, with legs made of solid walnut, is geared toward consumers who value unique design, aesthetics and quality.
But if you are the type who likes to host house parties, the LG XBOOM series has models with DJ controls (real scratcher, cue, crossfader, DJ wheel, DJ Pad) and Karaoke features (vocal effects, voice canceller, key changer).
Coolest air cooler
Also part of the LG Home living room is LG's new DUALCOOL air conditioner, a piece of appliance that does two jobs: purify and condition the air. Every time the DUALCOOL sensors microparticles or particulate matter, the ion diffuser generates over five million negative ions that attach to the particles. And by employing the principle of electrostatics charge, the positively charged micro dust filter easily filters out tiny, negatively charged microparticles including viruses and bacteria. This unit also has the ability to adjust its vane to the optimal angle so cool air will not directly hit and cause sudden drop in body temperature to the user.
Slimmed-down refrigerator
In the kitchen lies a piece of LG's premium quality refrigeration solutions, but this time, in a more space-friendly size — the Slim French Door refrigerator. Given its 835-millimeter width and the addition of matte black finish in its variety of colors, it will surely fit perfectly in every kitchen setup imaginable.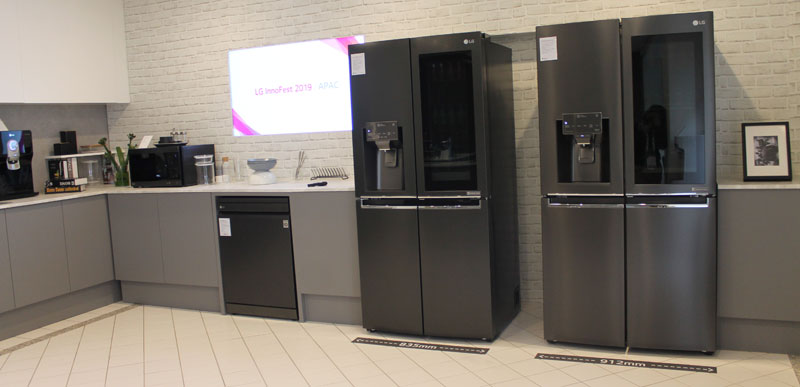 Knick, Knock!: Simply knock twice on the glass door of LG's Slim French Door Fridge with InstaView to illuminate the contents inside without cold-air-loss.
While the outside exudes sophistication, the inside showcase functionality. The door cooling system maintains an even temperature throughout the refrigerator by adding air vents on the top of the fridge to send direct airflow to the door area to reduce temperature gap between the inner compartment and the door basket. The Slim French Door comes in InstaView and Door-in-Door models.
New washing standard
LG also presented its latest front-load and top-load washing machines with two types TurboWash technologies that don't only get clothes cleaner, but also minimize damage and save you time.
The top-loader employs TurboWash 3D that harnesses three other types of technology: WaveForce sends powerful vertical streams of water from top to bottom, ensuring each and every load is thoroughly clean, JetSpray provides quick and effective rinsing and TurboDrum rotates the tub and pulsator to generate dynamic flows of water moving in opposite directions. The combined strengths of these washing technologies can cut cycle lengths to approximately 39 minutes, while reducing energy consumption by up to 27 percent and water consumption by 14 percent compared to conventional LG washing machines.
The front-load washing machine, meanwhile, is powered by an enhanced Intello Direct Drive motor that fine tunes washing patterns by automatically detecting the weight of laundry and accurately assessing fabric softness. This guarantees exceptional results every time, and reduces the occurrence of fabric damage by 18 percent, prolonging the lifespan of favorite clothing items.
Personal skin care solution
Lastly is LG's popular home beauty device — Pra.L. The beauty appliance lineup consists of four devices: a dual motion cleansing brush that removes impurities and dead skin, a galvanic ion booster that enables deeper penetration of skin care ingredients onto the skin, a total lift up care that improves the elasticity of the skin, and a derma mask with 120 LEDs that can be worn for nine minutes to achieve radiant skin.
The Pra.L series was a hit when it was launched in Korea last year so imagine how skin care obsessed millennials will react when this becomes available in the Philippines. Using just four devices, it can streamline the 10-step Korean skincare routine that is hard to committed to every night given the demands of a modern life.
While the Philippine market still has to for 5G to fully utilize most these new releases and while the rest of the world is still busy transitioning to 4K, LG is waiting for us in the finish line, speeding ahead of its competitors.