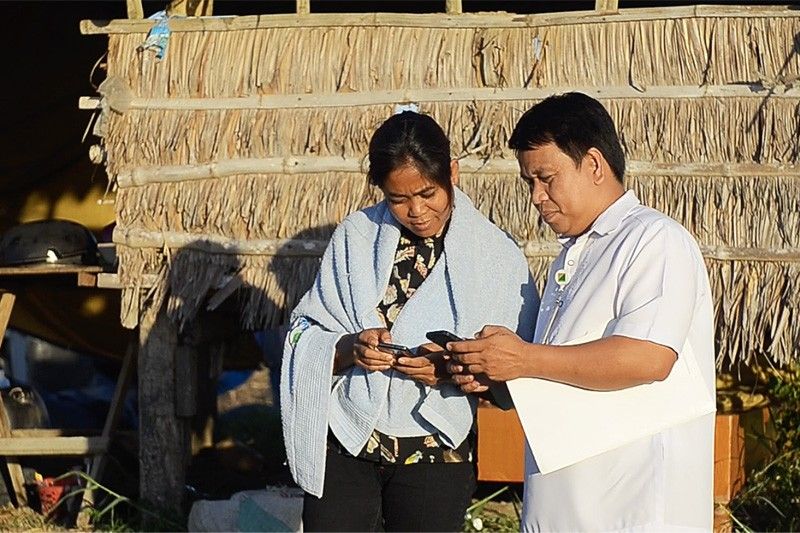 Voyager's goal is to include every Filipino in the digital mainstream.
Released
Voyager breaks the digital divide
(philstar.com) - July 19, 2018 - 2:15pm
MANILA, Philippines — The digital hype is over. The world is now going through sea change with consumers already defaulting to a digital lifestyle while whole industries are moving to the 4th Industrial Revolution.
Here at home, Filipino internet users grew by 40 percent to 58.7 million in January 2018.1 Digital commerce continues to increase with almost 34 million Filipinos now buying consumer goods online, a 12 percent year-on-year change from 2017.2 Cashless transactions soared to as much as 10 percent in the first quarter of this year compared to just 3 percent three years ago.3
There is no turning back from the power of digital transformation.
But like many good things, to be truly liberating, the benefits of digital have to reach the millions of Filipinos in the grassroots.
Voyager Innovations, the country's leading technology company, is breaking the digital divide by further accelerating the country's transformation through its homegrown, citizen-centric and innovative platforms.
Its goal is to include every Filipino in the digital mainstream. Its mission: to disrupt the state of unconnected, unbanked, and underserved people and communities in emerging markets. At its core: innovations that matter to the daily lives of people, communities, enterprises, and organizations.
"The digital platforms that Voyager builds help provide opportunities for all Filipinos. We are proud to create solutions and innovations for enterprises and consumers that tear down the walls of inequality for the benefit of all," says Manuel V. Pangilinan, chairman of Voyager Innovations, PayMaya and FINTQ.
PayMaya
Leading e-wallet in the country, with 36% of Filipino adults aware of the brand.

4

Largest mobile acquirer enabling merchants to accept cashless payments over various channels.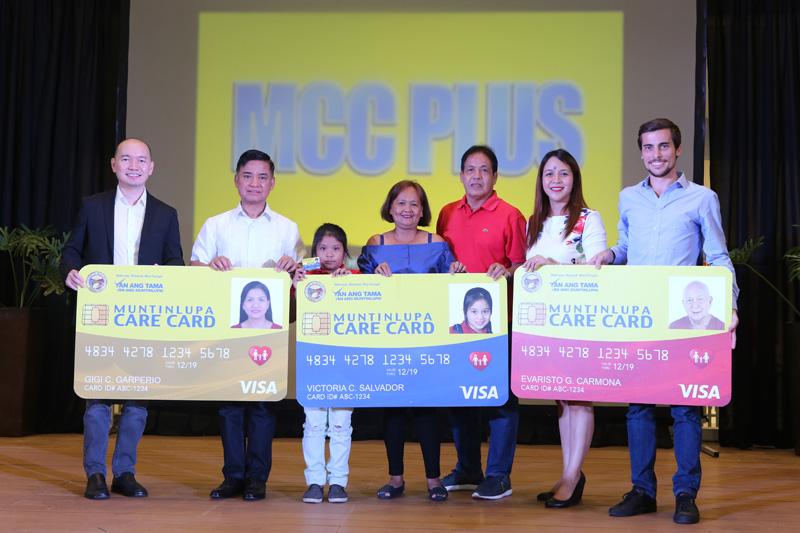 EMPOWERING MUNTINLUPA RESIDENTS WITH CASHLESS PAYMENT TECHNOLOGIES. Muntinlupa City on Tuesday launched the Muntinlupa Care Card (MCC) Plus, an upgraded version of its all-in-one resident ID and payment card powered by PayMaya. Dubbed as "the most advanced LGU citizen card", the MCC Plus and its linked PayMaya account can be used for in-store and online shopping, bills payment, prepaid load reloading, as well as remittances, on top of serving as a benefits and rewards card for more convenient access to government services. As an additional feature, Muntinlupa residents can also tap their MCC Plus at e-Jeepneys plying the city to avail of a free ride. In photo are Muntinlupa City Mayor Jaime R. Fresnedi (2nd from left), Lingkod Muntinlupa Foundation Program Director Grace Salvador (2nd from right), PayMaya Philippines COO and Managing Director Paolo Azzola (rightmost), PayMaya Philippines Head of Domestic Business Lawrence Ferrer (leftmost), and the initial beneficiaries of the MCC Plus (middle). Released
"Muntinlupa Care Card Plus is currently the most advanced citizen card because it brings so many benefits to our constituents, from availing of health services to receiving their scholarship funds, and even getting free rides around the city. Our partnership with PayMaya will open a whole new world of opportunities for our constituents in the growing digital economy." — Mayor Jaime Fresnedi of Muntinlupa City
"We are happy to have a new way to make shopping more convenient for our shoppers. The retail landscape is changing, and The SM Store is proud to lead the way with partners like PayMaya." — Chelo Monasterio, The SM Store president
Smart Padala
Largest mobile domestic domestic remittance network with about 20,000 Smart Padala partner agents.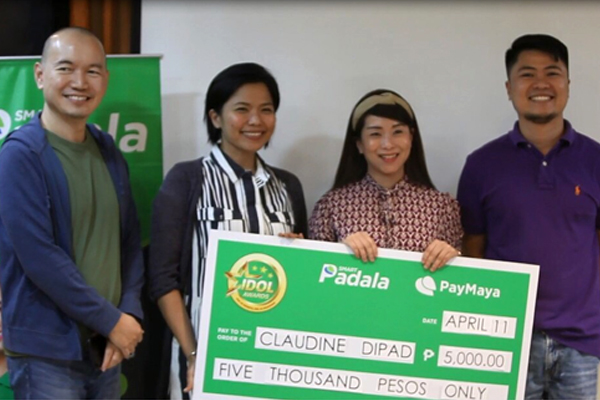 SMART PADALA AWARDS ITS OUTSTANDING AGENT PARTNERS DURING THE IDOL AWARDS 2017. From left: PayMaya Philippines Head of Domestic Business Lawrence Ferrer; Smart Padala Marketing Head Ethel Ines; Aiza Claudine Dipad, Smart Padala Idol agent from Bicol; and Eric Delos Reyes, Area Business Leader for Southern Luzon 3. Released
"People in Burias Island are very thankful because very convenient ang remittance. I'm thankful because they are the reason why I'm staying in business," Aiza Claudine Dipad, Smart Padala agent in Bicol
FINTQ
Most extensive digital lending footprint in the country, with over P35 billion loans disbursed through the Lendr platform.
Pioneer in "sachet" digital financial services.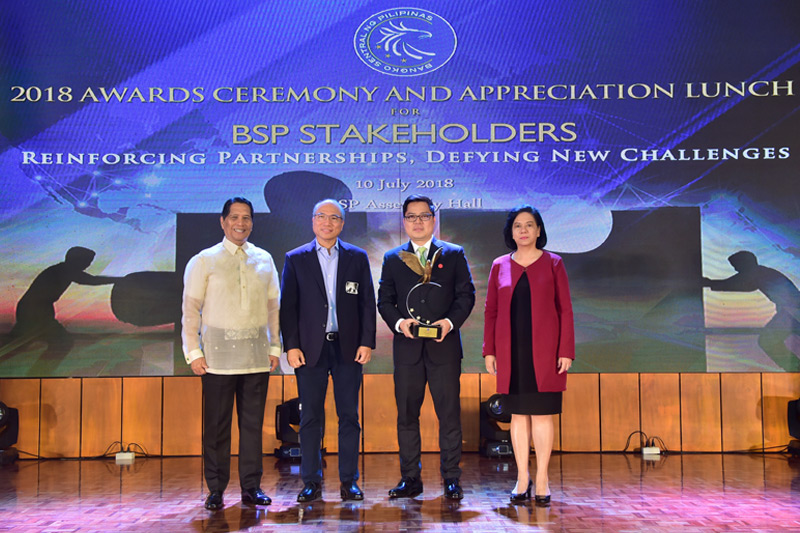 BANGKO SENTRAL NG PILIPINAS NAMES FINTQ AS ITS 2018 OUTSTANDING PARTNER FOR FINANCIAL INCLUSION. From left: Monetary Board Member Antonio Abacan, Jr; Voyager Innovations President and CEO Orlando Vea; FINTQ Managing Director Lito Villanueva; and BSP Deputy Governor Cyd Tuano-Amador. Released
"Lendr is well aligned with the government's thrust of promoting responsive and responsible banking. Ultimately, technology will bring about inclusive growth and development, benefiting customers even at the bottom of the pyramid," — BSP Governor Nestor Espenilla Jr..
"We welcome KasamaKA as a national digital enabler towards achieving our goals to exponentially grow the country's insurance penetration rate to 4 percent by year 2020 from 1.7 percent in 2017. This is the first of its kind initiative." — Insurance Commissioner Dennis Funa
"Tuwang-tuwa ako nung nalaman ko ang Mobile Crop Loan at nakita ko na in 15 minutes, approve na ang loan ko. Dito, pwede na sa cellphone mag-apply, hindi na gagastos ng pamasahe, di na rin kailangan pumila sa bangko, at mura pa ang interest from 30 percent to 9 percent. Napakalaking tulong sa katulad naming magsasaka," — Marife Domingo, a farmer in Nueva Ecija.
freenet
Largest free internet and rewards platform community through freenet.
Enabling over 300 big enterprises and MSMEs with digital marketing technologies.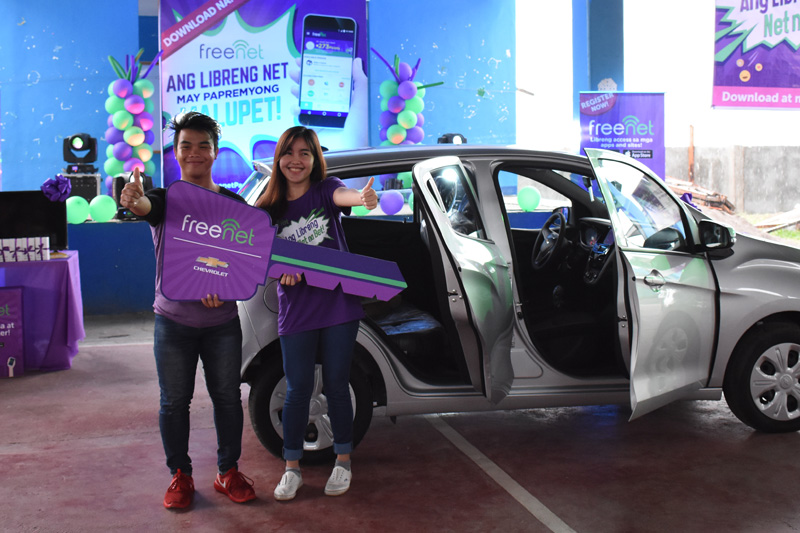 VISAYAN FREENETIZEN WINS A BRAND NEW CAR FROM FREENET'S PAPREMYONG MALUPET PROMO. From left: Francis Roble, Jr., grand prize winner of freenet's Papremyong Malupet promo and Karen Cervantes, freenet Senior Marketing Associate. Released
"Our partnerships with freenet and PayMaya have unlocked great value for our customers. By allowing Filipinos to browse our app using zero data consumption and offering the unbanked population new and convenient payment channels, freenet and Paymaya are with us in our vision of elevating the Philippines into the digital world," — Tristan de Belloy, Lazada Philippines chief marketing officer
"Ang saya po kapag may libreng access sa favorite game natin. Kaya nga po ako nagpapasalamat sa app na 'to dahil kay Netzee [hindi] lang ako kundi halos lahat ng gumagamit nito." — freenet user Geoffrey Marcaida
Voyager's awards and recognitions
Voyager is honored to be recognized by prestigious institutions for its various platforms, services and initiatives. This is an affirmation of its commitment to transform lives through relevant innovations.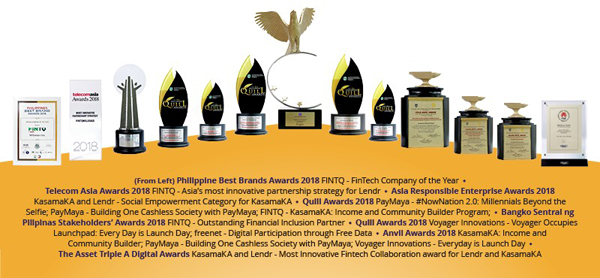 Sources:
Based on data from International Telecommunications Union published in We Are Social: Digital in 2018 in Southeast Asia (January 2018)
Based on data from Statista published in We Are Social: Digital in 2018 in SoutheastAsia (January 2018)
Credit Card Association of the Phliipines, July 2018
BSP 2017 Financial Inclusion Survey