Rolls-Royce Cullinan: A diamond in the rough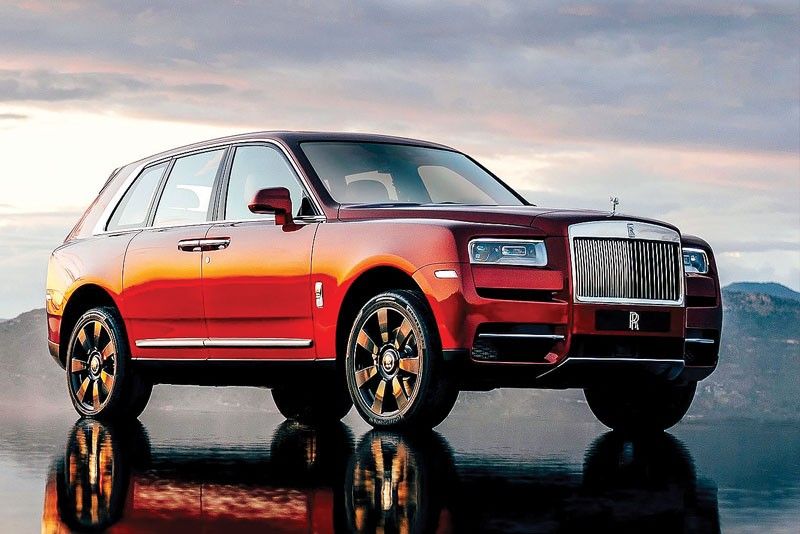 Sports utility vehicles or SUVs are often associated with roughing it out or driving through rough conditions. But what about drivers who seek both adventure and luxury? Must they compromise? Rolls-Royce proves that the two are not mutually exclusive.
Responding to its customers' clamor to build 'The Rolls-Royce of SUVs,' Rolls-Royce launched its first-ever SUV worldwide on May 10. In the Philippines, Rolls-Royce Motor Cars Manila hosted an intimate dinner at its Bonifacio Global City showroom where guests watched a livestream video of the unveiling at the Rolls-Royce headquarters in Goodwood in the UK.
Aptly called 'Cullinan,' the name takes after the largest diamond ever discovered. In its vehicle segment, Rolls-Royce Cullinan shines like a large, bright diamond.
With a 6.75-liter twin-turbo V12 engine that delivers 563bhp and 850Nm of torque, the Cullinan can overcome challenging conditions. Its electronically controlled shock absorber adjustment system reacts to body and wheel acceleration, steering inputs and camera information — adjusting automatically to provide maximum torque and keep all wheels constantly in contact with the ground, even for off-road drives. Faced with flooding, deep snow, or sand, Cullinan delivers the deepest wading depth of any super-luxury SUV at 540mm.
No doubt, there are many SUVs that deliver a high level of performance at rough conditions. But what makes the Rolls-Royce Cullinan as rare as the largest diamond is its combination of an unprecedented level of performance AND luxury in the SUV market. The Cullinan can survive the rough, without being rough itself.
The Cullinan is the first 'three-box' car in the SUV genre — incorporating a glass partition wall that separates passengers from the luggage compartment to create a sealed and luxurious environment unusual for SUVs. This unique Rolls-Royce configuration eliminates the increased cabin noise often encountered with SUVs that use the standard 'two-box' formula. The Cullinan's three-box partition wall also keeps passengers in optimum temperature even in the hottest or coldest environments, or while the luggage compartment is open.
Two rear configurations are offered for varying preferences or lifestyles. The 'Lounge Seat' configuration allows three passengers in the rear, with the option to fold the rear seats with the touch of a button (a first for Rolls-Royce). The seats can be folded completely or one by one, to create a flat, 2/3- or 1/3-split load area. The Cullinan can easily accommodate shopping bags, large luggage or sports equipment with a compartment space of 560 (standard) to 600 liters (with the parcel shelf removed).
For those who want to travel with more space and luxury, the 'Individual Seat' configuration provides two individual rear seats separated by a Fixed Rear Center Console. The Console includes a 'drinks cabinet' with Rolls-Royce whisky glasses and decanter, champagne flutes and refrigerator. The seats also move in a number of planes for ultimate comfort.
The rear seats are placed higher than the front seats with Rolls-Royce's Pavilion Seating, offering passengers a wide view of their surroundings through the large glazed area of the Cullinan's side windows and panoramic glass roof. Passengers can also view their location on the rear touchscreen map.
The leather seats and interiors feature a newly developed 'Box Grain' black leather — a durable and water-resistant boarded leather similar to that used in Italian high-end luggage and handbags.
Other aspects of comfort were anticipated by the Cullinan. Boarding a typical SUV is usually a challenge, especially for a woman in a dress or heels. The Cullinan, by contrast, makes entry effortless by automatically lowering itself by 40mm. Once the Cullinan's engine starts, it elevates by 40mm back to its standard vehicle height of 72 inches.
The Cullinan also ensures that passengers can descend without dirtying their trouser legs or long dresses by having front and rear coach doors wrapped low under the sill.
While rear passengers sit in a distinctly elegant Rolls-Royce environment, the Cullinan has the unique feature of not being identified as a 'chauffeur-driven' luxury car. The Cullinan's thicker, smaller wheel is an obvious indication that it is a driver's car.
Armed with a host of technologically advanced features, the Cullinan has the latest navigation and entertainment systems; night vision and vision assist (with daytime and night-time wildlife and pedestrian warning); a four-camera system with panoramic, all-round visibility and helicopter view; active cruise control; collision warning; cross-traffic warning, lane departure and lane change warning; a 7x3 high-resolution head-up display; and — for internet addicts — a WiFi hotspot.
An incredibly unique aspect of the Rolls-Royce Cullinan is its ability to provide a suite of bespoke features developed specifically for the various lifestyles of its owners. Cullinan owners can commission 'Recreation Modules' for their hobbies or athletic pursuits. Whether it's photography, hiking, cycling, or surfing, each module contains a motorized drawer housing the equipment and paraphernalia specific to each Cullinan owner's pursuits. The module can be easily plugged into the boot of the Cullinan.
"We knew we had to offer our clients what they couldn't find in the SUV market," said Rolls-Royce Motor Cars CEO Torsten Müller-Ötvös.
The 'Cullinan diamond' now resides in the British crown jewels. The Rolls-Royce Cullinan aims for a similar level of prestige and exclusivity by being one of the, if not the most, expensive SUV currently available in the market.
The Rolls-Royce Cullinan was designed with specific people in mind. Like the Cullinan, these people are exceptional and seek to shine in any condition—just like diamonds in the rough. Müller-Ötvös describes them: "They do not accept limitations or compromises in their lives. They are the new pioneers, and for them it's about their sense of adventure and daring in how they live their experiences. This approach to life demands a motorcar that can go anywhere in ultimate luxury and style–Rolls-Royce style. Hence, the Cullinan."