British Chamber aims to attract UK investments in Davao
November 13, 2021 | 2:00pm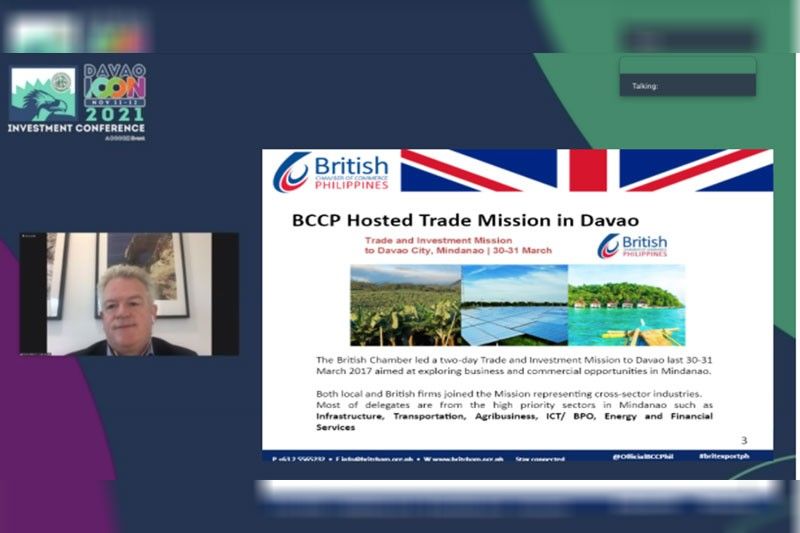 MANILA, Philippines — British Chamber of Commerce Philippines Executive Director and Trustee Chris Nelson participated in the recently concluded Davao Investment Conference 2021 (Davao Icon 2021), with the theme "Strong Today, Stronger Tomorrow". The forum was organized showcasing Davao as a promising destination for investments across multiple industries.
During the forum, Nelson mentioned the Chamber has previously held a Trade Mission in Davao back in 2017. He identified several British companies already established in Davao such as Seagard, YLF, and Pru Life UK. He added, "Some of those actually started after we did our trade mission, which shows active engagement is a positive thing."
Nelson also emphasised Davao has a great opportunity, evident from the numerous British companies already present in the area. In this context, the Chamber looks forward to the continued recovery of the country. Nelson said, "Areas such as Davao will be a key focus for people in that recovery."
He further notes economic reforms particularly, the Retail Trade Liberalisation Act, Public Service Act and Foreign Investment Act, will also help in boosting Davao as an investment hub in the Philippines. Once enacted, the Chamber seeks to promote these changes in the UK. Nelson said, "We have strong connections with the British Chambers of Commerce across the entire UK and we will [continue to] highlight the advantages of Davao and the Philippines."
In light of the 75th anniversary of Philippine-UK relations, the Chamber will continue to highlight investment opportunities between the two countries, including the strong and consistent progress in the continuous development of Davao.