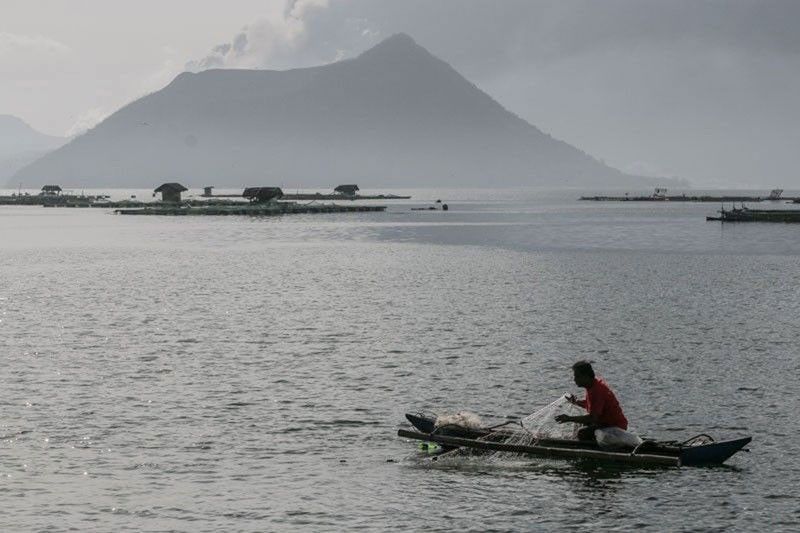 Taal fish feeding resumes as water quality improves
MANILA, Philippines — Fish cage operators can now resume feeding their fish stocks in Taal Lake after tests showed improvements in the quality of water.
Agriculture Secretary William Dar said tests conducted by the Bureau of Fisheries and Aquatic Resources (BFAR) from Jan. 14 to 30 revealed that the level of dissolved oxygen in Taal Lake, which is essential to fish growth and survival, had already improved.
BFAR Calabarzon director Sammy Malvas said Taal water quality tests also showed that the sulfide level is within normal.
Hence, he recommended fish cage owners not to overfeed the fish, commonly tilapia and bangus, to avoid accumulation of ammonia in the waters of Taal Lake.
The BFAR tests showed the sulfur content of tilapia samples from Taal Lake was similar to those from the National Freshwater Fisheries Technology Center, in Munoz in Nueva Ecija.
This shows that ash and sulfur have minimal effect on the fish despite the eruption of Taal volcano.
BFAR will continue to conduct water quality monitoring and ensure that fish cage operators
are properly advised and provided needed technical assistance.
Fishers in Taal Lake earlier appealed to the government to give them "window hours" to feed and harvest thousands of metric tons of fish in their cages.
Prior to the eruption of the Taal volcano, daily harvest from the lake ranged from 120 to 150 MT of milkfish and tilapia.
Total fish production from the 6,000 cages reached more than 50,000 MT annually.
Of the total volume, about 60 percent is consumed in Batangas, Cavite, Laguna and Quezon. The remaining 40 percent is sent to Metro Manila and sold through the PFDA Fishport Complex in Navotas City.
BFAR has already prepared immediate assistance of seven million fingerlings for tilapia, 20,000 for ulang, 50,000 for hito, 100,000 for bighead carp, and 5,000 for ayungin, once aquaculture operation in the lake is ready to resume.
So far, total losses in the agriculture sector have already amounted to P3.23 billion, with fisheries suffering almost half of the damage.
The eruption has affected nearly 17,000 hectares and 43,700 MT of produce.