Seagrass craft making flourishes in Camarines Sur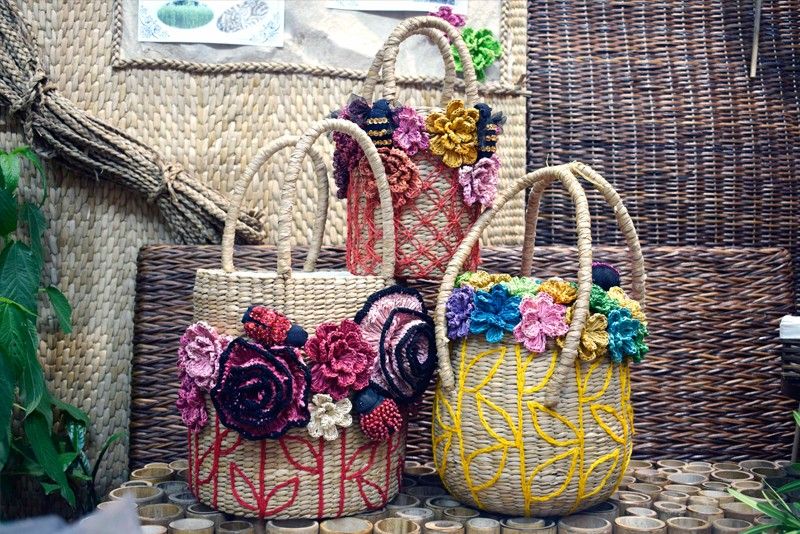 MANILA, Philippines — From the plain-looking handwoven slippers to embroidered bags and embellished baskets, seagrass craft making in San Fernando, Camarines Sur has grown into a full-blown home-based business, providing additional income to rice farmers in the flood-prone areas.
According to the Department of Agriculture-Regional Field Office-Bicol Integrated Agricultural Research Center (BIARC), the majority of the flood-prone rice producing areas were left fallowed, thus additional costs on herbicides and labor are needed to remove various weeds and sedges that emerge after the fallow period.
"In the project site, while many people use various weed species as forage for animals, ingenious farmers surprisingly explored promising potential uses of seagrass," said BIARC manager Luz Marcelino.
The project that started it all
Seagrass, locally-known as ragiwdiw and bankuan, is a perennial sedge that grows abundantly in flood-prone areas in Bicol. Dried stalks from seagrass are hand twined together to create the raw material for handicraft making—salapid.
The salapid can be made into various products such as bags, slippers, hampers, and decorative items.
According to Marcelino, the best characteristic of seagrass is its resistance to molds when stored for a longer period of time.
Thus, to further develop the seagrass enterprise, BIARC implemented a project aimed at providing opportunities for rural employment, increasing family income and empowering communities through the development of an agri-business enterprise.
Funded by the Philippine Rice Research Institute and the Bureau of Agricultural Research, the project aims to develop rice-based production systems within the framework of integrated farming systems approach and identify researchable areas for optimized seagrass-based enterprise development and develop
a village-level handicraft production enterprise.
To support farmer associations' full operation to meet the increasing demand of seagrass in the local handicraft industry, BAR extended institutional support through the provision of common service facilities and production equipment.
Marcelino said farmers from San Fernando were really innovative. "They're really bent on improving their lives in terms of what resources they have."
From simple products to elite fashion items
Even after the project has ended, BIARC continued its efforts in upscaling and expanding the seagrass craft industry in Camarines Sur. It tapped the creativity and entrepreneurial skills of Bernadette De los Santos of Bidibidi Enterprise, a social enterprise that combines fashion, arts and upcycling while providing livelihood to local women and out-of-school youth in Baao, Camarines Sur.
De Los Santos is part of the Gender Responsive Economic Actions for the Transformation of Women (GREAT Women) project, a Philippine-Canadian brainchild that aimed to provide support for women to start businesses and obtain a better-paying job.
"I started hand embroidery on fabrics. But they told me to try seagrass as baskets and bags. So I started making bags and baskets using seagrass as a raw material and embellished them using other natural fibers such as raffia and abaca in 2017.
The following year, DTI invited her to showcase her products at the Manila FAME, a biannual lifestyle and design trade show that aims to promote the Philippines as a reliable sourcing destination for high-quality home, fashion, holiday, architectural and interior pieces.
She then participated in ArteFino Fair, the biggest artisan fair in the country.
With the growing interest in sustainable fashion items, bags made from natural fibers such as seagrass becam a hit.
Following her participation at the ArteFino Fair, she received invitations for interviews from various television network.
"I think it's kinda phenomenal from a mere grass, it has now become a a high-end product," she said.
An elite shopping center and Filipino culture shop have also shown interest in her products.
Her products also garnered attention from personalities across the globe. Fashion icons such as actress Heart Evangelista, Miss Universe 2015 Pia Wurtzbach, and international fashion designer Christian Louboutin have taken an interest in her world-class design and handicraft.
To keep up with the ever-changing landscape of the fashion industry, De Los Santos consulted BIARC on other natural fibers that can be used as raw materials for her products.
Prior to venturing into the handicraft industry, De Los Santos was a farmer. In fact, she was awarded as the Most Outstanding Rural Woman in 2008.
She has been teaching women the necessary skills to make the bags such as basket weaving, embroidery, and crocheting.
National agencies such as DA, DTI, and Department of Social Welfare and Development have tapped her to train more communities outside Baao.
"(My) goal is to empower these women by teaching them the skills and bring about the best in them while allowing them to be mothers, wives, sisters, nurturing their families, their communities," De Los Santos said in her social media account.
At the bottom of this success, what matters most for De Los Santos is the number of lives she has touched. "The profit margin is very minimal but it's enough to keep the business going, " said De Los Santos.