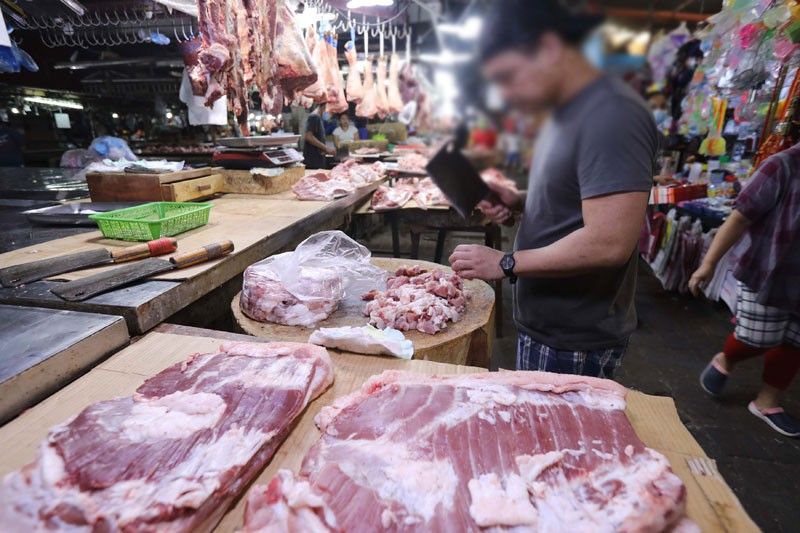 A vendor prepares pork that are ready for selling at a stall in Commonwealth Market in Quezon City. President Rodrigo Duterte has signed EO No. 124 that imposes a 60 day price ceiling on pork and chicken products in Metro Manila. The executive order aims to curb the skyrocketing cost of pork and chicken products.
Boy Santos, file
First day of Metro price ceilings triggers supply shortage fears
MANILA, Philippines — Price ceilings on pork and chicken were enforced beginning Monday in Metro Manila, but vendors hardly followed government orders, with some opting not to sell pork at a price they said would not make them profit.
The result was numerous reports of vacated spaces in wet markets, triggering worries that a short-term fix to expensive prices is only bound to exacerbate tight supply that brought up costs in the first place.
"We received early this morning 27,000 metric tons of live hogs or more than 260 pigs from (General Santos City)… and their commitment…is that they will send us 10,000 hogs to Metro Manila every week," Agriculture Secretary William Dar said in a TV interview.
But replenishments pledged from the provinces are arriving slowly. TV reports documented select markets in Quezon City and Makati where vendors stopped selling pork for now, or worse, closed shop after wholesale supplies for the day did not arrive early in the morning.
The problem has also reached supermarkets, which were mandated to implement the price caps at the last minute. "Initially, we were not included, and then suddenly they said we are. So we just implement it to be safe," Steven Cua, president of the Philippine Amalgamated Supermarkets Association Inc, a group of small community supermarkets.
"Our producers had cut prices and we are bound to implement price ceilings. If we are left with no choice, we will just not sell. We can foresee and foretell that there will be a shortage," he said by phone.
Under President Rodrigo Duterte's Executive Order No. 124, retail price of pork shoulder is capped at P270 per kilo, pork belly at P300 per kilo and dressed chicken at P160 per kilo for 60 days. The measure is meant to arrest staggering meat prices that pushed up inflation to a 2-year high of 4.5% in January.
But based on the agriculture department's monitoring, everyone is yet to observe the price ceilings. In Las Piñas, for instance, pork shoulder is selling at P290 a kilo, while the same amount of liempo costs a higher P330. A whole chicken is priced at P190— all above the specified rates.
In Pasay, pork shoulder is aptly priced according to the state-imposed limit, but a kilo of liempo costs between P300-P330, falling above the cap. Prices of whole chicken, which is not exactly suffering from supply shortages, is hovering at P185-P190.
Elevated retail prices are following that of farm-gate costs. As of February 4, when price ceilings were not yet implemented, producers are selling pork at P230 a kilo in Tarlac, P240 in Rizal and Laguna, and up to P200 in General Santos. Since prices are right out of farms, logistics costs are topped up when traders buy them from producers for the markets.
Hence, as long as farm-gate costs do not go down, retail prices are not about to drop. As solution, Dar said government would subsidize transport costs from farm to market. Hogs coming from Mindanao to Metro Manila will get a transport subsidy of P21 per kilo, while P15 and P10 a kilo of assistance will be set aside for pork from the Visayas and North Luzon, respectively.
For vendors, zero interest loans worth up to P5 million to replenish capital are being made available. But the monetary support is not expected to cut prices immediately, and on Monday, sellers opted for a "pork holiday" that if will persist, would only trigger worse shortages. Dar has an appeal to retailers.
"We are appealing to the vendors that this is the time for us to help each other," Dar said.