Duterte wants to remove Customs brokers and change tax dues computation
September 11, 2019 | 7:01pm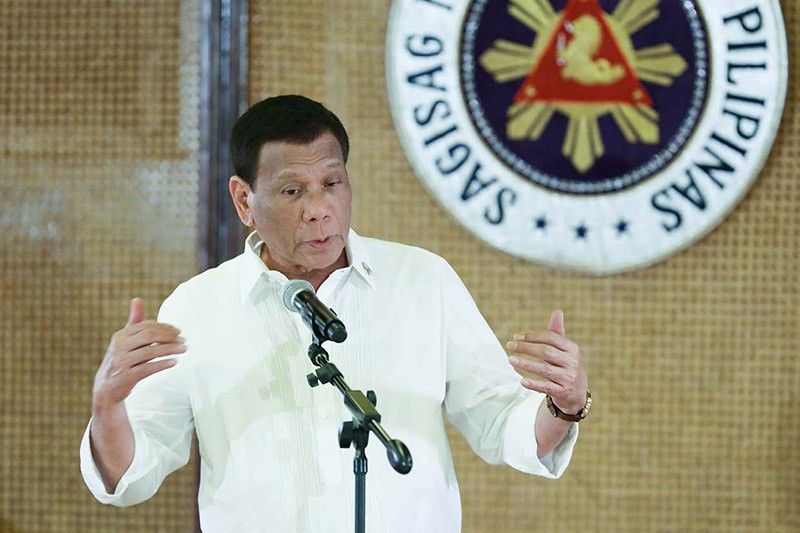 MANILA, Philippines — President Rodrigo Duterte called for a shift in the way tax dues are computed and the elimination of Customs brokers to address corruption in government revenue agencies.
Duterte said tax dues should be computed based on gross income, not on net income, claiming the method would prevent taxpayers from conspiring with corrupt revenue examiners. He said revenue examiners could understate tax dues in exchange for grease money.
"Let's disregard the net (income)... We should go for the gross. The examiners will lose their jobs," the president said in a press briefing
"If we go for the net, there are exemptions.... If we go for gross, there's no need to determine that," he added.
Gross income tax is assessed against the money one earns and is applicable to income from a job and to funds that are set aside in an estate or trust.
Net tax, meanwhile, is levied on production less subsidies received and is also paid to government less transfer payments, according to a Palace statement.
"What is corruption in gross (income tax)? Once the receipt is there, that will be your tax due. If you go for net, there will be deductions. The examiner comes in and says, 'no, this can't be.' Now the last deal is 'let's make this five (million). Pay two (million). Give us three (million),'" Duterte said.
Duterte urged the media to join him in "agitating" Congress to adopt the gross taxation.
The President also claimed that there is corruption in customs because of brokers.
"Itong sa Customs, ang gusto ko, wala ng brokers. Pagka may brokers, may corruption talaga 'yan (With regard to customs, I want to get rid of brokers. If there are brokers, there is corruption," the President said.
"Take away the brokers and you would have cut corruption overnight. In a scale of 1 to 10, maybe you have reduced corruption to about 8 and one half," he added.
"That son of a b**** brokerage, remove it. Let's just rent the warehouses."
Duterte also wants agencies to cut the time needed to secure accreditation from the customs collector.
"I will tell the Customs and the BIR (Bureau of Internal Revenue), you only have about two days to act on it. More than that is corruption," he said.
In a speech during the awarding of government officials also last Tuesday, Duterte asked the help of the Civil Service Commission in hiring honest people in the Customs bureau.
"It's hard to find an honest man. If you have, ma'am chairperson of Civil (Service Commission Alicia Bala), if you have, please give me. I will really fire a lot of people," he added.