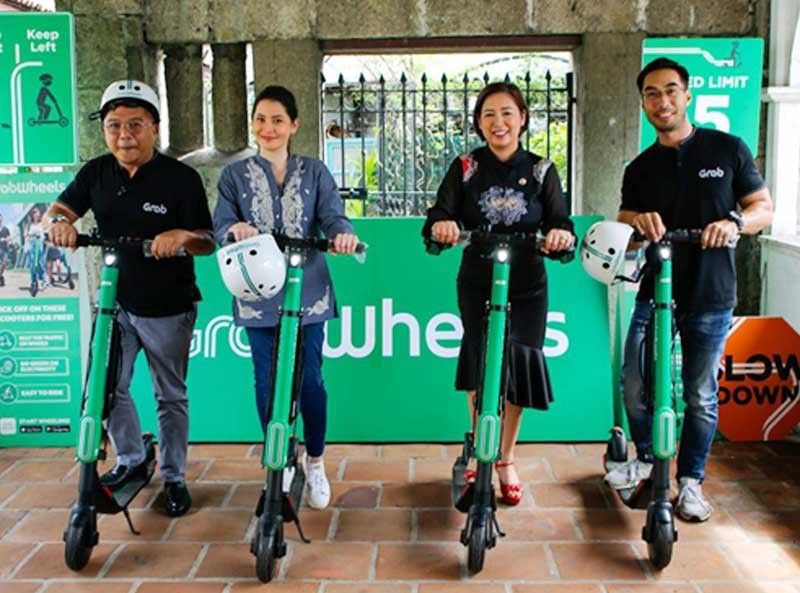 In photo (from left) are Leo Emmanuel Gonzales, Grab Philippines public affairs head; Tourism Secretary Bernadette Romulo-Puyat; Rep. Sol Aragones of the 3rd District of Laguna; and Brian Cu, Grab Philippines president on board GrabWheels.
Grab pilot tests tourist ride in Intramuros
MANILA, Philippines — The Department of Tourism (DOT) has partnered with Grab Philippines to offer tourists in Intramuros a more eco-friendly way to go around Manila's Walled City.
DOT and Grab Philippines launched Wednesday GrabWheels, a two-wheel personal mobility device (PMD) that tourists can use to roam around Intramuros.
Under a memorandum of understanding with the Intramuros Administration,Grab Philippines said it would deploy 30 GrabWheels units in Intramuros which the public can use free of charge for a three-month period.
"It's a trial period for three months, we're offering it for free, then after three months we can look at the uptake and decide whether we extend it for the free period or we start charging," Grab Philippines president Brian Cu told reporters.
Tourism Secretary Bernadette Romulo-Puyat expressed her optimism for the project, adding that she hopes this could be replicated in other parks in the country.
"This is keeping with the efforts of the DOT to inculcate a culture of sustainable tourism. This is what we envision to do to some, and ideally, to all of our destinations," Puyat said.
"We want visitors to have access to an eco-friendly but fun mode of transportation," she added.
IA administrator Guiller Asido said GrabWheels will provide less carbon footprint and also reduce traffic congestion, a major problem in the area.
"This is just a pilot test. After a month, we will review its reception and determine the necessary mechanisms and setting of fees to make it sustainable, Asido said.
Meanwhile, Grab Philippines also signed an MOU with the DOT to promote the country's natural wonders, tourist attractions, heritage and culture to both local and foreign tourists.
In line with this, Grab said partner vehicles operating within the region shall highlight and disseminate digital tourism materials produced and developed by the DOT.
"As the Philippines' leading everyday Super App, Grab recognizes our unique role beyond our core service offerings of transportation and mobility. We are humbled to be working with the DOT as its partner in promoting tourist attractions in the Philippines," Cu said.
Puyat said she hopes the partnership would help raise more awareness for sustainable tourism practices.
"Sustainability demands that our planning and resources management must be responsible. Conversely, it should also maintain a high level of satisfaction and ensure a meaningful experience of our tourists," she said.