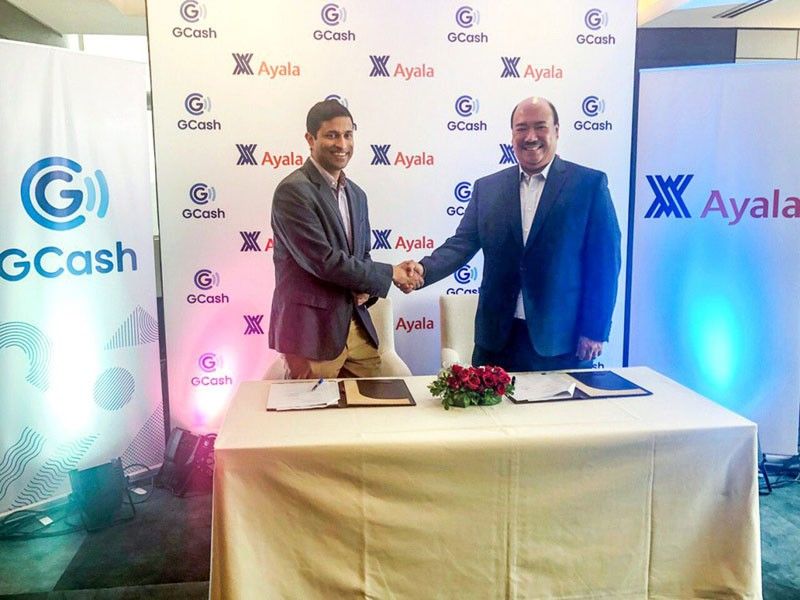 In photo are Anthony Thomas, president and CEO of GGash (left) and John Philip Orbeta, Ayala chief human resource officer and group head of corporate resources.
File
Ayala adopts GCash for employee compensation
MANILA, Philippines — Conglomerate Ayala Corp. is stepping up its digitalization efforts by another notch with the adoption of GCash's disbursement platform to pay out incentives to its employees.
John Phillip Orbeta, Ayala's chief human resources officer and corporate resources group head, said using GCash's Powerpay+ platform would take their employees' GCash use to another level.
Powerpay+ is a bundled funds disbursement facility that allows companies to pay out salaries, commissions and allowances more conveniently and securely to people by crediting funds directly to employees' GCash accounts.
It provides the flexibility to disburse scheduled or recurring payouts and is easily accessible via mobile phone.
"Digital payments within the group was a natural move for us at Ayala. As a 185-year-old company, we are taking advantage of a new digital format that gives our employees ease, convenience and security," Orbeta said.
"We used to give gift cheques, which later became electronic gift cheques, so the move to e-wallets was a logical next step for us following the increasingly digitally savvy lifestyle of our employees and GCash's recent exponential growth as the country's leading mobile wallet," he said.
Mynt CEO Anthony Thomas said aside from payroll, incentives, reimbursements, and agent commissions are also needed to be taken care of through an enterprise interface which allows efficient and instant payment.
Mynt, a partnership among Globe Telecom, Ayala and Chinese fintech giant Ant Financial, is the operator of GCash.
Ayala chairman and CEO Jaime Augusto Zobel de Ayala earlier said the company is undergoing a massive transformation to ramp up the digitalization of its companies, as this was key to propelling the company into the future.
Zobel said the conglomerate, with business interests in real estate, banking, telecommunications, water, power, infrastructure, industrial technologies, health care and education, has started "to participate in digital businesses that we believe are disruptive."
Zobel said Ayala has become more deliberate in its own digital transformation journey and has elevated it into a group-wide strategic agenda.
"These investments are designed to complement our group's traditional brick-and-mortar operations, future-proof our existing portfolio, and broaden the digital experience of Filipinos," he said.