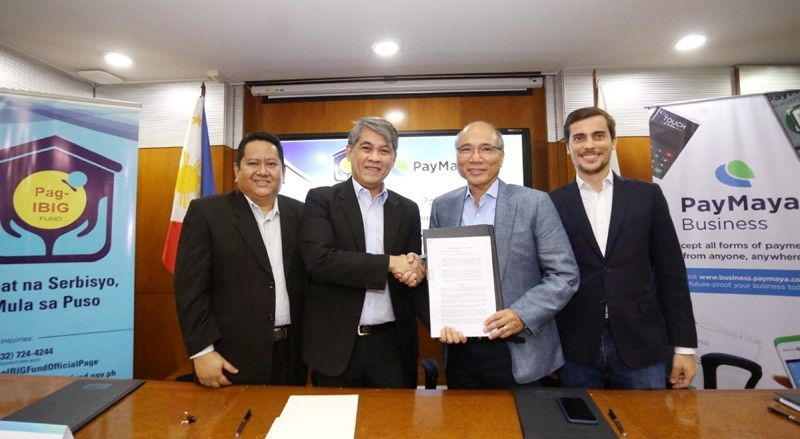 The Home Development Mutual Fund (Pag-IBIG Fund) and PayMaya have formally signed a partnership agreement to offer digital payment options for Pag-IBIG members online and through the agency's branch channels, delivering greater convenience and accessibility to members nationwide. Present during the signing ceremony at the Pag-IBIG head office in Makati City were Pag-IBIG Fund CEO Acmad Rizaldy Moti (2nd from left), PayMaya founder and CEO Orlando Vea (2nd from right), Pag-IBIG Fund OIC-Support Services Cluster and chief legal counsel Robert John Cosico (left), and PayMaya COO and managing director Paolo Azzola.
Pag-IBIG taps PayMaya for digital payments
(The Philippine Star) - August 5, 2019 - 12:00am
MANILA, Philippines — In line with the directive of President Duterte to make public services more convenient for Filipinos, members of Pag-IBIG Fund can now enjoy a more convenient way to remit their savings and pay their loans anytime, anywhere.
This is now possible as the agency partners with leading digital financial services firm PayMaya, to bring digital and card pay to its online and branch channels.
Through the partnership, Pag-IBIG Fund members can now remit their savings and pay for their loan amortizations using any Visa, Mastercard, or JCB credit, debit and prepaid card. PayMaya account holders can also pay using their mobile number linked to their e-wallet via the Pag-IBIG Fund's online portal.
PayMaya will also soon equip Pag-IBIG Fund branches nationwide with One by PayMaya point-of-sale (POS) devices, which will enable the agency to accept PayMaya QR payments and any Visa, Mastercard, or JCB credit, debit and prepaid card. One by PayMaya is the only POS device that can accept multiple modes of cashless payments via swipe, tap and dip for cards, and pay-to-scan via QR.
Aside from bringing convenience to customers, offering alternative cashless payment methods will also lessen cash handling in paying Pag-IBIG Fund dues for better security and efficiencies.
All these channels complement the existing bills payment channel in the PayMaya mobile app that already allows for in-app payments of Pag-IBIG Fund transactions for millions of PayMaya and Smart Padala by PayMaya customers.
PayMaya is the only digital financial services company with an integrated suite of solutions for consumers and merchants complemented by the widest remittance partner agent network. It is the financial technology arm of Voyager Innovations, the leading technology company in the country backed by PLDT, KKR, Tencent, World Bank's IFC, and the IFC Emerging Asia Fund. Its "one payment platform" enables the country's top eCommerce sites, major retail and quick-service restaurants, government institutions, as well as MSMEs, allowing them to accept multiple kinds of cashless payments.
"With this partnership, our members now have an even wider range of options whenever they need to transact with Pag-IBIG Fund. For those who don't want to leave their homes or offices, they can pay conveniently online. Overseas Filipino Workers would also be able to have easier access to payment options through our website powered by PayMaya. This is our way of bringing our services one convenient step closer to Pag-IBIG Fund members, wherever they may be," said Acmad Rizaldy Moti, chief executive officer of Pag-IBIG Fund.
"We are glad that government agencies like Pag-IBIG Fund are embracing digital payment technologies to help bring convenience to all Filipinos. We at PayMaya are proud to be the partner of Pag-IBIG in delivering more accessible public services, which is in line with our goal of digital and financial inclusion for the Philippines," said Orlando Vea, founder and CEO of PayMaya Philippines.