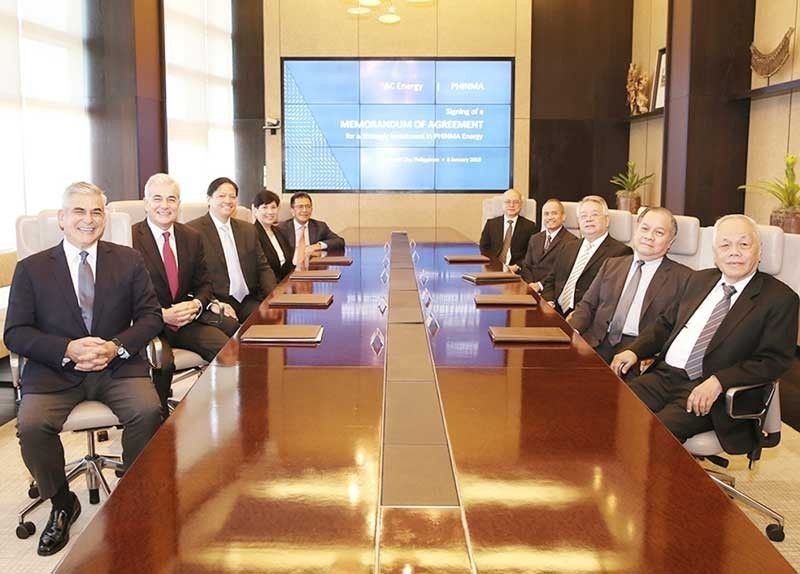 AYALA GROUP BUYS INTO PHINMA ENERGY: AC Energy Inc. has signed a deal to acquire 51.48 percent of Phinma Energy Corp. for P3.42 billion. In photo during the MOA signing are (from left) Jaime Augusto Zobel de Ayala, Fernando Zobel de Ayala, Eric Francia, Cora Dizon, lawyer Solomon Hermosura, Magdaleno Albarracin, Victor del Rosario, Ramon del Rosario Jr., Roberto Lavina and Francisco Viray.
File
Ayala takes over, reorganizes Phinma Energy
MANILA, Philippines — Phinma Energy Corp. is completing its reorganization by changing its corporate name, hiking its capital stock and naming brothers Jaime Augusto and Fernando Zobel de Ayala as its top officials after the Ayala Group completed the acquisition of the company last month.
In a disclosure to the Philippine Stock Exchange yesterday, Phinma Energy said its board elected Fernando as chairman and Jaime as vice chairman of the company.
The board also approved the change in name to AC Energy Philippines Inc. and an increase in the firm's authorized capital stock from P8.4 billion to P24.4 billion, subject to the approval of shareholders and the Securities and Exchange Commission (SEC).
The additional capital, which would be done through a rights offering, would be used for investments, Phinma Energy president and CEO Eric Francia said in a text message.
"Additional capital will be used for investments in greenfield projects and acquisition of power assets, including part of AC Energy Inc.'s on-shore power generation and development assets," the company said.
"Any such purchase of AC Energy's assets will be subjected to third party valuation and approval of the company's board risk management and related party transactions committee," it said.
These board actions come more than two months after Phinma Energy elected AC Energy officials namely Francia as president and CEO, Maria Corazon Dizon as treasurer and CFO, Gabino Ramon Mejia as head of plant operations, and Roman Miguel de Jesus as head of business operations.
In a separate disclosure, Phinma Energy's subsidiary Phinma Petroleum and Geothermal Inc. (PPGI) will change its name to ACE Enexor Inc.
Its board also elected Jaime Alfonso Zobel de Ayala as a new director to serve the remaining term of Roberto Laviña who resigned last July 1.
The company board also authorized subsidiary Palawan55 Exploration and Production Corp. to continue the next phase of Service Contract (SC) 55, a deepwater exploration block off southwest Palawan, signaling the Ayala Group's entry into the oil and gas sector.
"We are supportive of developing the gas prospect," Francia said.
AC Energy acquired Phinma Energy from the Del Rosario family for P6.3 billion.
The deal, which was cleared by the Philippine Competition Commission (PCC) in April, increased AC Energy's attributable generation capacity by 240 megawatts.
AC Energy, based on its equity interest in power generation businesses, owns approximately 1.6 gigawatts (GW) of generation capacity in operation and under construction.
In 2018, AC Energy generated 2,800 GWH of energy, 48 percent of which was from renewable sources.