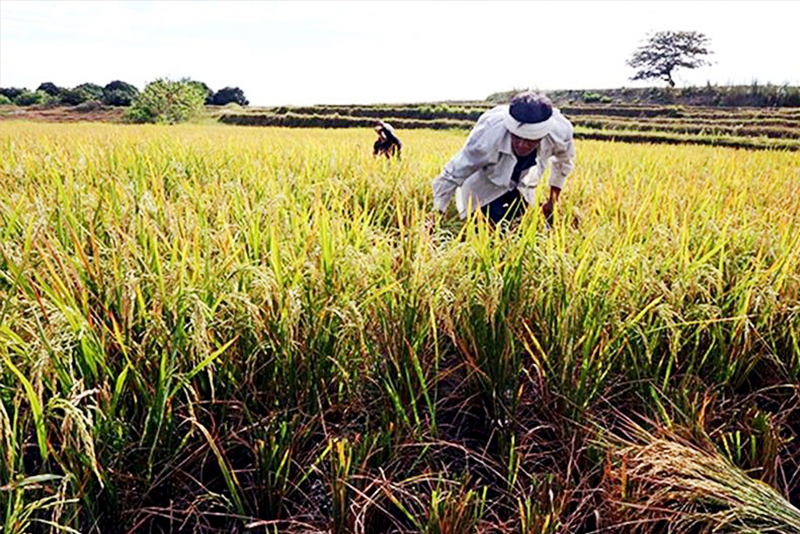 Questions as the new rice regime begins
BIZLINKS
-
Rey Gamboa
(The Philippine Star) - May 21, 2019 - 12:00am
The price of rice at retail outlets is dropping, which is making consumers happy — and which perhaps helped the current administration get the landslide votes to support its slate.
On the other hand, rice farmers are bewildered as farm gate prices for palay keep dropping week after week, now already close to 10 percent lower than its price a year ago.
Speculation is largely to blame as ramifications of the Rice Tariffication Law signed last February have started sinking in not just among the ranks of traders and other industry stakeholders, but also among rice farmers too.
It is not surprising to hear news of more rice farmers seeking part time jobs in other sectors. After all, when there is little or no money left from selling palay to feed their family until the next harvest and to buy seeds for the next planting season, leaving the land is a no-brainer.
While this may seem to be a temporary measure to survive, the threat of more rice farmers abandoning their fields for good is real with the absence of a clear and palpable plan to stave actual and feared losses from a new regime brought about by import liberalization.
The vaunted savior that is the Rice Competitiveness Enhancement Fund (RCEF) is as nebulous as all the legalese found in the Rice Tariffication Law and its implementing rules and regulations, and this is not comforting at all to our four million affected rice farmers.
Questions abound
How exactly is the initial P5 billion allocated by law going to help our rice farmers? More importantly, will the P10 billion that would come from tariffs earned when importing rice really be able to help our rice farmers earn more than they currently make, or even make them competitive with their Thai or Vietnam counterparts?
Is mechanization really the big answer? Fifty percent of the RCEF is allotted to the distribution of rice farming machineries like tractors, mechanical transplanters, combine harvesters, dryers, seed cleaners, and single-pass rice mills through the Philippine Center for Post-Harvest Development and Mechanization (PhilMech).
All these gizmos are supposed to be received by farmer associations, registered rice cooperatives, and local government units over the next six years that the RCEF is in place. Are the policies for distribution in place so that machineries will truly boost farm productivity?
How transparent will procedures be in choosing recipients, and more importantly, in reporting progress in the use of such machineries? At this time, with the first P5 billion ready for appropriation, we should already have a list of the chosen 1,100 rice farm community beneficiaries.
Philippine Rice Research Institution (PhilRice) will spend P3 billion yearly for developing, propagating, and promoting inbred rice seeds to rice farmers and organizations. Shouldn't we have a clear idea now of the exact details of how PhilRice will be spending this money?
Finally, how will LandBank and the Development Bank of the Philippines with P1 billion each teach farmers modern methods of farming, seed production, and farm mechanization?
Rice self-sufficient is goal
We're not even going into the wisdom of the 50-30-10-10 allocation set by law for the RCEF disbursement. We are putting our trust in the wisdom of Senator Cynthia Villar who had worked hard to polish and consolidate all the bills filed in Congress to come up with this new tariff regime.
The Department of Agriculture must rise up to the challenge of this new order, and make things work. Our farmers must be made to stay in the rice fields with the clear hope that the new law and RCEF will be able to provide for better yields and improved incomes.
More importantly, the new law must be able to bring the country to rice self-sufficiency, and away from a world market that is prone to upsets from a variety of factors.
Because only a small volume of rice produced by a handful of countries is available for global trade, crises are inevitable that immediately affect our own food security. Rice is a major food staple of half of the world's population, and the Philippines is but one of the countries in the world that relies on importations on a regular basis.
Letting tariffs work
While the government is eyeing a reduction of P7 per kilo of rice at the retail level this year with the Rice Tariffication Law, lower prices in the long term should come from a truly revitalized rice farming sector.
Understandably, with farmgate prices plunging to as low as P14 per kilo from P18 last year, this year's harvest should make its way to the market stalls at equally lower retail prices too, and not in the pockets of traders and middlemen.
As the new planting season begins, and the money from the RCEF being put to good use, the next harvest should bring in better prices for our farmers as well as increased yields.
Meanwhile, a currently tight global market for rice trading should enable local production to keep up with imports that should be priced higher with the addition of tariffs. Right now, the price of imported Thai rice is not so different from local wholesale prices.
Still, it is comforting that the new rice law's IRR carries powers for the president, in times when a sudden rise or drop in domestic prices of rice occurs, specifically to "increase, reduce, revise or adjust existing rates of import duty."
The burden of making the Rice Tariffication Law and the RCEF is now in the hands of the bureaucrats, specifically the agriculture department. All doubts and cynicism must be taken as challenges, and workarounds will be necessary to make things work.
Facebook and Twitter
We are actively using two social networking websites to reach out more often and even interact with and engage our readers, friends and colleagues in the various areas of interest that I tackle in my column. Please like us on www.facebook.com/ReyGamboa and follow us on www.twitter.com/ReyGamboa.
Should you wish to share any insights, write me at Link Edge, 25th Floor, 139 Corporate Center, Valero Street, Salcedo Village, 1227 Makati City. Or e-mail me at reydgamboa@yahoo.com. For a compilation of previous articles, visit www.BizlinksPhilippines.net.