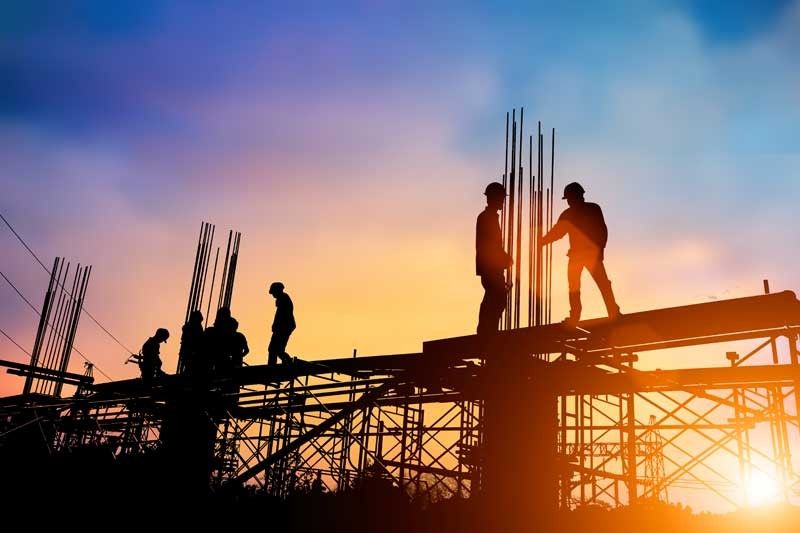 Build, Build, Build to highlight infrastructure, transportation and connectivity
MANILA, Philippines — If you've seen the copious construction and infrastructure projects that seem to be spurting out in numerous locations in the city, you are no stranger to the Build, Build, Build program of the current administration. You may have heard or read about it, googled, even ranted about it. But what is it exactly and what does it mean for the country and its economic activity?
The Build, Build, Build program is the centerpiece of the administration's claim to reduce poverty incidence from today's 21.6 percent to 14 percent by 2022. It is designed to modernize the country's infrastructure backbone by rolling out 75 flagship projects with a combined worth of $36 billion in investments. The project seeks to uplift the lives of more than six million Filipinos to set the economy securely on the road to upper middle income status by 2022 and to a high-income one by 2040.
While some critics have questioned the financial sustainability of the ambitious undertaking, the government primarily eyes the enactment into law of the Tax Reform for Acceleration and Inclusion Act (TRAIN) to secure its steady revenue flow, totaling a P786 billion over the medium term. This, ideally combined with a prudent fiscal management and the declining debt service payments, is hoped to make this ambitious infrastructure buildup financially feasible.
According to Finance Undersecretary Grace Karen Singson, the national budget program for 2018 has so far earmarked P1.1 trillion for infrastructure development with the budgets of the Department of Public Works and Highways (DPWH) and Department of Transportation (DOTr) growing by 40.3 percent and 24.3 percent, respectively.
In addition, there are also aid and investment pledges from China and Japan amounting to $7.3 billion in soft loans and another $1.2 billion from Tokyo, which will be spent on construction, the rebuilding efforts in Marawi City and reinforcing the country's maritime capabilities.
Essentially, the 75 flagship projects consist of six airports, nine railways, three bus rapid transits, 32 roads and bridges, and four seaports that seek to bring down the costs of production, improve rural incomes, encourage countryside investments, make the movement of goods and people more efficient, and most importantly, create a projected 1.7 million jobs by 2022.
A major focus is also placed on airport constructions and a more efficient management system to further decongest the passenger flow and ensure a better travel experience of locals and tourists alike. Thus, numerous airports are strategically being built and renovated to improve passenger travel and services in the country. There is the Puerto Princesa Airport, designed to accommodate 1.9 million passengers daily; the New Bohol (Panglao) Airport that aims to attract 1.9 million passengers; the Mactan Cebu International Airport that will service 12 million passengers, and a new Bicol International Airport that hopes to decongest the crowded Legazpi airport and boost tourist arrivals to make Albay an economic powerhouse.
The Night Rating of existing airports in Naga, Dumaguete, Dipolog, Cotabato, Tuguegarao, Cauayan, Pagadian and Ozamis are also listed under the infrastructure program. Once completed, the night-landing capabilities are projected to enable the mentioned airports in accommodating flights even after sunset. To ensure on-time flight arrivals and departures, and further improve the air traffic control management in the country, a Communication Navigation Surveillance/Air Traffic Management System (CNS/ATM) was completed in December 2017.
Another key focus of the Build, Build, Build program is the worsening traffic in major choke points of the city. To address this, several key projects were proposed, some of which have been recently completed and are now operational:
NAIA Expressway Phase II
May 1, 2011 – April 1, 2017
P20,450,000,000 - Public-Private Partnership (PPP)
A four-lane, 7.75-kilometer elevated expressway and 2.22-kilometer at-grade feeder road that will provide access to NAIA Terminals I, II and III, and link the Skyway and the Manila-Cavite Toll Expressway. It starts at the existing Skyway then follows the existing road alignments over Sales Avenue, Andrews Avenue, Domestic Road and NAIA Road, and has entry/exit ramps at Roxas Boulevard, Macapagal Boulevard and PAGCOR City.
NLEX - SLEX Connector Road
May 6, 2010 – April 30, 2021
P23,302,000,000 - Public-Private Partnership (PPP)
A four-lane, eight-kilometer elevated expressway over the Philippine National Railway (PNR) right of way that starts from C3 Road in Caloocan through Manila crossing España towards PUP, Sta. Mesa connecting Metro Manila Skyway Stage 3 (MMSS3). Once completed, it is expected to decongest traffic in Metro Manila by providing an alternative to C-5 Road, and cut the travel time between NLEX and SLEX to 15-20 minutes, which today takes more than an hour. At present, a Notice of Award was already issued to Manila North Tollways Corporation (MNTC) and the coordination meeting for the Design Phase is currently being conducted.
Cavite-Laguna Expressway
Jan. 3, 2005 – July 31, 2020
P35,682,000,000 - Public-Private Partnership (PPP)
A four-lane, 44.20-kilometer closed-system tolled expressway connecting CAVITEX and SLEX that will have interchanges in eight locations namely, Kawit, Open Canal, Governor's Drive, Aguinaldo Highway, Silang East, Sta. Rosa-Tagaytay Rd., Laguna Blvd. and Technopark.
Metro Cebu Expressway
Jan. 8, 2018 – Project Development
P18,016,000,000 - General Appropriations Act (GAA)
A 73.75-kilometer highway with two-kilometer tunnel that is divided into three segments: Talisay-Cebu City-Mandaue, Consolacion-Liloan-Compostela-Danao, and Naga-Minglanilla.
Modernization of RORO Transport System in the Philippines
Sept. 1, 2017 – Dec. 1, 2018
P5,700,550,000 - General Appropriations Act (GAA)
A nationwide project on modernizing the transport system in the three major nautical highways (Western, Central and Eastern) and other existing RORO routes. At present, the enactments of pertinent regulations prior to project implementation (EO 909, EO 226, and RA 9337) are ongoing.
PNR North 2
Nov. 30, 2016 – Project Development
P150,000,000,000 - Official Development Assistance (ODA)
A 69.5-kilometer mass transportation railway that will extend PNR North 1, connecting NCR with Clark International Airport and New Clark City that will enable a one-way travel time of 56 minutes between Manila and Clark International Airport (CIA), supporting the development of CIA as a major air transport hub. PNR North 2 will be seamlessly integrated with PNR North 1 and PNR South Commuter. PNR North 2 will be an electrified, fully elevated, standard-gauge railway that will ensure seamless interoperability for the entire Philippine railway.
PNR South Commuter (Manila to Bicol)
Feb. 12, 2014 – Dec. 1, 2021
P134,000,000,000 - Official Development Assistance (ODA)
A 653-kilometer rail line designed to accommodate around 400,000 passengers per day in its opening year, PNR South Commuter will be a dual-track, electrified, standard-gauge railway with elevated, at-grade, and depressed sections.
Mega Manila Subway
March 1, 2015 – Project Development
P227,000,000,000 - Official Development Assistance (ODA)
A 25-kilometer underground mass transportation system connecting major business districts and government centers. It is expected to serve around 370,000 passengers per day in its opening year. At present, the feasibility study is being conducted with the help of a grant from the Japan International Cooperation Agency (JICA).
Line 7 (MRT 7)
Feb. 1, 2014 – Project Implementation
P1,540,004,021 - Public-Private Partnership-Unsolicited Proposal (PPP-UP)
A 22-kilometer mass transportation railway system connecting Quezon City to San Jose Del Monte, Bulacan that aims to service 420,000 passengers per day.
Unified Common Station
Feb. 1, 2017 – Project Procurement
P2,800,000,000 - General Appropriations Act (GAA)
A 13,700-square-meter common station connecting three railway lines for ease of passenger transfer and interconnectivity with road-based transportation systems, which is expected to serve 478,000 passengers per day in 2020.
Aside from the key infrastructure projects mentioned, the program also targets to build four energy facilities that will ensure stable power supply at lower prices; 10 water resource projects as well as irrigation systems that will raise agricultural output; five flood control facilities that will help protect vulnerable communities as well as boost their resilience against the impact of climate change; and three redevelopment programs that will deliver sustainable solutions to best meet the needs of urban populations.
This ambitious undertaking will ideally hike public construction activity that will directly create hundreds of thousands of new jobs in construction and various related industries and services, thereby triggering the textbook multiplier effect across the entire economy. Once achieved and completed, it will also attract better investments that should stimulate a good economic activity across agriculture, industry and services, further boosting growth prospects in the longer term.
To monitor the listed high impact projects mentioned above, the government put in place the Build Build Build Portal — a real-time tool where projects are tracked — with relevant information made available to everyone.
For more information on the project statuses, visit http://www.build.gov.ph/