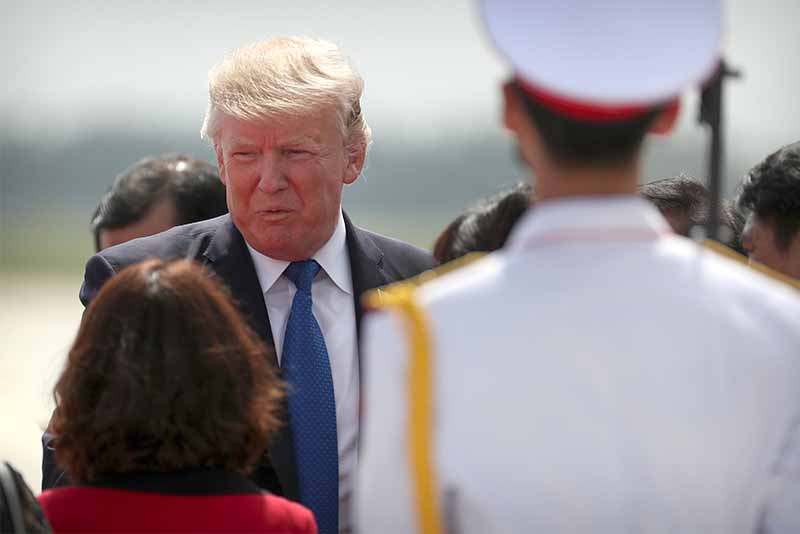 "During a bilateral meeting between the Philippines and US, we were able to raise to President Trump and US delegation the growing trade between the two countries. We enjoy a little trade surplus and we acknowledged US support via GSP and the recent inclusion of travel goods," Trade Secretary Ramon Lopez said yesterday. AP/Mark Schiefelbein, File
Trump open to free trade talks with Philippines
(The Philippine Star) - November 13, 2017 - 4:00pm
MANILA, Philippines — US President Donald Trump has accepted a proposal from the Philippines to explore a bilateral free trade agreement (FTA) with the world's largest economy.
"During a bilateral meeting between the Philippines and US, we were able to raise to President Trump and US delegation the growing trade between the two countries. We enjoy a little trade surplus and we acknowledged US support via GSP (Generalized System of Preferences) and the recent inclusion of travel goods," Trade Secretary Ramon Lopez said yesterday.
"(We were also able to raise to him) that we wish to elevate the trade arrangements to start exploring the FTA with US. President Trump welcomed the suggestion and said they will consider exploratory talks on FTA," Lopez added.
Trump arrived in the country Sunday afternoon for the Association of Southeast Asian Nations (ASEAN) Summit and Related Meetings.
Under Trump, the US government has shifted its trade policy toward bilateral rather than multilateral or regional arrangements.
According to the Department of Trade and Industry, among the key factors to be considered by both countries for an FTA is the size of the market, the economic logic of such agreement, and policy gap or how aligned both countries are in terms of policies.
Bilateral trade in goods between the US and Philippines in 2016 reached $18.2 billion.
The Philippines was the US' 31st largest export market for goods last year. The US, meanwhile, was the Philippines third major trading partner, the second biggest export market and third top import supplier.
The Philippines is among the 120 beneficiary developing countries and territories of the US GSP program.
Last June, the Office of the United States Trade Representative approved the Philippines' application to expand its current GSP coverage to include travel goods, a move seen expanding the country's economy by 0.5 percentage point and creating 70,000 new jobs.
The Philippines is also seeking to expand anew its US GSP coverage to include this time footwear products following the recent inclusion of travel goods.
To qualify for the trade preference scheme, a beneficiary country must meet 15 eligibility criteria such as combating child labor, respecting internationally recognized worker rights, and providing adequate and effective intellectual property protection.