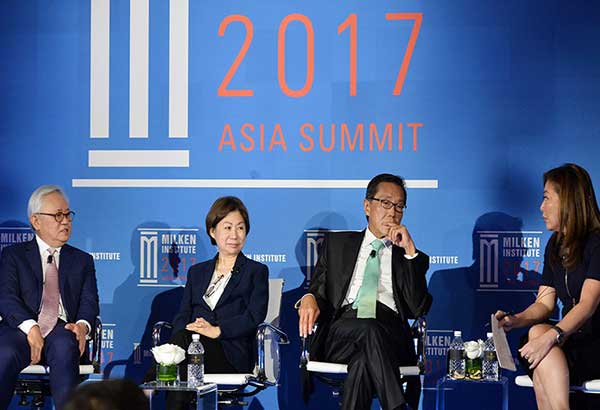 SM Investments Corp. vice chair Teresita Sy-Coson (second from left) joins Serge Pun, chairman of real estate firm Serge Pun & Associates of Burma (left) and Ho Kwon Ping, executive chairman of Singapore's Banyan Tree Holdings (second from right) in a panel entitled 'Wisdom and Worldviews: Perspectives from Asia's Leaders at the Milken Institute 2017 Asia Summit' held in Singapore. Photo courtesy of Milken Institute
Philippines remains resilient as businesses firmly upbeat — Sy-Coson
(The Philippine Star) - October 3, 2017 - 4:00pm
MANILA, Philippines — Despite the challenges, the Philippines remains resilient and the economy continues to catch up with the rest of the growth in the Asian region, SM Investments Corp. vice chairman Teresita Sy-Coson said yesterday.
"The Philippines has not grown as fast as its neighbors in the last decade so we are now catching up. Distribution of wealth is going to the provincial areas. Right now, our businesses have been developing throughout the country," Sy-Coson said during the Milken Institute 2017 Asia Summit held in Singapore.
SM continues to focus on the Philippines even with the recent geopolitical uncertainties, she said.
In recent months, there has been a string of negative developments including North Korea's missile tests, terror attacks in London and a shooting rampage in Las Vegas.
"There are geopolitical fears, climate change and digital disruptions. New technology will bring a different way of doing things and as long as we make efforts to stay relevant, our businesses will still be there," she said.
Government economic managers, meanwhile, are also optimistic the country will sustain its economic growth.
"Given the economy's performance during the first half of 2017, the lower end of the full year GDP growth target (6.5 percent to 7.5 percent) is well within the reach of government, the economy only needs to grow by 6.5 percent in the second half to accomplish this," the interagency Development Budget Coordination Committee has said.
In the first half of the year, the economy grew 6.4 percent.
However, Finance Secretary Carlos Dominguez III said Congress must pass the
Comprehensive Tax Reform Program (CTRP) being pushed by the Duterte administration if it wants the Philippines to join the elite club of high-income economies.
The package, dubbed as the Tax Reform for Acceleration and Inclusion Act (TRAIN), aims to slash income tax rates for majority of individual taxpayers, while generating additional revenues for the government's massive spending on infrastructure and social services via the expansion of the value-added tax base, and adjustments in the excise taxes on fuel and automobiles, among other measures.
The House of Representatives approved its version of TRAIN as House Bill No. 5636 last May 31, while the Senate Ways and Means Committee has filed its version last Sept. 20. The Senate is set to start plenary debates on its TRAIN version later this month.
The next package of the CTRP involves income taxes, modernization of fiscal incentives, property taxation, capital income taxation, luxury taxation and health measures.
"With all these packages in place, we can assure the next generation of Filipinos fiscal stability, substantial public spending on the social goods and a high growth rate for the economy," Dominguez said.