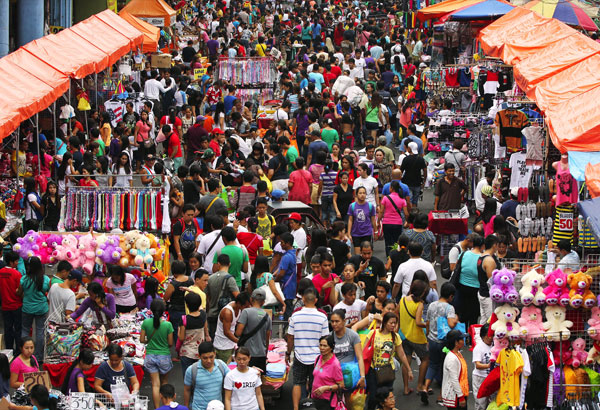 BSP officer-in-charge Diwa Guinigundo said the inflation forecasts set by the Monetary Board at the rate setting meeting last Aug. 10 are still 'doable' despite the rise in inflation to 3.1 percent in August from 2.8 percent in July. File
Inflation targets still 'doable,' says BSP
MANILA, Philippines — The Bangko Sentral ng Pilipinas (BSP) said the latest inflation forecasts set by the Monetary Board are still 'doable' even as the consumer price index in August quickened to its fastest pace in three months.
BSP officer-in-charge Diwa Guinigundo said the inflation forecasts set by the Monetary Board at the rate setting meeting last Aug. 10 are still 'doable' despite the rise in inflation to 3.1 percent in August from 2.8 percent in July.
"We expected this blip and we remain optimistic that the latest inflation forecasts as considered in the last meeting of the Monetary Board continue to be doable at 3.2 percent in 2017 and 2018, tapering off to 3.1 percent in 2019," he said.
He said the uptick was due to higher oil prices, power adjustment, and rice prices at the peak of the lean season.
This brought the average inflation to 3.1 percent from January to August, well within the two to four percent target set by the BSP for 2017 to 2020.
The benign inflation environment and robust domestic demand have allowed the BSP to keep its policy stance unchanged since September 2014 when it raised interest rates by 25 basis points.
In June last year, the BSP made an operational adjustment of benchmark rates with the introduction of the interest rate corridor (IRC) system aimed at bringing market rates closer to policy rates.
"The Monetary Board's decision to keep monetary policy steady remains appropriate in light of these developments," Guinigundo said.
The slightly higher August headline inflation was driven mainly by higher prices of non-food commodities, particularly upward adjustments in electricity rates due to the increase in generation and transmission charges, higher prices of domestic petroleum products, and increase in air passenger and sea fares.
At the same time, food inflation went up as prices of fish, corn, and vegetables increased due to some tightness in domestic supply caused by adverse weather conditions during the month.
BSP Governor Nestor Espenilla Jr. earlier said the latest inflation readings continue to support the BSP's assessment of a manageable inflation outlook.
"The overall inflation situation will be comprehensively reviewed by the Monetary Board on Sept. 21 in accordance with the regular policy review schedule," he said.
He pointed out the "within-target path of inflation over the policy horizon provides the BSP with the flexibility to assess our monetary tools to enhance further our responsiveness to the evolving requirements of the economy."
The BSP chief said the inflation path would be supported by favorable outlook for domestic economic activity with appropriate liquidity conditions and well-anchored inflation expectations.