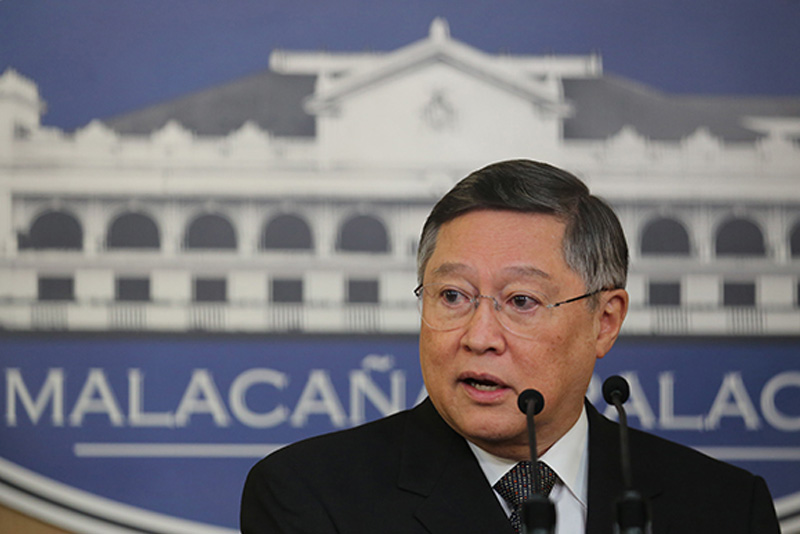 Finance Secretary Carlos Dominguez said this move is part of the government's efforts to plug the leakages caused by the proliferation of fake tax stamps and to curb smuggling. PPD/King Rodriguez, File
BIR to release redesigned cigarette tax stamps in Oct
MANILA, Philippines - The government is set to release a redesigned internal revenue stamps for tobacco products this October in an effort to curb the use of counterfeit stamps in the market, the Bureau of Internal Revenue (BIR) said yesterday.
During the House Committee on Ways and Means' hearing yesterday, BIR assistant commissioner Teresita Angeles said the bureau would use starting October a new cigarette tax stamp with revised designs and features.
Finance Secretary Carlos Dominguez said this move is part of the government's efforts to plug the leakages caused by the proliferation of fake tax stamps and to curb smuggling.
Aside from this, he said the government is also tightening its monitoring system by installing closed-circuit television (CCTV) cameras inside the factories and warehouses of cigarette firms.
The BIR earlier said foregone revenues caused by the use of fake tax stamps on cigarette packs is enough to have an impact on the country's economy.
After a series of raids with the help of the Bureau of Customs (BOC), the BIR has also filed three tax evasion cases against Bulacan-based manufacturer Mighty Corp. for the alleged use of counterfeit stamps.
In total, Mighty's estimated tax liabilities have so far reached P37.88 billion.
Meanwhile, Dominguez said the BIR is also set to implement the Internal Revenue Stamps Integrated System (IRSIS) for alcohol products.
The finance chief said the BIR has already signed a memorandum of agreement with the Apo Production Unit for the printing of stamps to be affixed on alcohol products.
According to Dominguez, these reforms and the strengthened implementation of the IRSIS would complement the proposed House Bill 5636 or the Tax Reform for Acceleration and Inclusion Act (TRAIN) pending in the Congress.
He said the executive branch is implementing on its end improvements in tax administration "to optimize revenue collections and plug the leakages in the system that have cost our government tens of billions of pesos in foregone revenues each year."
Dominguez also said the BIR and the BOC are coordinating and sharing intelligence information on possible tax evasion schemes perpetrated by erring companies.
Besides implementing IRSIS, he said the DOF is also utilizing modern technology to ensure a sustainable fiscal position, and cutting red tape to improve the country's competitiveness.