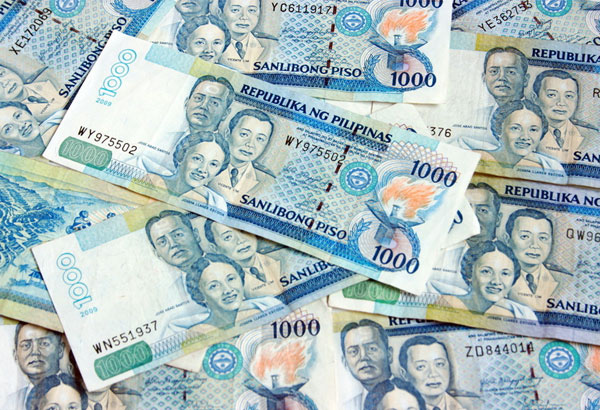 Based on the latest Treasury data, state corporations remitted P18.64 billion in dividends from January to May, 32.83 percent lower than the P27.75 billion in the same period last year. File
GOCC remittances drop 32% in 5 months
MANILA, Philippines - Government-owned and controlled corporations remitted lower dividends to the national government in the first five months despite a recovery in May, according to the Bureau of the Treasury (BTr).
Based on the latest Treasury data, state corporations remitted P18.64 billion in dividends from January to May, 32.83 percent lower than the P27.75 billion in the same period last year.
This is despite the recovery in May, which saw a more than eight-fold increase in remittance to P14.02 billion from P1.75 billion a year ago.
GOCCs are required to remit at least half of their net profit to the national government pursuant to Republic Act 7656 or the GOCC Dividend Law.
Under the revised guidelines of the law, full payments of the minimum dividend are now mandated to be made on or before May 15 of each year, or one month after the deadline of the filing of income tax returns to the Bureau of Internal Revenue.
Finance Secretary Carlos Dominguez attributed the decrease in dividends as of end-May to the one-time premium payment for the renovation of the Mactan-Cebu International Airport, as well as the permitted non-payment of Land Bank of the Philippines this year to enable the bank to comply with the Bangko Sentral ng Pilipinas' requirements.
"You are not comparing apples to apples, because last year there was a premium paid for the Cebu airport (project)," Dominguez said.
After much public discussion, the Department of Transportation and the Department of Finance in November 2015 agreed that the P14.4 billion premium paid by GMR-Megawide Consortium for the MCIA project will become part of the income of the Mactan-Cebu International Airport Authority (MCIAA).
However, existing laws required the MCIAA to pay P4.2 billion in income taxes to the Bureau of Internal Revenue and P4.9 billion in dividends to the National Treasury.
"Secondly, we did not collect any dividends from LandBank this year, because they need to boost their capital for the CAR (capital adequacy ratio) requirement to open branches, and the Basel III required leverage ratio of five percent," Dominguez said.
Instead of infusing more capital to LandBank to boost its financial profile, Dominguez said the DOF has allowed the bank to not pay dividends this year.
Meanwhile, National Treasurer Rosalia De Leon said there are still some balances in the dividends from GOCCs that have yet to be remitted to the BTr.
"Because there are still some collections that we will have to get for the succeeding months. But based on the preliminary figures, in effect, we already exceeded last year's dividend collections," De Leon said.
Based on Treasury data, the Philippine Deposit Insurance Corp. remitted the largest dividend with P2.66 billion, followed by the Development Bank of the Philippines with P2.52 billion, and the Manila International Airport Authority with P2.23 billion.
Dividends from state corporations form part of the national government's non-tax revenues.