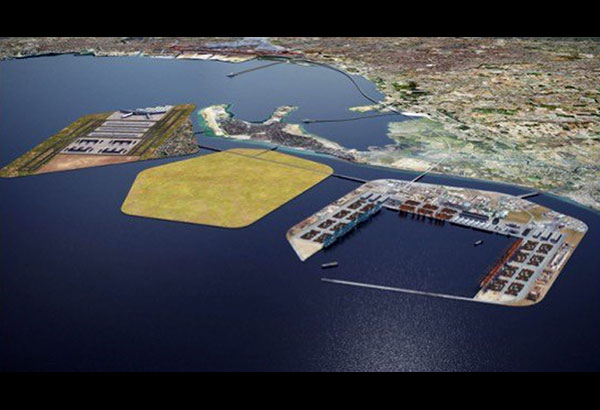 The integrated gateway project of All-Asia off Sangley in Cavite (the elongated island which currently hosts a military runway), consisting of the international airport (left island), seaport (right island) and industrial complex (middle island).
Sangley complex to ease Metro Manila traffic - ARRC
MANILA, Philippines – All-Asia Resources and Reclamation Corp. (ARRC) said the proposed Sangley integrated complex would help address Metro Manila's traffic woes as well as position the Philippines as an export hub in the Asian region.
In a statement, the consortium led by Henry Sy and the Tieng family said the proposal to build an international airport, seaport as well as mixed use development on reclaimed land off the coast of Sangley Point in Cavite would keep about 8,000 trucks and 40,000 cars off Metro Manila daily.
Apart from helping address congestion in Metro Manila, the proposal could also make the Philippines a manufacturing and export hub in Asia.
"Ours is a complete package, not just an airport proposal. It is an integrated approach that addresses traffic congestion, job creation, exports, port congestion and our lack of a manufacturing base," ARRC president and CEO Wilson Tieng said.
Tieng said the Philippines is so strategic in Asia that it should be the region's manufacturing and export hub.
"But how can Hong Kong, Singapore and Japan, for example, do just-in-time production when we cannot deliver on time due to traffic in our streets, our airport and our seaport? So we thought of putting all three – an international airport, seaport and industrial complex– in one location," he said.
While ARRC's proposal was envisioned years ago, the group could not submit it to the government because the previous administration was not open to unsolicited proposals.
ARRC submitted the proposal last Aug. 1 to the Department of Transportation and presented it to the Cabinet and President Duterte on Aug. 22.
Under the proposal, the first phase would involve reclamation of 2,500 hectares of sea northwest of where Sangley is in Cavite.
"Using the latest technology, we can finish the reclamation in two years and immediately build to finish the airport two years later just like other airports in Japan and South Korea, and other reclamation projects in Hong Kong and Macau. So if we get the go-signal by Jan. 1, 2017, for instance, we should have a new international airport we can all be proud of by 2021," Tieng said.
Out of nine areas studied by the Japan International Cooperation Agency for a new airport to replace the Ninoy Aquino International Airport (NAIA), Sangley has been identified as the best location.
Apart from the proposed Sangley gateway, ARRC has also submitted a separate proposal to rehabilitate the Danilo Atienza Airport in Sangley, as well as build a terminal and operate it to be able to accommodate general aviation aircraft and small low-cost carriers.
The proposal to rehabilitate the Danilo Atienza Airport costs P1 billion and could be completed within one year.
It is seen to free up NAIA's single runway and raise aircraft movement – landing and take-off – from 40 per hour to around 60 per hour.
Tieng said more aircraft movements would mean reduced flight delays and greater flight options for passengers.
"There are executive jets that line up in NAIA that have only one passenger or just the pilot and occupy the same space and require the same amount of time to take off and land at the expense of commercial planes that carry 300 passengers. So even here, recognizing the problem, we came up with a solution," Tieng said.
Both the Sangley integrated complex and rehabilitation of Danilo Atienza Airport would not require any government money.
"We have already lined up our financial and technical requirements that is why we are confident that we can finish both proposals as promised the moment we receive the notice to proceed," Tieng said.