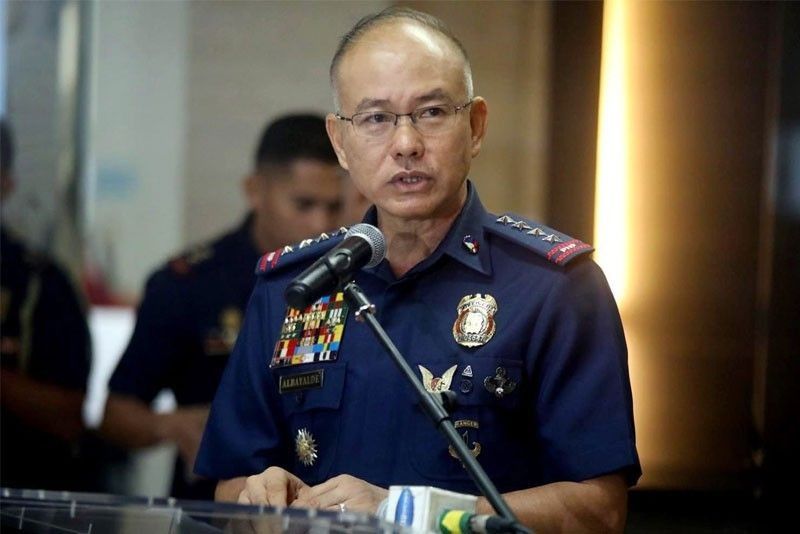 Philippine National Police chief Oscar Albayalde.
File
Upat opisyal sa NOPPO girelibohan
CEBU, Philippines — Upat ka dagkong opisyal sa Negros Oriental Provincial Police Office ang giparelibohan ni Philippine National Police chief Oscar Albayalde alang sa impartial investigation bahin sa kamatayon sa 14 ka mga gipasanginlang sakop sa New People's Army niadtong nakalabay nga semana.
Ang girelibohan mao silang Police Colonel Raul Tacaca, ang provincial director sa Negros Oriental Provincial Police Office; Police Lieutenant Colonel Patricio Degay hepe sa Canlaon City; Police Lieutenant Roy Mamaradlo sa Manjuyod; ug si Police Captain Michael Rubia hepe sa Santa Catalina.
Sa opisyal na pamahayag ni Albayalde didto sa kaulohan pagsiguro kini aron dili makapanghilabot sa imbestigasyon ang maong mga polis.
Si Tacaca mitug-an sa Banat News nga wala silay lapso sa maong operasyon nga gibase sa search warrant. "
Sa laing bahin, ang kanhi PNP Chief nga si Senador Panfilo Lacson kinsa miduaw sa Sugbo kagahapon miingon nga kung wala pa'y ebidensya wala'y sukaranan ang pasangil batok sa mga polis.
"Let's give our policemen a chance to prove na itong kini claim nila na legitimate operation legitimate talaga. Huwag tayo magpadala sa propaganda," si Lacson miingon. (Mae Clydyl Avila/IBM)
Tulo sa upat ka mga kandidato alang sa kinatas-an nga posisyon sa Cebu City ang midawat sa hagit sa Integrated Bar of the Philippines-Cebu City Chapter sa usa ka debate karong Abril 22 sa City Sports Club.
Si Mayor Tomas Osmeña ug Bise Mayor Edgardo Labella andam sa debate. Samtang si Konsehal Mary Ann de los Santos maghulat kang Michael Rama kun makigdebate kini.
Matud ni Atty. Regal Oliva pangulo sa IBP-Cebu City Chapter nga makatabang kini sa mga botante sa syudad kun kinsa ang ilang botaran karong umaabot nga Mayo 13 nga eleksyon.
"As officers of the IBP, we need to enable the Bar to discharge its public responsibility more effectively," sigon ni Regal sa Banat News.
Si Labella miingon nga bukas kini sa bisan unsang mga isyu nga debatihan ilabi na bahin sa pagdumala, mga isyu nga naglibot sa South Road Properties, ug uban pa.
"Anyway, all of us have the best intentions for the city. Maybe different approaches for as long as it's nothing personal," matud ni Labella.
Nag-ampo siyang pinaagi niini malamdagan ug magiyahan ang mga botante.
Samtang si Osmeña miingon nga mapagawas niya ang tinuod nga gihimo sa nakalabay nga administrasyon pagbaligya sa luna sa SRP. "The world will see how SM and Ayala steals from the people," sigon sa mayor.
Samtang si De los Santos buot una niyang sayran kun unsa ang mga debatihan. "We have to see the parameters under the IBP debate," matud niya.
Si Rama, sa iyang bahin, miingon nga ang pagdesisyon nga moapil sa usa ka debate batok sa iyang kontra usa ka desisyon sa partido.
"We have yet to discuss it as a group. I cannot be accepting or rejecting, until we can make our position," dugang niya.
Si Osmeña ug Labella nagkatinubagay na sa ilang tagsatagsa ka mga pahina sa Facebook sa mga isyu nga naglibot sa P18 bilyon nga integrated resort ug casino sa Kawit Island sa South Road Properties ug sa 45 ka ektarya nga pagbaligya sa luna sa SRP sa miaging administrasyon. IBM (BANATNEWS)