Strict rules constrain first Hong Kong protest in two years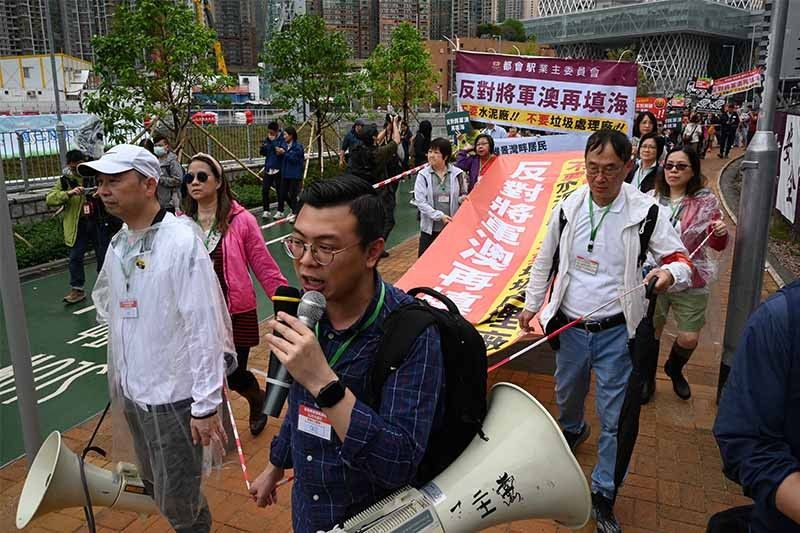 HONG KONG, China — Hong Kong's first protest against a government policy in about two years went ahead on Sunday, but under strict rules including a cap on numbers and a requirement that everyone wear an identifying number tag.
In mid-2020 Beijing imposed a National Security Law (NSL) to stamp out dissent in the southern Chinese city, which had been rocked by pro-democracy unrest.
There have been few public protests against official policy since then, due to a combination of the crackdown and social-distancing measures to counter the Covid-19 pandemic.
Sunday's march was against a land reclamation plan in the city's east.
As the first officially authorised protest against a government plan since the coronavirus measures were lifted, it offered an indication of the measure of dissent still allowed in the city.
Police required organisers to follow stringent conditions including capping numbers at 100, making participants wear number tags around their necks, and surrounding the crowd with a cordon, with media separated from marchers.
Officers closely examined banners and placards for "politically sensitive and seditious words", said protest organiser Cyrus Chan.
One marcher -- among about 80 who turned up -- said the arrangements were "ridiculous".
"I am here to join a march, not a shame parade," said the retired civil servant, who did not wish to be identified.
"This is intimidation... but what can we do?" the marcher told AFP. "Now even trying to take a breath of fresh air may endanger national security."
Responding to an AFP query about the restrictions, police said they conducted "comprehensive" risk assessments for public events based on their "purpose, nature, number of participants, past experience and latest developments".
Eric Lai, a fellow at Georgetown University's Center for Asian Law, told AFP the conditions to monitor headcount and identify marchers were "disproportionate", and unheard of in previous police-approved marches in Hong Kong.
Large-scale public events -- including music festivals and art fairs -- are returning to Hong Kong after the pandemic curbs were lifted, and local authorities insist residents still have freedom of speech and assembly.
Earlier this month, a women's rights group called off what would have been one of Hong Kong's first authorised civil rights protests in years, after organisers were summoned multiple times by police.