US intel report says North Korea could resume nuclear tests this year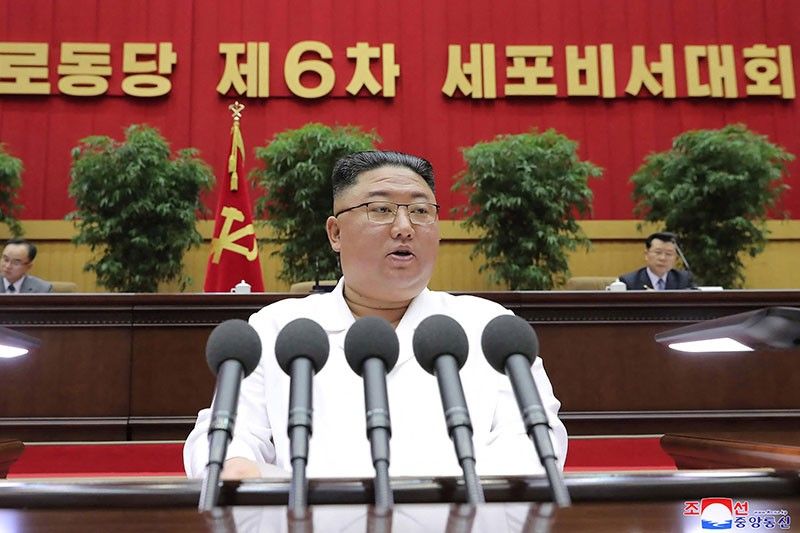 WASHINGTON, United States — North Korea could resume nuclear tests this year as a way to force President Joe Biden's administration to enter into dialogue, US intelligence experts said in a report released Tuesday.
"North Korean leader Kim Jong Un may take a number of aggressive and potentially destabilizing actions to reshape the regional security environment and drive wedges between the United States and its allies — up to and including the resumption of nuclear weapons and intercontinental ballistic missile (ICBM) testing," said the Office of the Director of National Intelligence in a report addressing threats the US faces around the world.
"We assess that Kim views nuclear weapons as the ultimate deterrent against foreign intervention and believes that over time he will gain international acceptance and respect as a nuclear power," the report states.
North Korea has not tested a long-range missile in more than three years, and has left the door open to talks with the US on denuclearizing the Korean peninsula.
But the report said "Kim may be considering whether to resume long-range missile or nuclear testing this year to try to force the United States to deal with him on Pyongyang's terms."
The 27-page report also addresses the Iranian nuclear program, and anticipated Iran's announcement Tuesday that it will start enriching uranium up to 60 percent purity. This would bring it a step closer to the 90 percent threshold needed for uranium to be used in a nuclear weapon.
"We continue to assess that Iran is not currently undertaking the key nuclear weapons-development activities that we judge would be necessary to produce a nuclear device," the report said.
"If Tehran does not receive sanctions relief, Iranian officials probably will consider options ranging from further enriching uranium up to 60 percent to designing and building a new 40 megawatt heavy water reactor," the report said.
Iran's announcement Tuesday came two days after an explosion at its key nuclear facility in Natanz, which it blamed on arch-enemy Israel.
The 2015 nuclear agreement among Iran and major world powers calls for Iran to modify its heavy water reactor in Arak, which is under international control, so that it cannot produce military-grade plutonium.
As It Happens
LATEST UPDATE: September 16, 2021 - 10:55am
South Korean officials were briefing the White House Thursday on the outcome of their pathfinding meeting with North Korean leader Kim Jong Un.
Seoul has already publicized that North Korea offered talks with the United States on denuclearization and normalizing ties, a potential diplomatic opening after a year of escalating tensions over the North's nuclear and missile tests. The rival Koreas also agreed to hold a leadership summit in late April.
Top Trump administration officials were getting a chance to hear firsthand from South Korean national security director, Chung Eui-yong, who led the delegation that went to Pyongyang. — Associated Press
September 16, 2021 - 10:55am
The UN Security Council on Wednesday gathered behind closed doors for an emergency meeting about North Korea's latest ballistic missile test which member states consider a "major threat," the French ambassador says.
"We all condemned what happened, the tests," he says. "Everyone is very concerned about this situation," de Riviere told several journalists after the 45-minute meeting.
"This is a major threat to peace and security, it's a clear violation of the Council's resolutions," he adds, saying that the missiles had fallen "within Japan's exclusive economic zone." — AFP
September 15, 2021 - 2:55pm
According to the South's military, the North Korea fired two ballistic missiles into the sea as China's foreign minister visited Seoul -- Pyongyang's second launch in less than a week.
Analysts said the timing was an unmistakable signal to Beijing, the North's key diplomatic ally and main partner for trade and aid -- although at times their relationship has been deeply strained.
Pyongyang is under a self-imposed blockade after closing its borders early last year to protect itself against the coronavirus pandemic. — AFP
September 15, 2021 - 12:02pm
North Korea fired an unidentified projectile into the sea on Wednesday, according to the South's military, days after Pyongyang said it had successfully tested new long-range cruise missiles.
The nuclear-armed North had "fired an unidentified projectile into the East Sea", Seoul's joint chiefs of staff says in a statement to AFP. — AFP
September 13, 2021 - 9:53am
The United States military said Sunday missile tests conducted by North Korea over the weekend posed 'threats' to the country's neighbors and beyond.
"This activity highlights DPRK's continuing focus on developing its military program and the threats that poses to its neighbors and the international community," the US Indo-Pacific Command said in a statement, using the North's official name. — AFP
September 13, 2021 - 7:24am
North Korea has test-fired what it called a new type of "long-range cruise missile" over the weekend, the country's state Korean Central News Agency reported early Monday, calling the trials a success.
The test launches, which took place on both Saturday and Sunday, were observed by high-level officials, KCNA said, adding that the tests had been carried out "successfully". — AFP