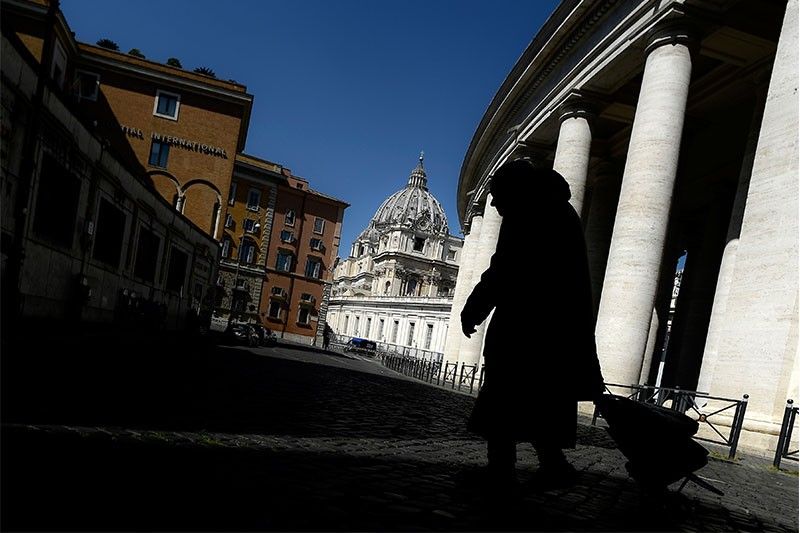 A homeless person pulling a trolley walks along The Vatican's colonnades on April 1, 2020 at the limit between Italy and The Vatican, with St. Peter's basilica in background, during the country's lockdown aimed at curbing the spread of the COVID-19 infection, caused by the novel coronavirus.
AFP/Filippo Monteforte
Italy extends lockdown as toll passes 13,000
(Agence France-Presse) - April 2, 2020 - 8:41am
ROME, Italy — Italy on Wednesday extended its economically-crippling lockdown until April 13 to help stem coronavirus infections that have claimed 13,115 lives.
"If we start loosening our measures now, all our efforts will have been in vain," Prime Minister Giuseppe Conte told the nation in a national televised address.
The extension had been expected. Italy's health minister said on Monday that businesses across the nation of 60 million would remained shuttered and public gatherings banned until at least April 12.
Italy's official infection rate has been steadily slowing but the number of daily deaths has remained stubbornly high.
The country reported another 727 fatalities on Wednesday.
It has registered 2,376 deaths in the last three days alone.
Officials are now debating how they can resume at least some business activity without spreading the new disease.
Italy's Confindustria big business union estimates that each week under lockdown slices about 0.75 percent off the country's annual gross domestic product -- now the third-largest in the European Union.
Some media reports suggest that Conte will eventually leave that decision to regional leaders.
Local officials might then decide which factories or businesses in their regions can function safely if all the various social distancing rules are applied.
The authorities are also awaiting the delivery of kits that could allow comprehensive testing so that some people can resume work.
But Conte gave no indication of when or how the current lockdown measures -- in place fully since March 12 -- might be eased.
"When the experts tell us that the numbers are looking better, we will start thinking about lifting all the measures," Conte said.
"But I cannot tell you if that will be on April 14."
Current restrictions had been due to expire on Friday.
As It Happens
LATEST UPDATE: May 15, 2021 - 6:49pm
Follow this page for updates on a mysterious pneumonia outbreak that has struck dozens of people in China.
May 15, 2021 - 6:49pm
The novel coronavirus has killed at least 3,359,726 people since the outbreak emerged in China in December 2019, according to a tally from official sources compiled by AFP.
At least 161,795,290 cases of coronavirus have been registered. The vast majority have recovered, though some have continued to experience symptoms weeks or even months later.
These figures are based on daily tolls provided by health authorities in each country and exclude later re-evaluations by statistical organizations, as has happened in Russia, Spain and Britain.
May 15, 2021 - 3:27pm
Taiwan orders stricter social distancing measures for its capital and surrounding areas on Saturday after a sudden spike in coronavirus cases in a place that has so far weathered the pandemic comparatively unscathed.
Authorities raised the alert level for Taipei and New Taipei City after 180 new domestic coronavirus infections were confirmed, up from 29 cases the previous day.
The new restrictions mean no more than five people can gather indoors and 10 outdoors -- but authorities stopped short of ordering a total lockdown. — AFP
May 14, 2021 - 9:00am
The top US health agency on Thursday said it was lifting mask-wearing guidance for people who are fully vaccinated against COVID-19, a watershed moment that President Joe Biden called "a great day" in the long pandemic fight.
The announcement by the Centers for Disease Control and Prevention (CDC) marked an abrupt turnaround after more than a year of urging people to cover their faces to stem the spread.
"Anyone who is fully vaccinated can participate in indoor and outdoor activities, large or small, without wearing a mask or physical distancing," CDC director Rochelle Walensky said during a briefing.
"If you are fully vaccinated, you can start doing the things that you had stopped doing because of the pandemic." — AFP
May 13, 2021 - 3:30pm
At the peak of Kenya's third wave of COVID-19 in March, hospitals — buckling under the strain of the virus — saw their oxygen reserves fizzle out.
Since then, they have been scrambling to increase capacity of the lifesaving element, fearing the nightmare scenario currently unfolding in India due to oxygen shortages.
On the roof of the Metropolitan Hospital, a 150-bed private institution that targets the middle class, a brand-new oxygen production unit has just been installed that is capable of producing up to 600 liters of the gas per minute.
Metropolitan CEO Kanyenje Gakombe said the hospital accelerated plans to produce its own oxygen after supplies were squeezed to the limit during the height of the third wave, fanned by the variants of the coronavirus first detected in Britain and South Africa.
In April Kenya registered a record 571 deaths, and the health ministry warned hospitals were overrun with fewer than 300 patients in the Intensive Care Unit and fewer than 2,000 hospitalised countrywide. — AFP
May 12, 2021 - 6:19pm
The catastrophic scale of the Covid-19 pandemic could have been prevented had the warning signs been heeded, the global panel investigating the world's coronavirus response concluded Wednesday.
The Independent Panel for Pandemic Preparedness and Response blamed a "toxic cocktail" of dithering and poor coordination, said the World Health Organization could have sounded the alarm sooner, and urged rich countries to donate one billion vaccine doses by September, in its long-awaited final report. — AFP